Travel
Palm Springs, California's desert oasis
It is my favorite part of the show: A grand staircase appears on the middle of the stage, and among all the dazzling show lights the lovely ladies of the Fabulous Palm Springs Follies take to the stage one at a time, adorned in rhinestoned, feathered and flowered regalia.
Watching Washington, D.C. native Joni Naber in her purple halo of a headdress gracefully descend the stairs with her long, statuesque legs, I forget for a moment that she is 74.
Founded in 1991, the Follies is a song and dance troupe that features a core cast of performers, all 55 or older, who perform up to nine shows a week from October through May.
Each year, a series of special guest variety acts and performers join the cast. Past guests have included ventriloquist Sammy King, burlesque star Tempest Storm, entertainer John Davidson, and former Supreme Mary Wilson.
The Follies is just one of the many appeals of Palm Springs. The southern California destination, just over 100 miles east of Los Angeles, is a jewel among desert cities.
Its village atmosphere has been preserved and embellished over the years. Nestled at the base of the stunning San Jacinto Mountains — visible from nearly every point in the city — Palm Springs offers a vibrant downtown, featuring open-air cafes, galleries and shops along palm tree-lined streets.
Its stunning mid-century modern neighborhoods and premier golf courses also attract visitors from around the world, who come to enjoy its rich history, many attractions and year-round sunshine.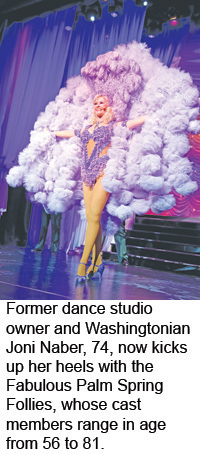 A life on stage
Palm Springsdrew Naber when she joined the Follies five years ago after owning and operating a dance studio, the Wheaton Studio of Dance, for nearly half a century. (She still maintains a home in Silver Spring, Md.).
Naber's performing career began with appearances on local television in the nation's capital when she was in her teens, touring the U.S. with various dance troupes, including the Roxyettes, a rival troupe to the Rockettes, and traveling the world with the USO as a precision line dancer.
Though she has shared the stage with such legends as Louis Armstrong, Gordon MacRae, Eddie Fisher and Bobby Darin, Naber includes her Follies cast members among her favorite co-stars.
"They are a bunch of swell, happy, healthy people," she said. "When we are on stage, we just have a good old time."
She connected with the Follies when her in-laws, from San Diego, gave her and her husband tickets for a Christmas show. She enjoyed it so much she flew
back cross-country by herself, unannounced, for a successful audition.
It was not just her love of dance and an eternal drive to entertain others, but also her fascination with the city of Palm Springs that drove her to start a new chapter of her life.
"This is paradise out here," said Naber. "It is just fabulous…opening the door everyday and seeing the beautiful sunshine."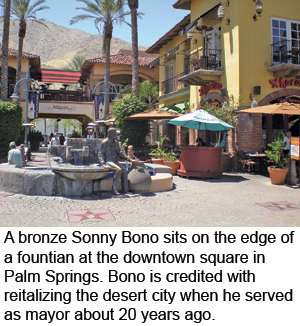 History and Hollywood
The land that Palm Springs occupies is the ancestral home of the Agua Caliente Band of Cahuilla Indians. They knew the area as "la palma de la mano de Dios" — the palm of God's hand. Their ancient healing mineral waters are still a part of the success story of Palm Springs, showcased at their downtown Spa Resort Casino, one of six major casinos in the Palm Springs area.
Palm Springsremained a sleepy village until the late 1800s, when it drew pioneers after the Southern Pacific Railroad came through the desert. This early history is kept alive and shared at the Village Green Heritage Center on S. Palm Canyon Drive (the city's main street).
The center houses the McCallum Adobe Cornelia White House Museum with memorabilia of local pioneers, the charming Ruddy's 1930s General Store Museum, and the Agua Caliente Cultural Museum.
The city's early settlers could not have foreseen that the elite of Hollywood would flock to "The Springs" and make this piece of desert the international playground of the stars.
Falling prey to the magic of Palm Springs were the likes of Rudolf Valentino and Theda Bara back in the 1920s, and Lucille Ball and Kirk Douglas in the '60s.
These tinseltown adventurers and many, many others played hard in Palm Springs and many bought hideaway homes as refuge from the Hollywood studios. But as actors and actresses became less geographically tied to Hollywood, Palm Springs briefly lost its luster.
The late Sonny Bono, who served as the city's mayor from 1988 to 1992, is credited by many for the revitalization of the city, including the establishment of the Palm Springs International Film Festival held each January.
The city has since added the Palm Springs International Short Film Festival, held in June. These events have helped attract a whole new generation of Hollywood stars to Palm Springs.
A life-sized bronze statue of Bono sits on the edge of a large fountain in the center of downtown along S. Palm Canyon Drive, where the Walk of Stars honors pioneers and entertainment celebs. It is here that you also find the historic Plaza Theatre, the scene of many Benny and Hope radio broadcasts in the '40s and the home of the Fabulous Palm Springs Follies.
Every Thursday evening the downtown section of S. Palm Canyon Drive is the site for VillageFest, when the street becomes a pedestrian promenade and is lined with more than 200 booths offering beautiful art, handcrafted items and unique food.
Attractions for all tastes
On the eastern edge of downtown, the Palm Springs Art Museum is one of the top cultural attractions of the community, with renowned traveling exhibitions and an extensive permanent collection among the 28 galleries and two sculpture gardens.
A visit to the Palm Springs Air Museum provides a look back at aircraft of the World War II era. The large, air-conditioned hangars house one of the country's largest collections of WWII flying aircraft. The many programs and flight demonstrations bring this era to life.
Visitors can also take to the sky on the Palm Springs Aerial Tramway, which has been delighting visitors for more than 30 years with a 10-minute trip from the desert floor up the sheer cliffs of Chino Canyon to an alpine forest 8,516 feet above in the Mt. San Jacinto State Park.
The tramway features two state-of-the-art tramcars that rotate 360-degrees so riders can see the spectacular views of the mountains and valley below.
More than 54 miles of hiking trails, great views and a mountaintop restaurant make this a must-do.
Palm Springsis also famous for its eclectic, adventurous architectural style. The National Trust for Historic Preservation, which produces an annual list of the nation's cultural tourism destinations for architecture, named Palm Springs to its 2006 list of America's Dozen Distinctive Destinations.
The city has one of the largest concentrations of mid-century modern architecture in the world. There is still an aura here brought about by famed mid-century modern architects, such as the late Albert Frey. He was a long time resident who designed Palm Springs City Hall, many homes in the posh Smoke Tree Ranch, and the Tramway Gas Station, which is now the Palm Springs Visitors Center, among other buildings.
The city holds Modernism Week each February to formally promote and preserve its unique architectural heritage. The event draws fans from around the world for extensive home tours, lectures and a Modernism show and sale.
A popular stop during Modernism Week and year-round is the Elvis Honeymoon Hideaway, the five-bedroom house that Elvis leased for a year and where he and Priscilla spent their 1967 honeymoon.
Desert eats and sleeps
There is no shortage of quality restaurants to help keep one fueled as you explore all that Palm Springs has to offer.
Johannes, located in the downtown core on S. Indian Canyon Dr., has been one of the city's top restaurants for more than a decade. It offers diners a sophisticated menu of American- and European-inspired dishes.
For great Mexican food, El Mirasol never fails to deliver. Classic dishes such as chile rellenos, enchiladas and carne asada go well with the restaurant's margaritas. Barry Manilow, a Palm Springs resident, is known to dine here occasionally.
Since opening its first location in 1953, Sherman's has become a landmark in the desert. The family restaurant, still owned and operated by Sherman Harris and his family, offers an extensive menu for breakfast, brunch, lunch and dinner, reminiscent of a New York deli.
Among Naber's favorite restaurants is LG's Prime Steakhouse, locally owned by the husband and wife team of Leon and Gail Greenberg. It is located just a short walk from Plaza Theater on S. Palm Canyon Drive.
When it comes to accommodations, Palm Springs has an array of options, from large full-service resorts, to boutique hotels, to unique vacation rentals.
One of the city's newest and largest hotels, the 24-acre Riviera, has a rich history. Opened in 1959, the original Riviera Palm Spring immediately became the city's hot spot for celebrities and cultural sophisticates around the world who wanted the ultimate "Palm Springs experience."
The hotel was featured in the 1963 film Palm Springs Weekend, where actress Connie Stevens had her rendezvous lunch by the pool with actor Robert Conrad.
Following a nearly $100 million dollar rejuvenation, Riviera re-opened in late 2008. Rates start at $181 for a double room, if purchased at least 21 days in advance. For more information or reservations, call 1-866-588-8311 or go to www.psriviera.com.
Its modernist architecture, relaxed atmosphere and South Beach vibe, make the boutique Movie Colony Hotel a transporting getaway. There are 16 rooms with custom furnishings, many with private patios or private terraces.
In addition, there are three large poolside townhouses with mountain views and private balconies. A true modernist gem, the Movie Colony Hotel was built by Frey in 1935 and is located within easy walking distance to downtown Palm Springs. Rates start at $149 a night. For reservations: www.moviecolonyhotel.com or 1-888-953-5700.
Many of homes and estates formerly owned by the rich and famous of Palm Springs' golden age are now available as daily, weekly or monthly rentals through various rental agencies, such as Vacation Palm Springs (www.vacationpalmsprings.com, 1-800-590-3110), which handles properties previously owned by the likes of Bing Crosby and Tony Curtis.
Roundtrip air fares start at about $330 in late February on both United and American from all three area airports.
For more information about Palm Springs, visit www.visitpalmsprings.com or call 1-800-347-7746.
Troy Petenbrink is a Washington, DC-based travel writer.