Health
Patients find joy and healing in singing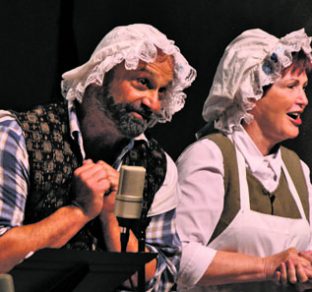 Music from Fiddler on the Roof was featured at the SongShine 2013 Celebration Concert. From left, Doreen Edwards as Grandma Tzeitel, Peter Harris as Tevye and Pam Thompson as Golde.
Photo courtesy of SongShine
The vocal warm-up began with class members humming the notes of the scale. Then they sang "me may ma mo moo" over and over again — funny sounds that their singing made beautiful.
The class is called SongShine Basics, and it's taught by a remarkable woman, Dr. Ruthanna Metzgar, founder and president of the SongShine Foundation. Metzgar, a professional singer who has headlined concerts in the U.S., Canada, Europe and Japan, has spent 40 years as a voice teacher.
Believing in the joy and healing power of music, Metzgar developed a vocal therapy program for persons afflicted with Parkinson's, stroke effects, aging voices and other neurological disorders. The therapy is designed to strengthen the speaking voice through singing exercises that help with breath management, diction, imagination in role playing and group singing.
"It all began about seven years ago," said Metzgar. "I received a phone call asking if I would consider doing something with music for the Traub Parkinson's Center at Eisenhower Medical Center. It seemed natural to say yes because I often wondered if singing could possibly strengthen a weakened speaking voice."
Rewiring the brain
Medical research proves that singing can do just that. Speech originates in the left hemisphere of the brain. When a person's speech mechanism is impaired through loss of use or disease, the left hemisphere no longer sends strong speech signals.
SongShine vocal therapy uses music to switch channels, attempting to forge a different pathway, using other areas of the brain, a process known as neural plasticity. As the patient continues to sing, the vocal mechanism is strengthened, and a retraining or speech recovery process begins.
"It's sheer joy," said Pam Thompson, a Parkinson's patient, "to sing and feel the pain slip away."
For those interested in being part of a performance group, there's an additional class called SongShine Singers and Players. It's led by Peter Harris, associate director of SongShine.
Harris studied at Juilliard in the drama division, at Broadway's Circle in the Square Theater School, and at the Drams Therapy Institute of Los Angeles. Highlights of his 20-year professional acting career are the original tour of Les Miserables and performing in the Shakespeare Festival in Stratford, Conn.
"Peter's passion is contagious," said Metzgar. "As director and actor, Peter brings his very special talents to each of our performances. He played the role of Tevye in our 2013 presentation of Tevye and His Daughters, featuring music from Fiddler on the Roof.
"Under Peter's direction the SongShine Singers and Players are now in rehearsal for an April 1 presentation of a concert version of Meredith Wilson's The Music Man. Singing "Pick a Little, Talk a Little" from that show is a delightfully challenging vocal exercise."
Harris also works with Metzgar on certification training, workshops, conference presentations and motivational speaking. And as the Voice Team, they work with all types of voices on an individual basis.
Want to sing?
SongShine Basics classes: Noon-1 p.m. Mondays, Palm Desert Community Presbyterian Church, 47-321 Highway 74, Palm Desert. $5 per class for 10 classes.
SongShine Singers and Players classes: 1:30 to 3 p.m. Mondays. $6.80 per class for 22 classes.
Information: www.songshineforparkin- sons.org, Ruthanna Metzgar (425) 210-3612, Peter Harris (760) 327-1460. For individual work, visit VoiceTeam@earthlink.net.