Cover Stories
Paying a debt back with passion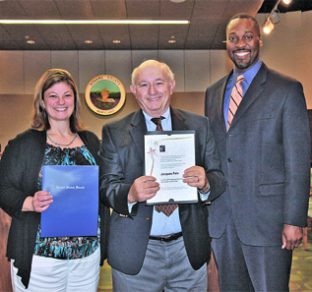 When asked why he is involved in so many volunteer endeavors, Howard County's 2011 Volunteer of the Year, Jacques Fein, replies simply, "I was saved by strangers. I am forever grateful."
A resident of Elkridge since 1970, and now 73 years old, Fein spent much of his early childhood hiding from the Nazis in France.
His parents, Rojza and Szmul Karpik, had immigrated to France from Poland in the 1930s to escape the anti-Semitism there. His father made a modest living in France as a tailor, and Jacques was born there in 1938.
But after the Nazi army invaded France in 1940, the Karpiks sensed the rising danger to their young family. So little Jacques, then 3, and his one-year-old sister Annette were placed with a Catholic French family through the services of the Oevres de Secours aux Enfants (OSE) — the Society for the Rescue of Children, which worked underground during World War II.
Shortly thereafter, in 1941, his father was rounded up by French authorities working for the Nazis. Two years later, his mother was seized while riding the Paris Metro.
Both were returned to the country of their birth, to the most notorious of the Nazi death camps, Auschwitz-Birkenau, where they were killed.
The kindness of strangers
Fein and his sister survived because they were placed with the Bocahuts, a family of farmers who lived 20 miles outside of Paris.
Suzanne and Marcel Bocahut had four children of their own. They protected other Jewish children besides Fein and his sister, all of whom were hidden in plain sight, going about their activities inside and outside the house. For added cover, Fein was baptized.
Fein has vague memories of that time. He doesn't remember his father and has just a memory or two of visits from his mother before her deportation.
After the war, an uncle who survived arranged for the OSE to place him and his sister in an orphanage, where they first learned they were Jews.
They remained in the orphanage for two years, until Harry and Rose Fein. a childless couple from Newark, N.J., adopted them. Like many fellow immigrants from that time, Fein still recalls his first image of America from the deck of the ship that brought him and his sister to America after a 14-day ocean voyage.
"It was a foggy, rainy day and suddenly everyone rushed to one side of the ship. Coming out of the fog," he said, "was the Statue of Liberty."
Fein went to elementary and high school in Newark, then on to Clark University in Wooster, Mass. Soon after graduation he began a career in the nascent computer industry in the 1960s.
He later obtained an advanced degree at Johns Hopkins, and for nearly 40 years has worked in the aerospace industry. Today, he continues to work on the space program at Computer Sciences Corp. in Washington where, he said, he finds "the work is still challenging."
Repaying a deep debt
But it is Fein's many volunteer activities that recently earned him special recognition from the county.
Fein says his decades of public service have been his way of paying society back for nothing less than his survival.
Fein knows he was one of the few lucky ones. During WWII, some 1.5 million Jewish children — nine out of 10 living in Europe at the time — were murdered in German-occupied Europe, according to the Anti-Defamation League.
And so, Fein believes, "we need to give back to the community." He has lived his life that way ever since.
His many volunteer activities include numerous hours spent over the past 10 years at the Holocaust Memorial Museum, sitting at a table in the lobby where he answers questions posed by visitors about his experiences.
"Whether they are high school students from all around the world, or older people, tourists from Europe, they all think that since I'm a Holocaust survivor, I must have spent time in a concentration camp," Fein said. "But I tell them I'm in another category: children who escaped the Nazis in different ways."
In 1985, Fein co-founded the Baltimore-Washington chapter of the Jewish Survivors of the Holocaust-Last Generation. The organization connects survivors who were children during the war.
He remains active in the organization and close to its members. "Our group is very important to us," he said. "We have formed friendships because we share a common experience."
Supporting the needy; fighting hate
Fein has also served in many capacities at the Jewish Federation of Howard County, including chairing its fundraising campaign. The Federation supports, among other things, programs providing volunteer drivers for Howard County seniors, volunteer grocery shoppers for the homebound, and a food bank that distributes donated food to struggling families and individuals.
He also has performed volunteer work for the Howard County Hate Bias Impact Panel, counseling young people accused of hate crimes. The panel was set up in 1998 in the county court system and Fein was a founding member.
He has been called in to speak to young offenders who have committed hate crimes, such as spray-painting Nazi swastikas on public buildings or private homes, or using the Internet to spread anti-Semitic canards.
"A lot of these youngsters seemed to commit the crimes because they had nothing else to do," Fein said. "In many cases, they had no idea of the impact of their actions."
"There is a lot of hate and prejudice in the world…whether crimes are committed against Jews, or blacks, or gays, or women or foreigners," he noted.
It becomes particularly dangerous and deadly, he said, when these feelings and acts "have the support of the government, or the government turns its back on [the victims of hate]. That's why we have to do whatever we can to diffuse it."
Fein also volunteers in more prosaic positions, such as serving on the board of the Swansfield Elementary School PTA when his children attended that school, and more recently joining the board of his condominium association, where he helps plan cultural and social events for fellow residents.
In all of these endeavors, he is known for being assiduous and caring. "He devotes his most careful attention to the details of his involvement whether it is of large or small significance. His accomplishments are of highest quality," said Emanuel Mandel of Silver Spring, who supported Fein's nomination for the award.
One might wonder how Fein manages to put in four days a week at the office as an aerospace expert and still do all the volunteer work for which he has been cited.
In his modest, understated way, Fein shrugs off the question. But his wife Judee Illiff explains, "He works until late at night and gets up very early in the morning."
Fine has two children from a first marriage and a stepdaughter, Laura, from his marriage to Judee. He and his wife have three grandchildren. His sister Annette, an artist, is living in Israel.
A Howard County tradition
Howard County has chosen a Volunteer of the Year since 1987, when then-Gov. William Donald Schaefer inaugurated the "Maryland, You Are Beautiful" program across the state. As part of that program, each of the state's 23 counties and the city of Baltimore chose an outstanding volunteer, all of whom came to Annapolis each year for a recognition ceremony.
The statewide program ended in 2006. But Howard County Executive Ken Ulman thought it was a worthwhile program, so it continues here today with the strong support of the executive office and the county council, according to Kathy Sloan-Beard, deputy administrator of the Howard County information office.
Volunteers in other categories, such as volunteer student and nonprofit organization of the year, are also chosen annually. A committee of county officials and volunteers makes the choices from nominations submitted by the public.
In announcing the award, county public information officer Alexandra King said, "Many individuals aspire to make a difference. Jacques Fein is a stellar example of how it is done."
Philip Cogan, a neighbor and friend of Fein, nominated him for the award, saying Fein "exemplifies how a grateful immigrant can provide the creative leadership to motivate people in his community and beyond."
"Jacques is a good friend, very likeable and very modest," said Cogan later. "He's upbeat, helpful, positive — with a sense of humor. He doesn't talk a whole lot about himself. He's always there for you."
Robert Friedman is a freelance writer in Silver Spring.