Arts
Pirates of Penzance goes adrift at Toby's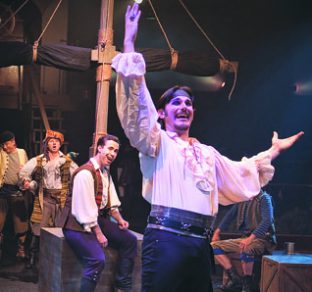 David Jennings plays the Pirate King in Gilbert and Sullivan's comic operetta The Pirates of Penzance, which runs at Toby's Dinner Theatre through Aug. 31.
Photo by Chris Christiansen
A recent Sunday matinee performance of Gilbert & Sullivan's The Pirates of Penzance at Toby's Dinner Theatre of Columbia probably did not convince many of the kids in the audience to become fans of light opera or satire.
It's not because their doting parents and grandparents did not try; there were quite a few pre-teens in attendance, evidenced by the number of electronic devices scattered on the tables along with the buffet foods and drink.
And it is not that the work is inaccessible to modern ears, despite being light opera and having premiered in 1879 when audiences must have ridden their dinosaurs to the theater.
Despite its age, the music remains charmingly entertaining, and the story begs for hammy, over-the-top performances. And kids love that.
The problem is that this is a middling production, neither particularly good nor especially bad. And with satire, there is no such thing as almost getting it right. Either it hits the spot, or it misses completely.
Director and choreographer Mark Minnick has a cast seemingly capable enough to handle the show. But he has staged a production that is a rote, by-the-numbers roll-out of the songs. There is no spark, no attempt to infuse the presentation with a specific sensibility or attitude.
Hard to hear
Helping to keep the show's charms largely hidden from the youngsters is Toby's sound system, which is marginal at best. As satire, The Pirates of Penzance relies on snappy lyrics in its songs, often delivered in rapid patter.
Lyrics can be understood in solos, provided the music is in a quiet passage. Ballads, by their nature, are quieter than big production numbers, and are usually sung by one or two voices. Those are mostly communicated competently.
But when there are more than one or two voices singing together, which is quite often, or when the orchestra swells, lyrics get lost in a muddy swirl of incoherent sound. Words sung by female choruses, with their higher registers, are particularly difficult to understand.
Song after song flies by with lyrics completely unintelligible. Forget the finer points of satire or the cleverness of the rhyme; just figuring out the subject of the songs is rendered impossible. The satirical points have no punch. They don't even have presence. And following the story? Forget that.
Pirates and their maidens
This is the tale of a group of orphaned, dim-witted pirates who become captivated by a group of lovely, but equally dim-witted maidens under the care of a major-general. There is the requisite pair of young lovers at the center of the story.
A newly-21-year-old pirate struggles to leave that life, to which he was mistakenly indentured as a lad, and wed one of the young ladies. A swashbuckling but silly Pirate King schemes to thwart the young man, even as the major general schemes to make the most of the pirates' ardor for his girls.
Toby's says it is performing Joseph Papp's "updated" version of the show, which was a hit on Broadway in the early 1980s. Papp beefed up the Pirate King's role and broadened the humor. He moved the music away somewhat from its light opera origins, adapting a more generic musical comedy style and leaving the book more or less intact.
But it no longer seems all that fresh. In fact, it is a bit dated. Many theater companies have since staged versions with modern references and settings, adding a layer of contemporary flair to this satire of power, duty and honor.
As produced here, Act One is played with little scenery. There's the suggestion of a pirate ship, with a few rope ladders and a rudimentary mast. Act Two is placed mostly in "a ruined chapel," so there are a few headstones and a center-stage fountain. It has the look of a scenic designer rummaging through a storage area and pulling out a few old pieces.
Lighting is mostly flat, and the orchestra seems uninspired by the scaled-down score. Movement consists of a lot of generic swagger, sword brandishing, and broad stereotypical gestures from the maidens.
Some star singers
Nonetheless, there are a few stand-out performances.
Jane C. Boyle has a delightful voice, used to good effect early in Act One as she portrays Ruth — the nursemaid who mistakenly gets her young charge bound over to the pirates, because she thinks she is hearing the word "pilots."
Now that he is 21 and hunky, he longs to leave — and she is determined not to be left behind. Boyle does not mine all the comic gold layered in the part, but she sings beautifully in such numbers as "When Frederic was a Little Lad."
Laura Whittenberger's sweet soprano is delicate and pure in the role of Mabel, the young lady who sets Frederic's heart beating faster. Whittenberger's voice may be sweet, but it is also powerful. Her trills led to a few high notes that almost set the water glasses on the table tinkling.
As the Pirate King, David Jennings has a robust voice and enough dashing charisma to swash his buckle around the set. He's not afraid to appear silly, which helps.
Nick Lehan is earnest and appealing as Frederic. And in the supporting role as the Sergeant of Police, David James brings valiant comic commitment to several of the most popular numbers.
Robert John Biederman 125 (this is the actor's chosen name) does his best as the Major-General, especially in what is probably the show's most famous song: "I Am the Very Model of a Modern Major-General." The lyrics come rapid-fire in an outpouring of increasingly rapid patter, only some of which was audible over the orchestra during the reviewed performance.
It is possible the performances will become sharper, and the parody and satire more vibrant, as time goes by. Perhaps somebody will take charge of the sound design.
Toby's generally does a more than capable job with musicals. Some of its work is as good as it gets. But these pirates are, at this point, on a ship with no wind in its sails.
Ticket information
The Pirates of Penzance continues through Aug. 31 at Toby's Dinner Theatre, 5900 Symphony Woods Rd., Columbia.
The show runs seven days a week with evening and matinee performances. Monday through Saturday evenings feature an all-you-can-eat dinner buffet, for which doors open at 6 p.m., followed by an 8 p.m. performance. On Sunday evenings, doors open for dinner at 5 p.m., followed by a 7 p.m. performance.
Matinees are performed Wednesdays and Sundays, preceded by an all-you-can-eat buffet brunch starting at 10:30 a.m. The matinee performance begins at 12:30 p.m.
Reservations are required. Tickets, which include the meal and basic drinks, but not specialty drinks or waiter tip, range from $37.50 (for children under 12) to $56 (depending on which performance is selected).
There is ample, free parking on the premises.
For reservations and information, call (410) 730-8311 or 1-800-88TOBYS (888-6297). You may also visit www.tobysdinnertheatre.com.