Arts
Playful photos, props a delight at Walters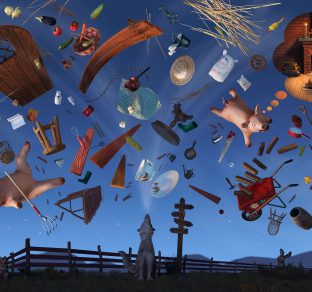 If you've spent any time with kids in the past 20 years, you're probably familiar with Walter Wick — if not his name, then his popular book series, Can You See What I See? and I Spy.
Both challenge young and not-so-young readers to solve visual riddles or puzzles created from the thousands of props Wick has collected in his studio (a renovated firehouse).
Wick's playfulness will be on full display at the Walters Art Museum from Sept. 19 through Jan. 2, 2011 in the exhibition "Games, Gizmos and Toys in the Attic." The exhibit, the first museum retrospective of his work, is made up of 55 largescale photographs selected from Wick's books.
There are also six models that he used to craft some of the images — including a four-foot by seven-foot Jolly Roger model pirate ship from Wick's newest book,Can You See What I See? Treasure Ship. Also in the exhibit are behind- the-scenes video clips that show visitors how Wick creates the images in his books.
Accidental artist
A native of Connecticut, Wick, now 57, became interested in art in high school, and then went on to study photojournalism and landscape photography at the Paier College of Art in Hamden, Conn. After graduating in 1973, he worked as a lab technician and product photographer.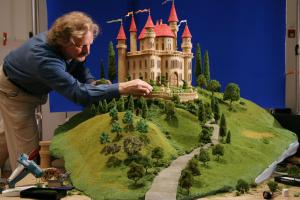 "The work was not glamorous, but I was fascinated with the technical challenges of making the surfaces, shadows and highlights look exactly right in the photographs," he recalled in his biography.
Before long, Wick moved to New York City and started his own studio. With few clients at first, he had time to explore new ideas and techniques, which resulted in a small, but effective, portfolio of seven images. One of these images, he remembers, came about almost by accident.
"I was organizing screws, paper clips and other odds and ends. As I began sorting, I liked the way the objects looked spread out on my light box," he recalled. "After hours of careful arranging, I took a picture. This photograph of odds and ends was the spark that helped inspire the first I Spy book."
This interest in puzzles and optical illusions led Wick to work for Games magazine in the 1980s. His playful photographs of toys and household objects came to the attention of editor Jean Marzollo, and in 1991 the two collaborated on I Spy: A Book
of Picture Riddles.
Since that time they have co-authored more than 20 I Spy books. Wick has also pursued his own creative ideas with the camera, which have resulted in A Drop of Water: A Book of Science and Wonder, Optical Tricks
and the Can You See What I See? series.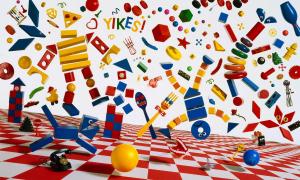 Larger than life
The photographs on view in the exhibition are enlarged to five- or six-feet wide with details, colors and tones not possible in book reproductions.
This will present a "playful sense of scale, space and the unexpected," said Wick. Adding to that is his 30 years' experience in tinkering and experimenting — with mirrors, time exposures, multiple exposures, photo composites and other tricks— reflected in his work.
Explaining his artistic approach, Wick said, "In my children's books, props intended to appeal to young readers — toys, household items and found objects — are the primary visual components.
The props are also used to serve other purposes: to engage the mind of viewers with games of visual discrimination, principles of cause and effect, mysteries of perception, the complexities of the physical world, and the wonders of imagined realms."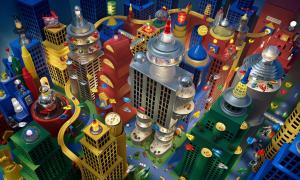 Among the special components of this exhibition are photographs and a model from Wick's book, Can You See What I See? On a Scary Scary Night, which was inspired by the Walters' own Chamber of Wonders galleries. An adaptation of the classic folktale In a Dark, Dark Wood, the book combines spooky folktales, clever rhymes and stunning images.
Wick's use of colors and arrangement of objects in his photos fairly jump out at the viewer, as if they were in 3-D.
"Yikes!," from the 1994 I Spy Fantasy, for example, is as vibrant and lively as it must have first appeared 16 years ago, with bright primary colors and ordinary objects such as wooden spoons, blocks and telephones appearing to dance with each other.
And if you've ever used the expression, "When pigs fly," well, take a look at Wick's "The Three Little Pigs," from the book Can You See What I See? Once Upon a Time.Cuddlypink oinksters have definitely taken flight, along with wheelbarrows, pitchforks, sacks of apples and more, all soaring over a dusk-lit country landscape.
You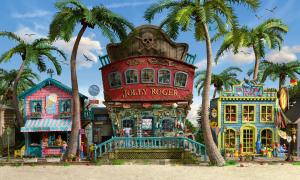 don't have to be a kid — or even be accompanied by one — to enjoy this exhibition. But if you do have a pint-sized friend to join you, it will be a treat for both of you.
The Walters Art Museum is located at North Charles and Centre Streets. Museum hours are Wednesday to Sunday, 10 a.m. to 5 p.m.
General admission to the museum is free, but there is a charge for tickets to "Games, Gizmos and Toys in the Attic." Tickets are $10 for adults, $8 for seniors, and $6 for students/young adults (18-25). Admission is free for those 17 and under and for museum members. Purchase tickets by calling (410) 547-9000, ext. 265 or online at http://thewalters.org/exhibitions/walter-wick.