Housing
Programs assist with home modification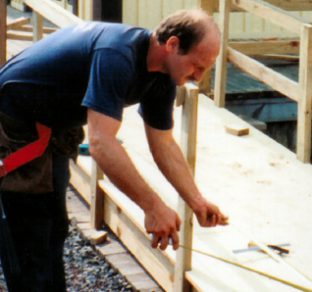 Most of us would like to remain in our own home as we age, but to make that possible, home modifications may be called for.
Fortunately, to help you adapt your home to suit your needs as you age in place, loans and grants are available from federal, state and local governments, as well as from the VA, nonprofit and private organizations, and other agencies.
Browse the Home Repair and Modification section on the Eldercare Locator website from the Department of Health and Human Services (www.eldercare.gov) for a comprehensive directory.
The website www.disability.gov also lists organizations and programs where you can find information about home modifications.
Some state housing finance agencies have loan programs that help people with disabilities (or who have a family member living in the household with disabilities) who are buying a home that needs accessibility modifications.
Many states, including Maryland, have home modification programs that are part of their state Assistive Technology programs. See www.mdod.maryland.gov. These programs provide low-interest loans to buy assistive technology or to help pay for home modifications and adaptations to make your home safe and accessible.
According to Eldercare.gov, many minor home modifications and repairs cost between $150 and $2,000. Some home remodeling contractors offer reduced rates and charge sliding-scale fees based on a person's income and ability to pay.
Also, some Area Agencies on Aging (AAA) have home modification programs, or can refer you to other organizations that can help pay for home repairs and modifications.
Below is a select guide to several grant and loan programs available throughout the region:
The Maryland WholeHome Program through the Maryland Department of Housing and Community Development can help you make valuable repairs and enhancements to your home that can lower your family's monthly utility bills and improve your quality of life.
Maryland WholeHome grants and low-interest rate loans can be used to upgrade to energy-efficient appliances, repair or replace heating and cooling systems, replace insulation, add accessibility features for seniors or those with special needs, remove lead paint, upgrade plumbing, and address structural and maintenance issues.
Loans and grants are based on what type of work is needed, as well as household income and ability to repay. The maximum interest rate is 4 percent and may be as low as zero. In addition, payments may be deferred and there is no application fee. For more information, visit www.dhcd.maryland.gov.
Rebuilding Together(www.rebuildingtogether.org) is a nonprofit organization that provides home repair and modification services for low-income families, people with disabilities, seniors and veterans and military families, as well as helping families whose homes have been damaged by natural disasters. Contact the local affiliate in Baltimore at (410) 889-2710 for more information.
The National Resource Center on Supportive Housing and Home Modification(http://gero.usc.edu/nrcshhm/) promotes aging in place for seniors and people who are aging with a disability. The Center gives families and individuals the knowledge they need to plan for their housing, health and supportive service needs. Check your state's listings for agencies and organizations near you that can help with home modifications.
Easy Access Housing for Easier Living is a brochure from Easter Seals that has tips on how to adapt your home to accommodate a person with a disability. The local Easter Seals chapter (http://www.easterseals.com/DCMDVA/) can provide you with information about possible financing options to pay for modifications to make your home accessible.
TheDepartment of Veterans Affairs (VA) (www.va.gov) makes grants available to service members and veterans with certain permanent and total service-connected disabilities to help them buy or build an adapted home, or modify an existing home to accommodate a disability.
The two grant programs are the Specially Adapted Housing (SAH) grant and the Special Housing Adaptation (SHA) grant. You can apply online or call VA toll-free at 1-800-827-1000 to have a claim form mailed to you. You can also ask to speak to the Department of Veterans Affairs Home Loans Service.
The USDA's Single Family Housing Repair program (www.marylandusda.com) provides loans to very low-income homeowners to repair, improve or modernize their homes. It also provides grants to elderly, low-income homeowners to remove health and safety hazards.
The United Spinal Association (www.unitedspinal.org) offers a guide on home modifications that includes information about resources that can help people with spinal cord injuries pay for home modifications. The American Occupational Therapy Association (www.aota.org) has more information on this subject.