Arts
Putnam County Bee spells fun at Ford's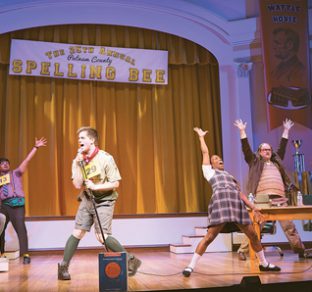 The quirky finalists of The 25th Annual Putnam County Spelling Bee give a high-energy, comedic performance. The musical continues at Ford's Theatre through May 17.
Photo by Scott Suchman
Don't make the mistake of passing up the chance to see The 25th Annual Putnam County Spelling Bee because you think it's just a silly kid's show.
Yes, it is very silly. And yes, kids get a kick out of it. Ford's recommends 12 and older, but some younger ones may enjoy it as well without permanent damage from a bit of language. (There is an R-rated version of the show, but with school tours bringing thousands of students into Washington for spring tours, Ford's is sticking with the PG-13 version.)
The entire show is an onstage spelling bee, at which a half-dozen idiosyncratic kids grapple with the dictionary, their developing self-awareness, and three equally idiosyncratic adults. The contestants are just entering adolescence, so they are full of angst and pubescent stirrings.
They are also determined to win, or they would not have made it to the county level of spelling competition. Some have unusual habits that help them conquer the challenging words. Some are just generally unusual. And all have an inner struggle to find themselves.
So there is underlying sentiment we can all relate to, having been kids ourselves and perhaps raising one or two. This keeps the rapid-fire comedy zingers grounded. The laughs start coming rapidly and roll through to the end with only a few pauses.
Audience participation
As an added bit of quirkiness, four audience members are selected to become part of the show, lending a bit of improvisational flair.
To participate, arrive early and look for the sign-up window at the box office for your chance to be one of four guest spellers. Sign-up starts one hour before the show; patrons can sign up anytime up until 20 minutes before the start of the performance. The winning participants are announced 15 minutes before the start of the show.
Each of the characters played by actors onstage gets to explore their inner eccentricities with innocuous songs, mixing in some light dance occasionally.
The amateurs are there strictly as comic foils. This is broad comedy in a show played strictly for laughs, with the music providing energy to propel the slender storylines.
The "kids" in the Bee get to learn about themselves and, of course, take control of their insecurities and deal with the things that make them "different" from the others.
But we never get bogged down in sentiment. The show moves along briskly, and as there is no intermission, you're out of there in about an hour and 40 minutes. Before the kids start to fidget.
The show was a surprise hit on Broadway, running more than 1,000 performances, and was nominated for six Tony Awards, winning for best book. (Book by Rachel Sheinkin, music and lyrics by William Finn.)
There is always a national tour moving about the provinces, but one of the pleasures of this production, directed by Peter Flynn, is that it features a local cast of versatile Helen Hayes Award nominees, all but one of whom are Ford's veterans.
Excellent comedic acting
There are a couple of my favorites here, including Matthew A. Anderson (1776), whom I have been watching with pleasure since he started in community theater.
A talented actor and singer, Anderson has a special flair for comedy, and he brings it to the fore as Vice Principal Douglas Panch. He plays him as if John Belushi were portraying Toronto Mayor Rob Ford. One of the strongest comedy bits has him reading definitions of words for the spellers, most of which are excruciatingly ridiculous.
Felicia Curry (A Christmas Carol, The Civil War) is tightly-wound Marcy Park, a classic super-achiever kid, over-groomed for success. Curry doubles as Dance Captain, maintaining Michael Bobbitt's organic choreography.
The entire 11-member cast is excellent, combining heart and razor-sharp comedic timing and some improvisation. Current local references are sprinkled in, with mention of the spring snow which fell the day I saw the show, Marion Barry, and the iconic Lincoln Waffle Shop across the street. (There was also a tasteless joke about presidential assassination that night. Yeah, it's still too soon, and the wrong venue.)
The night this reviewer attended the show, the place was packed with about 400 fresh-faced and excited students, and it was especially pleasurable to hear so much unfettered laughter from them.
Music is secondary
You may have noticed there has been scant mention of the score. A couple of the songs are rather nice. The first one of note, to use a pun, is "Pandemonium," which generates exactly the kind of spectacle onstage the name suggests. The show's comedic energy builds steadily until leading into this antic number with the pulsating beat.
"Prayer of the Comfort Counselor" has a gospel rock motif that shakes the building and allows Kevin McAllister (most recently in Violet) to showcase a powerful and rich voice. He plays Mitch, who is at the Bee to "comfort" the losers as they exit the stage by presenting them with a juice box. This, by the way, is part of his parole community service.
McAllister is quite funny in this role. But he effectively trades in the slouch and hoodie when he takes on brief appearances in some of the kid's fantasies as a parent or two. Rachel Zampelli (Shenandoah), who plays Bee emcee Rona Lisa Peretti, and several of the other actors also take on parental figure parts as the kids ponder their lives.
The only other song standout is the late entry called "The I-Love-You Song." It comes in a vividly staged fantasy sequence, generating a few moments of genuine emotion to color late minutes of the show. Young Olive, played by Carolyn Agan (Hello, Dolly! 1776), has been neglected by self-absorbed parents, neither of whom has made it to the Bee.
Vincent Kempski, in his Ford's debut, plays Olive's dad (in addition to playing speller Chip Tolentino, who struggles to keep his adolescent urges in check), and Zampelli plays the mom, singing from an ashram in India. In the child's fantasy, they express their love and bond as a family. It is a pretty tune, sung with expressive feeling, and a nice moment.
It is not that the rest of the score is bad. It is merely innocuous, and designed to serve as storytelling and to maintain energy. Longtime area conductor Christopher Youstra leads a group of five, pumping out the songs.
The comedy is rat-a-tat. So if you don't like one joke, wait a second and another will come along. Satisfyingly funny and warm, the show blends in just enough emotion to add some grit. This Spelling Beemakes one hope for a 26th.
Show times and tickets
The 25th Annual Putnam County Spelling Beecontinues through May 17 at Ford's Theatre, 511 Tenth St., NW, Washington.
Show time Mondays through Saturdays is 7:30 p.m. (except April 21). Matinees are Fridays and Saturdays (except May 2 and May 9) at 2 p.m. The Friday matinees on May 2 and May 9 are scheduled for noon. Ticket prices range from $18 to $67, with discounts for those 60 and older for matinee orchestra seats.
There will be audio-described performances on Tuesday, April 22 at 7:30 p.m. and Saturday, May 3 at 2 p.m. The sign-interpreted performance will take place Thursday, May 1 at 7:30 p.m., and there will be a captioned performance Saturday, May 10 at 2 p.m. Cast members will be available after the 7:30 p.m. performance on May 3 to talk with the audience.
Ford's Theatre has also scheduled some special events — including a "Meet and Mingle" with cast members and a "Words with Friends" contest running through April 10. Visit the theater's website for information.
Ford's Theatre is accessible to persons with disabilities, offering wheelchair-accessible seating and restrooms as well as audio enhancement.
For information and tickets, visit the box office (8:30 a.m. to 5 p.m. daily, or at 8 p.m. when there is an evening performance), call (202) 347-4833, or visit www.fords.org. Tickets are also available via Ticketmaster, at www.ticketmaster.com, or by calling 1-800-745-3000.