Arts
Retiree rekindles passion for painting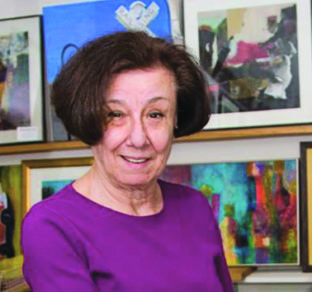 After retiring from a career as a bank executive, Pauline Rakis found art classes rekindled an interest in painting that had lain dormant since high school. She now exhibits her abstract work at the Artists Gallery in Ellicott City and in group shows around Maryland.
Photo courtesy of Pauline Rakis
Former homemaker, beautician and banker Pauline Rakis is making up for lost painting time. It's a pursuit she had put on hold for decades. At 74, she is now on a full brush-on-canvas schedule four days a week, at least six hours a day.
One of the 25 artists who own and operate the co-op Artists Gallery in Ellicott City, Rakis spent many earlier years styling the hair of other women, bringing up three children, and working as an executive vice president for Bank of America, PNC and M&T banks.
But after more than three decades of minding other people's money, Rakis decided to revive the long-dormant artistic interests of her high school and young adult years. In 2003, she took a sketching class, then went on to weekend art workshops.
In 2007, she took the first of several trips to France (and later, to Greece and Canada) to learn how to paint "en plein air" — outdoors, that is.
"That first trip to France introduced me to what being a painter meant," Rakis said. "Learning to paint outside was challenging.
"However, the experience of being totally immersed in painting for 10 days was amazing. It introduced me to elements I had never considered: architecture, nature, light, color, shapes. It taught me that I must look beyond the object I was attempting to paint."
Abstracts and collages
So now the artist, who does most of her painting using acrylics, not only is attempting to put on canvas what is in front of her eyes, but that which arises within her when she confronts the object(s) and the canvas.
"I don't really like representational painting," she said, adding that she was first drawn to the late 19th century style of the early Impressionists.
"Now I think my best work is that which I produce intuitively," she said, noting that her collages and abstracts are, for her, "both enlightening and freeing. They fulfill a need for me to create in a different way."
Rakis appreciates viewing the abstract expressionist work of Jackson Pollack and Willem de Kooning, and the collages of Picasso, among others. But she says she is not all that much influenced by the great artists.
"Most of my stuff comes from within," she said. "I'm always thinking, 'How can I make this mine?'"
A new chapter
Rakis sees her return to art as "Chapter Three" of her life.
Chapter One began in Detroit, where she was born, continuing in Washington, D.C., where her family moved when she was five. There she attended  Calvin Coolidge High School and got interested in art — "mostly commercial art from the ads I saw in newspapers."
Unfortunately, her urge to go to art school was dampened by several factors — she was the youngest daughter in a strict Greek-American family, circa early 1960s; she didn't own a car to get to far-away Maryland Institute College of Art in Baltimore; her parents were leery of her living on her own.
Instead, she enrolled in a nearby cosmetology school, from which she got a diploma at about the same time she graduated high school, then spent the next four years as a hairdresser. The 13 years after that were spent strictly as a wife and mother.
Chapter Two, which lasted 34 years, began in 1978, when Rakis decided it was time to enter the world of finance. Starting part-time, behind the counter, she rose to vice-president at three banks, while also managing to get a business degree from Trinity University in D.C. at the age of 49.
Then, in 2012, Rakis "got tired of all the mergers, acquisitions" and other high finance shenanigans, and decided to retire from banking and return full-time to her love of art, for art's sake.
Rakis wants the art world, and others, to know that what she spends so many of her waking hours on now "is not a hobby. While I enjoy painting, I don't paint just for the fun of it. I want to show my works in galleries. I want my paintings to be bought and to be recognized."
She had her first one-woman show last year at the Art Works Now gallery in Hyattsville, and has had her work shown in group shows in Columbia and Glen Echo, as well as Ellicott City.
In 2016, one of her paintings won first place in the members' show of the Art League in Ocean City. Another work is being showcased now in their "Best of 2017" show.
Rakis noted that while her works have not yet gotten a full review by any media critic, she still has time. "I plan to be painting into my 90s," she said. "Painting is now my life."