Money
Retirees looking to become entrepreneurs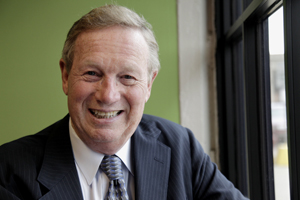 One of the Steve Jobs stories circulating in the wake of the legendary Apple founder's death is the line he used to convince PepsiCo's John Sculley to join Apple Computer: "Do you want to sell sugar water for the rest of your life, or come with me and change the world?"
Jobs embodied the spirit of creative entrepreneurship — and the Apple story began when he was in his early 20s, in a Silicon Valley garage. That's the image that comes to mind when most of us think of business start-ups — a kid in blue jeans who wants to change the world.
But a growing share of start-ups are coming from older entrepreneurs these days — and many of them want to change world, too.
Entrepreneurs age 55 to 64 represent a rising share of start-up activity, according to the Kauffman Index of Entrepreneurial Activity, accounting for 23 percent of new entrepreneurs in 2010, up from 14.5 percent in 1996.
And a new study reveals that 25 million Americans age 44 to 70 hope to start businesses or nonprofit ventures in the next five to 10 years. More than 12 million of the aspiring entrepreneurs (48 percent) want to be "encore entrepreneurs" — a phrase coined by Civic Ventures, the think tank focused on midlife career reinvention and founder of the Encore Careers campaign.
Role models to emulate
Civic Ventures throws a big spotlight on the trend every year with the Purpose Prize — a sort of Oscars for social entrepreneurs. Now in its sixth year, the award recognizes older career trailblazers who've demonstrated creative and effective work tackling social problems. Each prize winner receives $100,000, which most often is reinvested in their enterprises.
This year's award winners include a San Francisco-area screenwriter who adopted two daughters from China in her 50s, then found a way to partner with the Chinese government in efforts to transform the care of 800,000 orphans there; an Oregon woman who produces and distributes low-cost, safe, fuel-efficient cook stoves in Latin America; and a Santa Fe, New Mexico architect working to improve energy efficiency and reduce emissions in buildings.
Another Purpose Prize winner this year is a 71-year-old entrepreneur who took on the daunting challenge of trying to restore the economy of Detroit by building a successful business incubator for entrepreneurs called TechTown.
Randal Charlton has had a long, colorful career — ranging from tending dairy cows for a Saudi sheik to starting a jazz club in Florida — with plenty of ups and downs. As a lifelong entrepreneur, he has bought and sold 14 different companies.
Charlton built TechTown by raising $24 million from foundations and government, and gathering together an impressive array of resources for training and start-up funding. He recruited a small army of start-ups that have created a total of more than 1,800 local jobs — and not only in high-tech industries.
"There's an absence of everything from grocery stories to dry cleaners and taxi services in the city," Charlton said. "We need to provide services to a broad range of entrepreneurs." TechTown has been home to 250 companies, and more than 2,200 entrepreneurs have graduated from its training programs.
Charlton recently transitioned to a new role heading up a program focused specifically on helping Detroit adults over age 50 transition to new careers, entrepreneurship and volunteer service. The idea for BOOM! The New Economy began to germinate after Charlton noticed the outsized number of older adults attending TechTown conferences and entrepreneur training.
Seven tips for newbies
When I asked Charlton for his top tips to would-be 50-plus entrepreneurs, he walked me through a seven-point plan of advice based on his own numerous and colorful life experiences:
Get fit and keep fit. Running a business requires physical and mental fitness.
Focus on skill sets. Think about finding work tied to your actual strengths, rather than your former title.
Plan an exit as you enter. If you are partnering with others, think about how you can set up your business so that you have a "pre-nup" that allows you after a few years to pass the business along, and therefore get some value out of it.
Mitigate risk. Stabilizing your personal expenses is one way to do this. Charlton said he was "ruthless when setting up my own business at age 60. I had no credit card debt, rented a small apartment, and then built a small house later on, when I could afford it. I still drive a 10-year-old car. I made sure that, if the business went south, I wouldn't be left with a lot of personal debt."
Leverage everything and anyone who offers help. "Universities, economic development agencies, states and cities have an incredible number of services that they want to offer to small businesses to help create jobs," he said. "The challenge is identifying them."
Network, network, network. "Forget resumes. If you send out enough resumes you will need anti-depressants quickly. Most jobs are obtained by knowing people who know people."
Get in the game. "Don't stand on the outside waiting for a plum job to come along. Volunteer or work as an intern."
Mark Miller is the author of The Hard Times Guide to Retirement Security.
© 2011 Tribune Media Services, Inc.