Arts
Revisit Richie and the Fonz in Happy Days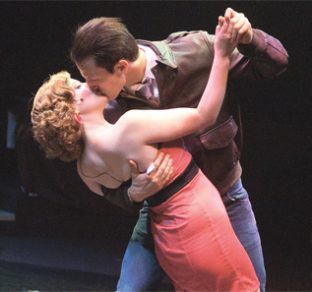 It's fitting that, prior to the performance of Happy Days, A New Musical at Toby's Dinner Theatre in Columbia, a buffet of steaming entrees and vegetables occupies the same middle-of-the-room space as the actors later fill.
That's because the show, based on the old TV sitcom "Happy Days," is the theatrical equivalent of the comfort food served up by Toby's chefs. It's warm and familiar, there's lots of cheese, and it goes down easily, if not memorably.
Somebody in the kitchen must have noticed, as names from the show have been affixed to some of Toby's standard fare. For example, that's not just any spinach you're eating; that's "Spinach Fonz Casserole" on the plate next to the roast beef! And look, it's "Richie's Redskin Mashed Potatoes."
That's right, the Fonz and Richie Cunningham, and all the other guys and gals who populated a Milwaukee high school around 1959, are back. Only now they sing and even dance. Devoted fans of the TV show, which ran on ABC from 1974 to 1984, will probably find Happy Days, A New Musical to be joyfully nostalgic.
The rest of us can enjoy a dynamic cast turning in high-energy performances. Under Toby Orenstein's rigorous direction, they strut and sing and wring all that's possible from the thin material.
From Garry Marshall, Paul Williams
Garry Marshall, creator of the TV series, teamed up with songwriter Paul Williams to develop the musical version a few years back. It's easy to see why it never made it to Broadway.
Marshall took the easy route, eschewing character development or even new plot progression. He merely has all the characters trot out their favorite catchphrases and ticks, introduces a negligible storyline about saving Arnold's, the malt shop hangout, and hopes it holds together with what turns out to be a disappointingly bland score from Williams.
The composer may be an Oscar winner ("Evergreen" from A Star is Born), but he's best remembered for his 1970s pop hits, such as "Rainy Days and Mondays" and "We've Only Just Begun." And in this show, Williams barely stretches beyond generic light pop.
The show is supposed to remind us of the 1950s, or at least the sanitized, clean-cut kind of 1950s with fresh-faced white kids enjoying sock hops and malt shops and going home to an apron-wearing mom.
But Williams' music offers little 50s-style rock-and-roll or authentic doo-wop sound. The best song remains the memorable theme song from the TV show, which is presented several times.
The worst song is the wretched "What I Dreamed," as homemaker Marion Cunningham (Esther Covington) explores early feminist stirrings with such overwrought lyrics as "I never expected apron strings to be chains." Mom Marion is joined in the song by daughter Joanie (Amy Sonntag), who seems to be yearning for traditional domestic bliss in a kind of tortured cultural counterpoint.
Enthusiastic fans of the show probably won't care. Not when they can experience the Fonz saying "Aaayyy" and Richie calling somebody "Bucko" and Ralph declaring "I still got it" once again.
Poking fun at the TV show
Marshall does exhibit some sense of self-deprecation as he injects a few zingers lampooning the TV show. There's a joke about Chuck, the older Cunningham brother who disappeared without explanation early in the series' run, and even a reference to "jumping the shark."
The latter is a term that has come into wide use, referring to a moment when something or someone descends into self-parody. It's based on an episode when a surfing Fonzie literally jumps over a shark in Pacific waters.
The digs cut a little closer to the truth when Richie (Jamie Boyle), Potsie (Dan Sonntag), Chachi (Chris Rudy), and Ralph Malph (Dan McQuay) attempt some a capella singing. While the harmonies are pleasant, Williams' song, "Romeo Midnight" sounds a lot more like a barbershop quartet number than doo-op, prompting Fonzie to blurt out, "That's the kind of music my dentist likes."
Arthur "The Fonz" Fonzarelli," is the center of the show and is played here by Greg Twomey. Twomey is not really a Fonz type, physically. Still, he possesses a rich baritone that serves him especially well in the catchy, upbeat "Heartbeat," a contemporary-sounding tune, and in the thoughtful act one ender, "Maybe It's Time to Move On."
But the real star of this production is the effervescent Jessica Lauren Ball, who plays Fonzie's lost love, the tough Pinky Tuscadero. She blazes through "The Pink's in Town" and the scintillating "Message in the Music," a robust dance number with a big band sound.
Her voice soars in the souped-up ballad "Legend in Leather," while showing us vulnerable sensuality beneath the tough exterior. Twomey joins her in that song, a pairing that provides the strongest vocals of the show. Both shine again in their tender duet "Dancing on the Moon."
As always, Orenstein makes efficient and effective use of the crowded in-the-round performance area, and the unaccredited choreography keeps the show pumped with high energy.
A cartoon-like wrestling match is a highlight of act two, and the female ensemble members get a shout-out for managing to sing and move about on roller skates while balancing trays during a scene at Arnold's.
Just like the TV show, all the issues are resolved by show's end, and the audience exits to the sounds of the small but vibrant band pumping out that infectious theme song, which will likely rattle around inside your head for the entire ride home, and maybe beyond.
Happy Days, A New Musical continues through June 12 at Toby's Dinner Theatre, 5900 Symphony Woods Rd., Columbia. The show runs seven days a week with evening and matinee performances.
The doors open at 6 p.m. for evening shows Monday through Saturday and at 5 p.m. on Sundays. Doors open for matinee performances at 10:30 a.m. Wednesdays and Sundays. Following a buffet, the evening performances begin at 8:15 p.m. except Sundays, when the show time is 7:15 p.m. Matinee performances begin at 12:30 p.m.
Reservations are required. Ticket prices, including an all-you-can-eat buffet, range from $47 to $52, depending on performance time. There is ample free parking on the premises.
For reservations and information, call (301) 596-6161 or visit www.tobysdinnertheatre.com.