Travel
San Francisco's Chinatown feeds the sens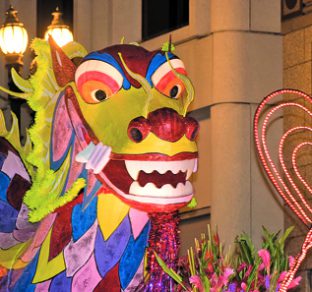 Smack in the middle of San Francisco's Chinatown, Portsmouth Square is a kaleidoscope of sounds, smells and colors. The cadence of Chinese dialects fills the air, and splashes of red and gold glow from shop windows to banners strung across the narrow streets.
The rich smell of roast duck curls out of hole-in-the-wall eating places, blending with the faint smell of incense burning on modest shrines.
Hard to believe that only a few blocks away lay the designer boutiques and gourmet coffee shops of a cosmopolitan Western city.
But that's what it means to visit San Francisco's Chinatown — a magic carpet of a destination that can take you from West to East in zero to 60 steps.
"What's really significant about San Francisco's Chinatown is that it has survived for over 100 years. Despite the hardships early on, the community is still here," said Sue Lee, executive director of the San Francisco-based Chinese Historical Society of America.
And not just survived, but thrived, she added. Although many of the original inhabitants have moved out to other areas of the city as well as suburbs, this is still a starting point for many new immigrants from Asia.
"It's a shopping district, it's a residential neighborhood and it's a tourist destination. And that's not by accident," she said.
Chinese New Year
With the Year of the Rabbit beginning Feb. 3, a visit to San Francisco's Chinatown is a great way to experience Chinese-American culture. And the best way to experience Chinatown is by foot, so it's no surprise there are a number of walking tours available.
At the Chinese Culture Center, tours begin with a look at art exhibits at the center, which blend contemporary and traditional works.
Then it's a short stroll to Portsmouth Square, where you will find dozens of residents playing mah jongg and other games, or just sitting and talking.
With housing space at a premium in bustling Chinatown, the square is "like a living room" for area residents, explained Fengyuan Ji, deputy program director of the Chinese Culture Foundation. "This is where they play chess, they play poker, they talk."
San Francisco's Chinatown is the district that almost wasn't. After the 1906 earthquake, city leaders pressed for relocating the Chinese to the city outskirts. But Chinatown businessmen pointed out that getting rid of the Chinese immigrants would also mean losing the rents and taxes they paid.
They came up with a plan to rebuild the area and make it a tourist attraction that would bring more money to the city. American architects were hired to create the new district, and pagodas were slapped up just about everywhere, along with generous helpings of red and gold dragons.
Chinatown's outward appearance may be more picturesque than authentic, but what goes on behind the colorful facades is the real deal.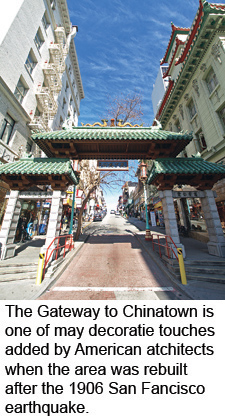 Herbs and fortune cookies
At the Great China Herb Company, herbalists carefully weigh out intriguing-looking bundles of this and that aimed at restoring vitality, improving digestion and generally curing what ails you. They also sell high-quality ginseng, which comes from the exotic locale of Wisconsin.
Incense is the signature of the Tin How temple on Waverly Place. Climb a few flights of stairs to find the small temple dedicated to the Goddess of Heaven. Pause to admire the ceiling, a blaze of hanging red lanterns that commemorate the dead.
Tucked into narrow Ross Alley, the Golden Gate Fortune Cookie Factory is the kind of place you smell before you see — the sweet, sugary scent of baking cookies floats out the door. It's a tiny place where workers fold cookies by hand. You can buy a bag of your own for a few dollars.
Everywhere you turn there are things to see, like the markets on Stockton Street that have all manner of foods still swimming, clucking and croaking.
There are plenty of places to eat in Chinatown, from hole-in-the-wall noodle shops to dim sum palaces. A popular spot, albeit one on the outskirts of Chinatown, is City View Restaurant (662 Commercial St.).
Also in abundance are the stores that sell paper replicas of worldly possessions designed to be burned for the dead so they can arrive in the afterlife fully equipped. You can buy the basics — furniture, food, money. And you can go way beyond that with replicas of computer equipment, fast cars, fine liquor and even designer purses.
There are glimpses of the past, like the East West Bank branch office (743 Washington St.), a green-and-red marvel of curved eaves plunked down between two resolutely Western structures. The building was once the home of the telephone exchange, where Chinese operators were required to speak multiple dialects to serve the diverse population.
And there are signs of the future — the new immigrants who come to find their fortune in California just like generations did before them.
East, West, past, future — all are here. "What's so fascinating about Chinatown," said Lee, "is it's so multifaceted."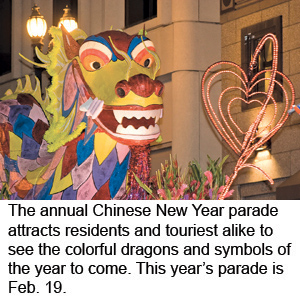 If you go
The ornamental gateway for Chinatown is located at the intersection of Grant Avenue and Bush Street. The main thoroughfares are Grant Avenue and Stockton Street. By public transportation, take BART to Powell Street, then take the Powell-Hyde or Powell-Mason cable cars to Chinatown.
The Chinese New Year parade takes place Feb. 19, 5:15 p.m.-8 p.m., from Market and Second to Kearny and Jackson.
The Tin How Temple is located at 125 Waverly Place. Free admission, but donations accepted.
The Golden Gate Fortune Cookie Factory is at 56 Ross Alley, parallel to Grant Avenue and in between Washington and Jackson streets. Free admission, although a sign asks 50 cents for pictures.
Great China Herb Co. is at 857 Washington St.
Chinese Culture Center: is at 750 Kearny, (415) 986-1822, www.c-c-c.org. The center offers heritage walking tours Tuesday to Saturday, at 10 a.m., noon and 2 p.m. Cost: $30 adults, $25 under age 15, free for children under 5.
The Chinese Historical Society of America is located at 965 Clay St., (415) 391-1188, www.chsa.org.
— AP