Arts
Science vs. faith in Freud's Last Session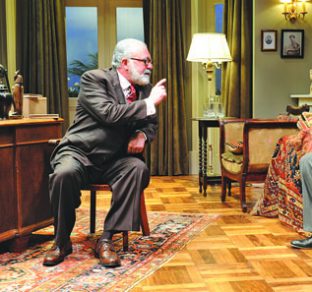 Sigmund Freud, played by Rick Foucheux, and C.S. Lewis, played by Todd Scofield, engage in an impassioned, imagined debate over faith versus science in Theatre J's production of Freud's Last Session.
Photo by Stan Barouh
Words are wielded like rapiers in Theater J's incisive production of Freud's Last Session, a two-man play running through June 29. Ideas are generated, examined, and then punctured and reaffirmed in defiance of those who like easy answers.
The stakes are high, the issues momentous. Life. Death. Life after death.
It's easier to digest than it might seem at first glance, as playwright Mark St. Germain plows through all of it in his imagined conversation/confrontation between two of the last century's more provocative intellectual giants.
There's the atheist Sigmund Freud, pioneer of psychoanalysis and firm believer in rational science, and C.S. Lewis, the influential Christian-convert writer who not only believes in another realm of life, but has the grounding to question those beliefs.
Freud and Lewis never met in real life, as far as we know. But St. Germain has appropriated some of their words and a lot of their attitudes for this play, an off-Broadway hit.
Dark and witty debate
The author takes their debate out of the abstract domain by choosing a time and place where matters of life and death are very real and quite gritty. St. Germain puts the meeting at Freud's home in London, on the day war commences between England and Germany in 1939.
The dialogue is sharply witty at times, infused with dark humor at others. And through all of it is a stream of human-scaled empathy and compassion.
The play is directed by Serge Seiden, on loan from his home base at Studio Theatre, and stars D.C. stage (and Theater J) veteran Rick Foucheux as Freud, and Todd Scofield, who is building an impressive list of credits on area stages, as Lewis.
Foucheux has the meatier role, as Freud, age 83 here, is suffering with terminal cancer. Perhaps questions of life and death are more vivid to him at this point. Freud propels the conversation, which is fitting as it is he who initiated the meeting.
Lewis, at age 40, has yet to produce his most important works, such as The Chronicles of Narnia. Lewis has the certitude of the recent convert, but as we see him here, he is intrigued by the chance to meet Freud and quite open to exploring and even challenging his beliefs.
Ominous radio bulletins about the war break into their talk; speeches from the prime minister and the king interrupt them. Air raid sirens wail, a reminder that death looms not just for an individual but for untold thousands. (They cannot yet grasp that millions will perish.)
As they both frantically grasp their gas masks, it is obvious that certainty about what comes after life is no guarantee against fear. Adding to the unsettled ambiance, Freud's mouth cancer causes several quite harrowing scenes that bring the two intellectual warriors into an unexpected intimacy.
It is all beautifully orchestrated to bring down to earth, so to speak, the battle that some perceive between science and faith.
Bringing Freud to life
Foucheux's work is outstanding. He infuses the dour Freud with an impish, sly sense of humor that ameliorates his arrogance and irritable nature.
Freud is Jewish, if thoroughly secular, and Foucheux makes the most of that in his mannerisms and outlook. We see the cracks in his carefully cultivated façade as he dominates his absent daughter Anna over the telephone.
Scofield's role is less dramatic, as Lewis is a more nuanced and self-controlled figure, at least at this stage of his life. But by making Lewis emotionally accessible to us, Scofield allows us to go along with him as he learns what makes Freud tick.
It is a melding of two carefully calibrated performances. Director Seiden allows each actor to bite off the crisply written dialogue, allowing each the space to let emotional tension build.
Ideas and personages fly by. Egyptology. The Bible. The writings of Chesterton. Hitler. It's psychological ju-jitsu at times, as a grudging respect develops between the two men.
This is despite Freud's insulting question as to how "a man of your intellect could embrace an insidious lie." And early on he challenges Lewis with this: "Things are simple only when you choose not to examine them."
To which Lewis replies, "I question my beliefs daily," demonstrating that while his beliefs may seem less complex than Freud's, they remain worthy of constant investigation.
Recreating Freud's study
Designer Deb Booth, whose work is familiar to Studio Theatre patrons, has created a fastidiously detailed recreation of Freud's study. It appears both real and artificial, not quite his. That is fitting when we learn daughter Anna has designed and outfitted the space for her father. That's a subtle coloration, and it is another dimension of this multi-layered production.
It may be that there is nothing especially new to be learned here about the finer points each man espouses. And it may also be that no one, believer or skeptic, is likely to leave the theater with a changed viewpoint. But the intellectual fencing onstage should poke enough holes in most brains to let some fresh air in.
Freud's Last Session continues through June 29 at Theater J, in the Aaron & Cecile Goldman Theater at the Washington, D.C. Jewish Community Center. The center is located at 1529 16th St. NW in Washington, four blocks east of Dupont Circle.
Performances are Wednesdays and Thursdays at 7:30 p.m.; Saturdays at 8 p.m.; Sundays at 3 and 8 p.m. (The Thursday, June 5 performance is at 8 p.m.) There is a Friday matinee at noon on June 6. There are no performances June 4, 11, 12, 14, and 15.
The performance on Thursday, June 5 at 8 p.m. has open-captioning for the hearing impaired. There will be a free post-show Talkback with the cast at 9 p.m. following the performance Thursday, June 19.
Tickets are $35 to $60 ($30 to $55 seniors). Theater J offers a $15 discount to military personnel and their immediate families. Call Box Office Tickets at 1-800-494-8497 or visit www.boxofficetickets.com.
Street parking on nearby streets is limited. Colonial Parking Garages are located at 1616 P St. NW and 1515 15th St. NW. If you're going via Metro, exit at the Dupont Circle Station on the red line.
Theater J is accessible to the physically challenged and offers free assisted listening devices.