Arts
She keeps the senate of Virginia humming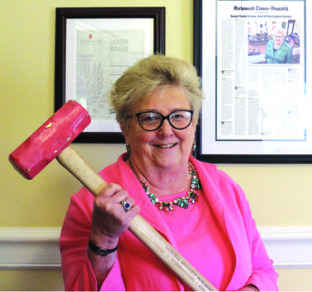 Susan Schaar has worked in the Virginia senate for more than 40 years.
Plaques, awards and memorabilia crowd nearly every square inch of Susan Schaar's third floor office walls at the Virginia State Capitol.
The long-time clerk of the Virginia Senate has a plaque from the American Society of Legislative Clerks and Secretaries, where she was the first Virginian elected president. There's a trophy from the National Conference of State Legislatures Foundation, "my Oscar," she quips. Here, she was the first Virginian to be the organization's staff chair.
There's even a sledge hammer with which she took a "ceremonial swing" at the ground-breaking for the new General Assembly Building last year. There are books, hard hats, bobble heads, and countless mementoes from her 43 years of public service.
Like her crowded walls, Schaar's days are jam-packed. As clerk, she is the Senate's chief operating officer, responsible for records, technology, human resources, facilities and the teenage pages.
During the legislative session, in January and February every year, she sits on the dais in front of the presiding officer — the Lieutenant Governor. Since the Senate has no parliamentarian, she is expected to know parliamentary procedure and the Senate's rules, drawing on authoritative tomes like Jefferson's and Mason's (Paul, not George) Manuals, the arcana of legislating.
When the Senate is not in session, Schaar compiles a record of motions and votes, and manages study commissions created by the legislature. She is the chamber's institutional memory.
Secrets to success
Schaar started working in the Virginia Senate in 1974, and in 1990 the body's 40 senators elected her as its clerk. Since then, she's been re-elected every four years, under both Democratic and Republican leaderships.
When first approached about the job, Schaar hesitated, she said. But she decided that the opportunity might not recur, and accepted it on the condition that it would be a nonpartisan position. That condition has held.
There are no academic curricula or college courses to educate people about the myriad responsibilities of most legislative staff jobs like hers. "I had to learn on the job," she said.
Schaar says there are three secrets to her survival all these years: "One: Be flexible; everything changes in five minutes. Two: Like people from all walks and all backgrounds. Three: Have a sense of humor, including be able to laugh at yourself."
Restoring the Capitol building from 2004 to 2007 was a career highlight, she said. It involved renovations to improve visitors' experiences, upgrade wiring, and stabilize a shifting dome.
The historic, neoclassical building was designed in 1785 by none other than Thomas Jefferson. The legislature first occupied the building in 1788.
Legislators' offices are located in the General Assembly Building. Schaar is now overseeing the design and remodeling of those offices. The design will retain the building's historic façade.
All about the senators
When asked to recall a funny moment in the Senate, she said that a senator once asked her, "Do you write in your personal journal every day?" She replied, "I don't keep a journal." His response: "Thank goodness!"
She sees legislators "in the round," as she puts it — at their wit's end, in their leisure modes, and in their stellar, stentorian moments.
As for memorable experiences, she fondly recalls the visit of the United Kingdom's Queen Elizabeth II, and her address to the joint session four days after the renovated Capitol re-opened in 2007.
To prepare, Schaar did a walk-through of the planned events with the queen's security staff and U.S. Secret Service personnel. When a Secret Service agent spotted a painting in the old Senate chamber of Continental Revolutionary War forces overwhelming Lord Cornwallis's British troops at Yorktown, he questioned the etiquette and political wisdom of strolling with the Queen past the painting.
"Is that polite?" he gently queried. The queen's staff drily retorted, "She probably knows. She's very astute about those things."
Even though Schaar is not eager to be in the spotlight, she made headlines in early 2017 when the General Assembly raised her salary by $20,000 to bring it in line with her male counterpart at the House of Delegates. He had worked in the House of Delegates only six years, compared with her 27 in the Senate. Proponents argued they should correct an unequal pay for equal work situation.
Nearly a year later, she is still tight-lipped about the situation, only willing to say, "It was resolved to my satisfaction."
Rewarding elements
Though her job is "never dull," an especially rewarding part of it is managing the page program, under which youngsters age 13 to 14 get to learn the ropes as interns during the General Assembly's annual session.
"It is life-changing for them," Schaar said. "When they go home, they want to talk politics and issues." And, she adds, they learn much more: time management, how to handle money, how to be on their own, and good manners. "They go home changed."
Two Capitol Square projects now underway are also important to Schaar. "The Mantle" will be a monument to Native Americans. It is named after the deerskin cape owned by Powhatan, father of Pocahontas, and was designed by Alan Michelson, a Mohawk member of Six Nations of the Grand River.
The Virginia Women's Monument will feature bronze statues of 12 women influential through Virginia's history. "This has become a passion," Schaar said of the project.
When not working, Schaar kayaks on the Rappahannock River, and tends to three rescue cats and one rescue dog. A graduate of Westhampton College, she lives in Henrico County with her husband, Bill. She has one stepson and two grandsons.
Schaar professes no interest in ever running for office herself, but she claims some credit in grooming others for office. Senator Jennifer L. McClelland, D.-Richmond, who was elected to the Virginia Senate in January 2017, worked in Schaar's office during McClelland's senior year at the University of Richmond.
It was an experience that created a special bond between them. "[Schaar] is very dedicated to the Senate as an institution and to individual senators," said McClelland, "making sure everyone does what they need to do, follows protocol, and upholds the importance of the Senate as an institution.
"She likes to brag that [my experience in her office] trained me [for the Senate]. For her, it's like one of her children has come home," McClelland said of Schaar.
"She swore me in after my special election, and I think for her, it felt like the prodigal daughter had returned. It was a special moment."