From the Publisher
Some operating instructions for grandparents

Back in 1993, one of my favorite writers, Anne Lamott, published a witty, self-deprecating journal about her son's first year. Called Operating Instructions, it chronicled her joyful, exhausting days as a single parent with her baby Sam.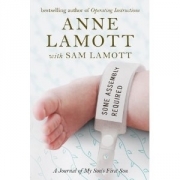 How time flies. Sam is now 19 and recently became a father himself and Lamott a grandmother. Today a sequel of sorts to that first book was published. Some Assembly Required: A Journal of My Son's First Son explores what Lamott calls the "crack cocaine" of having grandchildren. She exults in spending time with her grandson Jax, finding it much more relaxing knowing she can hand him back to her son at any point.
Here's how she describes meeting Jax the day he was born.
"Jax was the loveliest baby boy I've ever seen, a dead ringer for Sam as a newborn, gorgeous as God or a crescent moon, with huge black eyes, nearly black hair, lightly tan. I felt as though I was seeing a river gorge, from way up high on a bridge, silenced by the vastness of his tiny face, the depth of his black-brown eyes."
For those of you in the Washington, D.C. area who want hear more about Jax and grandparenting, Lamott will be reading from the book at Politics and Prose, 5015 Connecticut Ave., NW, Washington, D.C. at 7 p.m. on Thursday, March 22. See http://www.politics-prose.com for details.