Housing
Sometimes, the residents run the show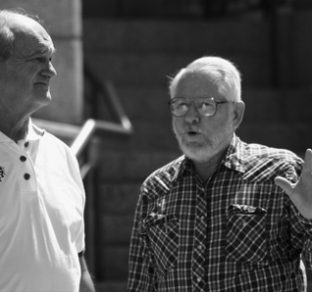 Dawn Strumsky, 70, and husband John, 76, spend much of their "spare" time hosting television talk shows at the in-house TV station at Charlestown retirement community in Catonsville, where they have lived since 2011.
Betty Meyers, 91, arranges weekly Sabbath services at Weinberg Senior Living in Owings Mills, her home for 11 years.
About 15 miles down the road, Phil Levin, 63, helps run the convenience store at Weinberg Manor South on Fords Lane in Baltimore, the senior residence he moved into last year.
They and dozens of other residents at these and other communities volunteer their services to help meet the needs of their neighbors while engaging in fulfilling and fun work.
It's a labor of love. John Strumsky, a retired banker, insurance agent and history buff, puts in about 25 hours a week doing research for and shooting his 45-minute programs about historical events and historical figures. He prepares three shows a month, and considers it to be more pleasure than work.
"When I was working fulltime, I used to supplement my income by writing historical articles for magazines," he said. "Now, I flipped that interest over to doing a TV show on the subject.
"It's been well received in our community, and it makes me feel good when people tell me they appreciate the show."
Dawn Strumsky, who once worked as a special events coordinator for former Baltimore Mayor William Schaeffer, is known as the Wacky Weekend Weather Girl. She dons appropriate costumes, wigs and glasses for her weekly, five-minute weather report.
"I wear my fur-lined, floppy hat with flaps for forecasts of heavy winds and frigid temperature," the weather woman said.
The Strumskys also team-up to do a 45-minute program, "Through the Keyhole," where they interview community residents while the camera gives views of the interviewee's apartments — the historic furniture, the cooking equipment, the objets d'art, etc.
"I especially love doing that show," said Dawn. "Residents have told me how interesting it is."
Charlestown's Channel 972 closed-circuit TV station is one of the amenities that has been offered to residents of the continuing care retirement community since 1988. The community consists of some 2,000 residents and 1,100 staff on 110 acres, much of it still in a natural state, including a large lake.
About 20 other community residents perform volunteer work at the station, both in front of and behind the cameras — hosting talk shows, giving the news, setting up lights, mikes, even doing some editing for the taped shows. They work with a three-person professional studio staff.
Tom Moore, the station manager and an experienced TV administrator, noted that there are few things as enjoyable as watching older people become proficient with video technology and television production.
"The residents feel they are playing a key role in creating a sense of community by volunteering in our studio," he said. "And this is exactly what they are doing. They are creative and energetic, and they always have fresh ideas."
The station, which also offers scrolled information about events at the community, is on the air 24 hours a day, seven days a week.
Organizing Sabbath services
Over at Weinberg Senior Living, nonagenarian Betty Meyers, who says she was the second person to move into the complex, back in 2005, has since then been arranging the Friday evening services for the Jewish residents of the community.
"Soon after I moved in, I met this other Jewish resident who said to me, 'You know what I miss? I miss Shabbat [Sabbath] services.' I told him: 'I'll see what I can do.'"
So Meyers visited rabbis, who suggested people to lead the services. She then arranged for the service leaders, and got in touch with interested residents to attend the lighting of candles and the reciting of blessings.
About 40 people come to the weekly service, said Meyers. The ritual, she said, is part-Reform, part-Conservative, and performed in both Hebrew and English.
"We have our own prayer book, made up by Stuart Cohen of Baltimore Hebrew Congregation, who is the current leader of the services, along with Paula Farkman." said Meyers.
A Reform Jew, Meyers said she hopes to continue this volunteer work "as long as I'm around and able. It gives me satisfaction to know that what I'm doing is worthwhile and it's something that people want."
Minding the store
Meanwhile, at Weinberg Manor South, Phil Levin volunteers twice a week at
the "miniature 7-Eleven-type convenience store" in the building where he lives. He is among the eight volunteers who run the store, selling and stocking such items as snacks, canned food and paper products.
Prices are "way less" in the community's store than in other retail stores, noted Levin, "No one gets paid. We only charge for the products the amount we need to replenish them," he said.
Levin said he has done lots of volunteer work over the years "because it helps out other people — and it helps you also. If you are retired, you've got to keep busy. I think that lots of other retirees should definitely be doing volunteer work too, for their own good as well as the good of others."