Arts
Sondheim's Follies needs a patient audience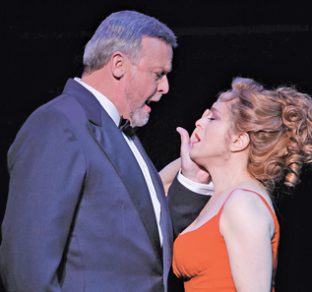 First the good news about Follies, the potentially Broadway-bound Kennedy Center revival of Stephen Sondheim's 1971 musical: the music sounds magnificent. A 28-piece orchestra, almost unheard-of these days, robustly plays Jonathan Tunick's original orchestrations of Sondheim's charming score.
That music, by the way, won Sondheim the Tony Award for Best Original Score, while James Goldman's book took home the writing award.
Now the bad news: the awkwardly conceived first act is unfocused and episodic, with little chemistry or cohesion among members of the star-studded cast. It drags on.
Even perky Bernadette Peters, the nominal star of the show, can't save it. Director Eric Schaeffer appears to have his work cut out for him to get this show back to Broadway.
Act two gets better, though, as the story focuses on its main characters — two sets of couples negotiating mid-life crises.
High-profile cast
Follies is a dual-period piece, set both in 1971 and 30 years earlier. Former showgirls and the stage-door Johnnies they married are in New York for a reunion of the Weisman (think Ziegfield) Follies, a revue running from World War I to World War II.
Their old theater is about to be razed to make space for a parking lot, and this is a last chance to revisit the scene of their glory days, an opportunity to re-think some life choices.
We focus on two couples, the best of friends in their youth. They have lost touch over the years, but deep feelings remain below the surface. Both couples are in doubt about their marriages and unhappy with the paths their lives have taken.
As the 1971 version of the characters mingle and re-engage with each other, their younger selves are also seen enjoying the heady days of youth and excitement. Ghostly younger showgirls glide silently about the stage, reminders that the past is always present.
A high-profile cast of Broadway stars was hired, including Sondheim favorite Peters, Linda Lavin (perhaps more familiar to many as TV's Alice in the 1970s), Elaine Paige (often called "The First Lady of British Musical Theatre", who created the role of Evita Peron in Evita), and multiple Tony Award nominee Jan Maxwell. The male leads are Broadway stars Danny Burstein and Ron Raines.
And in a curious move, Régine (one name apparently suffices), whose credits include liberal use of the term "chanteuse" and who is credited with inventing the discothèque, was brought in from Paris to croak a song. Enough said about that.
Some of the songs have achieved high profiles over the decades, especially "Broadway Baby," "I'm Still Here," "Too Many Mornings," "Could I Leave You" and "Losing My Mind." Sondheim is musically expansive here, and his score ranges from ballads to Tin Pan Alley, to light opera, and music hall numbers.
Follies sometimes feels like two shows, as there is a clear division between the "book" numbers, which augment the story, and the period vaudeville-type numbers that showcase the showgirls' old performances.
"Loveland," the concluding musical sequence, is designed to resemble a Ziegfeld Follies show, circa 1920s. Each member of the two lead couples gets the chance to perform in a dream-like sequence, the songs highlighting their emotional dilemmas.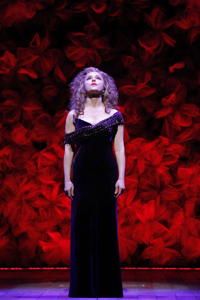 Gets off to a slow start
This may be the area's highest-profile show of the year, as the Kennedy Center is hoping it will make the jump to Broadway. They have spared no expense, pumping from $6 to $8 million into it, depending on which report is to be believed.
Schaeffer, director of Signature Theatre and one of the country's top Sondheim interpreters, was brought in to direct the cast of 43, a size rarely seen in contemporary theater. And Sondheim himself has been on hand to lend his imprimatur.
The chance to see this music performed in Washington with a full-out Broadway staging, and with Broadway talent, is a rare opportunity, indeed. That makes it likely the Kennedy Center's Eisenhower Theater will be full most nights, even as non-scalped, standard-issue ticket prices top out at $150 each.
But be prepared to suffer a bit through act one, which seemed listless on opening night.
As the show opens, we meet the older, 1971 versions of the characters, and they explain their current status, emotionally and otherwise. We also meet their younger selves as they reminisce. Each one of the stars and numerous featured players all have to be introduced and trotted out for a solo.
Momentum is problematic as the story jumps around in time and intersperses a glut of characters, some of whom we don't ever see again. Schaeffer has failed to inspire consistent pacing and energy in this act, and it begins to feel episodic.
Furthermore, the "stars" seem more concerned with their own numbers, and there is little ensemble chemistry as they each stride onstage, try to "stop the show," and then exit.
Bernadette Peters does a fine job as former showgirl-turned-Phoenix-housewife Sally Durant Plummer. Still, her voice seemed strained somewhat on opening night, and she seemingly held back some of her power for her showcase number in act two, the iconic "Losing My Mind."
Stepping into the energy vacuum that evening was Jan Maxwell. She plays Phyllis, the former showgirl who married Benjamin Stone (Raines), the man Sally loved. By 1971, Phyllis is adrift, feeling emotionally abandoned by Ben.
In "Could I Leave You," she fills the theater with a burst of emotion and shows us a fully dimensional woman, igniting act two. Follies becomes her story.
Linda Lavin, looking and sounding younger than her years as showgirl Hattie, belts "Broadway Baby" to enthusiastic audience response — and then disappears until the curtain call.
Elaine Paige rides the waves of the survivors' anthem, "I'm Still Here," gently swinging and building to a mighty finish as the orchestra goes into big band overdrive.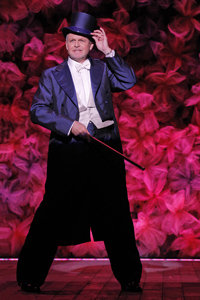 Burstein gets in some good moments, too, especially commanding the stage with his follies tune, "Buddy's Blues."
Emotional resonance finally reaches dramatic critical mass in act two, though it may be too long a wait for some (the show runs two and a half hours). There are enough musical highlights to keep hope alive until then, however.
With some hard work, especially in act one, Schaeffer, Peters and company may pull this together enough to make Follies shine on Broadway yet again.
Follies continues through June 19 at the Eisenhower Theater of the John F. Kennedy Center for the Performing Arts, 2700 F St., N.W. in Washington, D.C.
Tickets range from $45 to $150. They are on sale at the Kennedy Center Box Office, by calling Instant Charge at (202) 467-4600, or online at www.kennedy-center.org/tickets.
Performances are at 7:30 p.m. Tuesday through Saturdays, with matinee shows at 1:30 p.m. Wednesdays, Saturdays and Sundays.
Michael Toscano is the Beacon's theatre critic.