Arts
Studio play about theater mirrors real life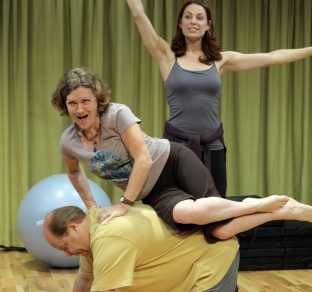 Do you need to be a theater "insider" to fully appreciate emerging playwright Annie Baker's quirky but affecting comedy-with-serious-overtones play Circle Mirror Transformation? Studio Theatre is hop ing most audience members will be able to see something of themselves in this story.
Winner of the 2010 Obie Award (off-Broadway) for Best New American Play, Circle Mirror Transformation takes us into an amateur acting class in small-town Ver­mont, where acting exercises highlight the real drama of seemingly mundane lives.
The production also marks the first show under the leadership of new Artistic Director David Muse, who has taken over from Studio founder and longtime leader Joy Zinoman. Muse directs this play with such careful attention to detail that it is remarkable how fresh and spontaneous much of the action seems.
Scenes that appear to be improvisation by the fine ensemble cast are actually in tensely timed and calibrated. The playwright has mandated quite specific staging instructions, even including where and how dialogue overlaps and how many seconds the pauses should last. It may be exhausting for the five actors, but it pays off for us in rich character development.
Therapy or theater?
Baker sets the story in a multi-purpose room of a community recreation center. Marty (Jennifer Mendenhall) is the teacher who leads four students — three older adults and one teenage girl — through six weeks of exercises designed to help actors "live in the moment" onstage via improved self-awareness and communication.
The exercises resemble group therapy more than what we might think of as acting. This is the kind of activity that puts the self absorption of actors (and would-be thespians) into very sharp relief, and makes one wonder why they don't forget about all that stuff and just try, you know, acting.
But this is apparently what seems to work for "serious" actors, even as they often make fun of or bemoan such activities.
The play begins slowly as five people in the darkened classroom lie in a circle, heads together, feet pointed outward. They begin to count to 10, one person and one number at a time, in random order.
The point is for each individual to be aware of everyone else and not to step over another's counting.
It's apparently a standard acting exercise, based on knowing chuckles from some members of the audience with theater backgrounds. For everyone else, it is a bit mystifying.
But that's the point. The lives of most people we meet seem rather mystifying at first. It is only through continued expo sure in a variety of situations that real faces begin to emerge from behind the masks we all wear.
Muse allows the methodical pace of the early scenes to build, but does so slowly and deliberately. Piece by piece, disconnected bits of each character's life start to form into a recognizable outline, and the pace begins to quicken.
In between six separate classes, characters interact directly with each other. By the end of the hour-and-50-minute play (there's no intermission), the students have connected to each other and we have connected to them. The humor is character- driven and based in the reality of the performances, rather than punch lines or comic situations.
Strong ensemble cast
The lives of these people are fairly ordinary. Marty the teacher is well-intentioned, and local stage veteran Menden hall pumps her full of warmth.
She is joined by another local favorite, Harry A. Winter, as Marty's husband James, who is also one of the students. Winter skillfully allows us to see glimpses of trouble behind the genial façade, adding depth to both his work and Mendenhall's.
Broadway veteran Jeff Talbott is Shultz, a recent divorcee whose insecurities are evident in every awkward attempt at bonhomie and in each forced smile.
New to town from New York is Kathleen McElfresh, who plays Theresa, a former New Yorkactress who has washed up in Vermont. McElfresh layers in damaged self esteem just below her surface enthusiasm and flirtatiousness, making it seem almost inevitable she will collide with Shultz, the relationship-damaged, newly single guy.
This is a strong ensemble effort, but al most stealing the show is Mackenzie Meehan in her Washington debut in the role of Lauren, a sullen, awkward teen. Meehan's hunched, stiff body language says more about Lauren's introverted nature than mere dialogue might express.
So it's all the more explosive when Lauren finally speaks for the audience by ask ing, in sheer exasperation, "When are we going to do some real acting?"
Debra Booth's intricately detailed rec center set, with its polished hardwood gym floor and floor-to-ceiling dance mirror, provides considerable atmospheric re­alism, supporting the work of the playwright and cast.
The audience encircles three quarters of the thrust stage, with the feet of front row patrons right on the set's floor. That draws us into the world Baker has created, as if we in the audience are participants in the class. The sense that we are observing real life becomes palpable.
The play achieves poignancy in its fondness and compassion for the characters, who are hardly unusual or larger than life. Muse and his cast provide sincere por­traits of the drama that can be found in all our lives, and it's a striking kick-off to Studio's season and to Muse's tenure.
Circle Mirror Transformation continues through at least Oct. 17 at Studio Theatre's Mead Theatre, located at 1501 14th Street, N.W., Washington, DC. Evening performances: Wednesday through Saturday at 8 p.m. and Sunday at 7 p.m. Matinees: Saturday and Sunday at 2 p.m. There is a special Tuesday performance on Oct. 12 at 8 p.m.
Ticket prices: $35 to $65, with a $5 discount for those 62+ and military personnel (except Saturday evenings). All performances are fully accessible for patrons with special needs, including an FM listening system. Call for a schedule of sign-interpreted performances. Accessible seats are available by reservation.
For tickets, call (202) 332-3300; TTY: (202) 667-8436. For more information, visit www.studiotheatre.org.
Michael Toscano is the Beacon's theater critic.