Arts
Suspend disbelief to enjoy Toby's 42nd St.
Let's be clear. Musicals aren't for cynics, which might explain why Jerry Seinfeld's character in the classic comedy that bore his name didn't like them. "People just don't suddenly burst into song…they start to sway, it's embarrassing," Jerry tells sidekicks George and Elaine.
When it comes to appreciating a musical, the same skill needed to enjoy any work of fiction is required — a suspension of disbelief. One must give one's self over to the premise that people can start out having a normal conversation and suddenly belt out a Broadway number while tap dancing in a chorus line.
Credulity must certainly be left at the stage door when it comes to appreciating one of Broadway's most famous musicals, 42nd Street, now at Toby's Dinner Theatre of Baltimore.
Based on the 1933 movie of the same name, and featuring some of the great songs from that film plus others by the same writers, the show unabashedly portrays the Broadway cliché where an unknown rises to stardom in her first role.
A "kid" just off the train from Allentown, Pa. wins a job in a New York big city musical — and not only that, gets handed the lead, learns all the songs and dance numbers in 36 hours, and becomes a big star overnight.
Of course, it's about as accurate a reflection of how one achieves success on Broadway as "The Brady Bunch" was an exact facsimile of American suburban life.
But if one looks at it as a fairy tale — the story of what people who live to perform are willing to suffer and endure for their craft, and a celebration of friendship and love — then42nd Street is entertainment at its finest.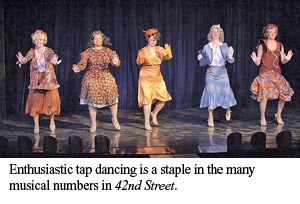 Captivating choreography
Of course, it helps to like tap dancing, because there's a lot of it in 42nd Street. From the very first scene, "The Audition," to the final bows 2 ½ hours later, you'll see a bevy of talented, high-energy, perpetually smiling young people tap their hearts out.
Not that there's anything wrong with that.
On the contrary, the precision of the dance moves and choreography, apart from a few slight stumbles (sometimes dancers in the back rows seemed a bit off as to which way they were to swing their arms), was captivating and certainly a crowd-pleaser.
In the large, ensemble cast, none of the 23 performers stood out when it came to dancing ability or voice. Even Jamie Ogden as Peggy Sawyer, the fresh-faced, Shelley Longish "kid" from Allentown who becomes a "Broadway baby," didn't demonstrate talent superior to her lower-ranking "chorines" — though her high kicks would make any NFL field goal kicker insanely jealous.
After all, this is Bawlmer, hon, not Broadway, so one doesn't expect singers and dancers to be reincarnations of Fred and Ginger.
Some voices lacked the power one might have liked, and there were a few "off" notes, but as is typical of a
Toby's production, what players lack in talent they more than make up for in their enthusiasm.
Perhaps surprisingly, where the cast is strongest is in their acting. David Bosley-Reynolds shines as Julian Marsh, the New York director who overcomes his own cynicism to recall why he came to Broadway in the first place. It is he who sings "Lullaby of Broadway," convincing Peggy to put down her suitcase and return to the stage.
Tina Marie DeSimone plays the fading star, Dorothy Brock (substituting for Lynne Sigler), who is somewhat Julian's mirror image. While Julian is hardened by the business of theater, Dorothy has adopted the tough shell of the diva, which is sometimes played for laughs, but ultimately, is set aside in the face of Broadway's greatest truth: It's all about the talent, the desire, and the willingness to risk all to enchant an audience for a couple hours a night.
It's a truth Julian and Dorothy learn through Peggy's example. As characters, they grow throughout the cours
e of the show to become something better than when they first appeared on stage.
Even a cynic's got to love a musical that features three-dimensional character development.
Memorable tunes
Now toss in some pretty eye-catching costumes (it helps to be a fan of sequins and plaid, the latter especially in evidence in the suit donned by Vincent Musgrave's Bert, who bore a distinct resemblance to Bob's Big Boy), a bevy of quick changes (I wondered how David Jennings' Billy Lawler character got into his tuxedo quite that fast!), and sets that flash, pop and glow.
What's not to like? Particularly when one considers the show includes such memorable tunes as "Lullaby," "We're in the Money," "Quarter to Nine," "Shuffle off to Buffalo," and the title number, "42nd Street."
Toby's production of this perennial theatrical staple is a night to celebrate the art of song and dance and those who give their moxie and tear- and sweat-stained all to be a part of it…which is what this musical is really all about.
The show is directed and choreographed by Tina DeSimone, with musical direction by Renie Codelka, set and lighting design by David Hopkins, and wigs/costumes by Larry Munsey.
Performances are Thursdays through Sundays through June 5 at Toby's Baltimore, located at 5625 O'Donnell St. in the Best Western Hotel & Conference Center. There are also selected Tuesday and Wednesday evening and Thursday matinee performances.
Tickets include an all-you-can-eat buffet dinner or brunch. Alcoholic beverages are available from a full-service cash bar. Doors open at 6 p.m. for evening shows, 5 p.m. on Sundays and 10:30 a.m. for matinees.
Tickets range from $49.50 to $53.50, depending on the date of the show. Reservations are required. For more information, call (410) 649-1660 or go online at www.tobysdinnertheatre.com.
Dan Collins is a Baltimore-based freelance writer.