Arts
Suspenseful fiction for summer reading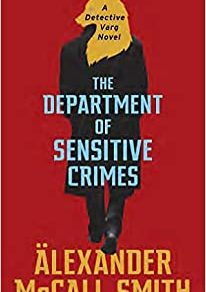 The Bibliophile
This summer, relax and enjoy these tales of crime detection, spycraft and murder as conjured by talented older authors.
The Department of Sensitive Crimes: A Detective Varg Novel, by Alexander McCall Smith, 240 pages, Anchor paperback, 2020
Follow Detective Ulf Varg of the Malmo, Sweden, Criminal Investigation Authority as he solves quirky cases assigned to his Department of Sensitive Crimes. Suspected criminal cases that require investigative discretion are referred to this special plainclothes unit.
Working with Ulf are his colleagues Anna Bengsdotter, Carl Holgersson and clerical assistant Erik Nykvist. The clash of personalities in a confined workspace; an office infatuation between a divorced man and a married woman; and the struggle to make progress as a team despite a bombastic, know-it-all coworker are themes that resonate beyond the borders of this Scandinavian city.
Office banter and sly remarks between colleagues are described knowingly, as is the need to avoid comments that can be construed as insensitive.
Offbeat crimes and minor characters contribute to the entertaining tableau. One police officer has a knack for identifying subjects. Also adding charming touches to the novel are a compassionate therapist, a widowed neighbor and pet dog Martin who reads lips.
Older readers will especially enjoy Detective Varg's take on contemporary behavior. Although in his late 30s, the detective pines for the days when gentlemen adhered to a strict code of conduct. That's no mystery: Varg's creator is a septuagenarian.
Scottish writer Alexander McCall Smith has written more than 100 novels. He brings a wry sensibility to this beguiling mystery, the first of a series about Detective Varg. There are no murders, no corpses, no guns in this whodunit.
The Department of Sensitive Crimes has been labeled, with tongue firmly in cheek, Scandi Blanc — a new genre of fiction.
Agent Running in the Field: A Novel, by John le Carré, 288 pages, Viking hardcover, 2019
Octogenarian author John le Carré has written a nuanced, dramatic, well drawn portrait of a 47-year-old British spy, home from his overseas postings. Those experiences were dramatic, important and dangerous compared to his current, staid London grind.
Agent Nat is anchored by the love and forbearance of his wife, Prue, a radical attorney. He hearkens to his early years as a spy during the Cold War when right and wrong were in stark contrast. He is dismayed by the contemporary state of affairs. (Aren't we all?)
Nat's experience at spycraft holds him in good stead as he must navigate a crisis in his career. The tale is briskly told without undue complications. The excellent plotline of Agent Running in the Field is entertaining and full of surprises as readers get a glimpse into the secret world of undercover operatives.
The story's events are neither far-fetched nor overly dramatized. Better still is le Carré's wise insight into human relationships — complicated by factors such as betrayal and diverse philosophies — that stands the test of time.
The elegance, courtesy, stiff-upper-lip mentality and understatement, which permeate the behavior of the older British generation, contrasts with the outspoken, harsh histrionics of the book's younger characters. Older readers will be enchanted.
One Good Deed, by David Baldacci, 464 pages, Grand Central Publishing paperback, 2020
Richmond, Virginia, native and Fairfax County resident David Baldacci takes us back to small town, post-World War II America in this exciting thriller. Army veteran Aloysius Archer, in his first days as a free man after his release from prison, encounters troubles that culminate in a trial for his very life.
The book opens as Archer boards the bus from Carderock Prison to report to his parole officer in Paco City. Settling in and beginning life anew proves fraught with temptations and terror, murder and mayhem.
Meet the colorful and complicated townspeople who become his friends, antagonists, cohorts and nemeses. Appearances prove to be deceiving. Someone's past can be readily misunderstood. Villains may be victims. As the action unfolds, characters are revealed to be more than skin-deep and their motivations ultimately understood in their proper context.
Baldacci, a prolific author who has sold more than 130 million novels worldwide, joins the ranks of "older adults" when he celebrates his 60th birthday this month. Welcome to the club!