Housing
The retirement community of the future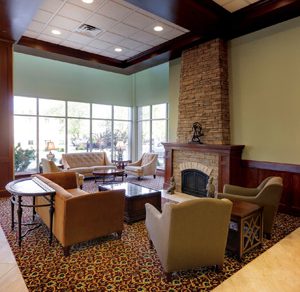 With retirees increasingly worrying about outliving their savings, Friendship Retirement Community is looking to address the concern with the assistance of architecture students.
The Roanoke retirement community that currently is home to nearly 900 people is in the early stages of developing a research partnership with two of Virginia's leading architecture schools. The aim is to define and design the retirement community of the future.
The vision includes a walkable community, or at least one that doesn't rely on cars, plus a community market, recreational amenities, and homes that can be adapted with technology as a person's needs change with age.
The assignment proposed by Friendship is for students studying architecture at Virginia Tech and the University of Virginia to create a retirement community that can maintain a reasonable price with little or no rate increases, while adapting to the physical needs of aging residents.
This isn't just an academic exercise but one that Friendship will use as it plans to expand its campus beginning with construction of new residences this year.
"The most desirable and cost-efficient method of aging — aging in place — is difficult, even under the most ideal conditions," said Friendship CEO Russ Barksdale.
"Research from both universities shows the correlation between health and housing concerns of elderly individuals, and yet most retirement facilities designed and built even within the last five years are not optimal for our nation's growing elder population."
Few homes, whether institutional or not, address both the health and housing needs of people as they grow older, Barksdale said. He wants Friendship to be part of a solution that changes that.
Rising retirement costs
Last year, the national rates at nursing homes and assisted living facilities nationally increased 4.4 percent and 5.6 percent respectively, according to the 2011 MetLife Mature Market Institute national market survey of long-term care costs.
On average, Virginians pay a monthly base rate of $3,811 for assisted living, according to the MetLife report. Costs in Baltimore are comparable, though Maryland overall has a higher average cost of $4,441.
At the same time, individual retirement accounts are shrinking as retirees face a volatile stock market and ailing economy. People have seen the equity in their homes fade, and there was no Social Security cost of living raise in 2010 and 2011.
Plus, Barksdale said, often seniors are not living in an ideal environment. Some are spending too much money for care they don't require, while others can't afford the care they need.
"Too often in our industry, seniors are moved quickly into assisted living and then skilled nursing," Barksdale said. "Each level is more costly and requires them to give up more and more independence."
Longer lives
On top of the financial strains, Barksdale said the average time retirees live in a community like Friendship has risen. That means that seniors are entering when they are younger, when they are more active.
"We are seeing residents join Friendship Retirement Community in their 70s and living here 15 to 20 years," he said.
With the impending surge of retiring baby boomers, who are expected to live longer, Barksdale said a new option for retirees is needed.
"Already, we're seeing 95 percent occupancy in our independent living apartments and our healthcare center is full, with a bit of room left in assisted living," he said.
"We see the need for more capacity. So future residents will be older, they may require more assistance in their home, and there's a likelihood that they'll have less money to bring into retirement."
Still he added, "They also want more amenities than generations before them — whether it's a community center, pool, workout room, activities, travel and modern kitchens."
Figuring out how to rein in costs while providing more amenities is among the seemingly incompatible tasks that Friendship wants the architecture students to tackle.
"This project is about sustainability — financially for residents, clinically for the right care, and philosophically," Barksdale said.
Architecture students step in
For the students, the question posed by Friendship, which is Virginia's largest retirement community, provides a platform for conducting research in the growing field of how environmental design influences the health and well-being of citizens.
Inaki Alday, chairman of the department of architecture at UVa, said the relationship with Friendship is a promising research opportunity in an area that could have a larger effect on society and the aging population.
"We are demanding new things, new ways of having relationships with the environment," Alday said. "I guess Friendship is interested in being on the cutting edge of what society is demanding."
Alday said students will have to ask questions such as where to locate a vegetable garden and how to design a community that doesn't rely on cars for transportation.
Friendship already has identified both land and money to create this new environment and has plans to break ground on a new development on its Roanoke campus next year.
On the table is a $5.5 million budget to construct 34 new apartments that will incorporate the best of the designs and ideas from the students. That will be the first stage of the larger project.
Last November, Jim Jones and five students from Tech's College of Architecture and Urban Studies stood with Barksdale looking out at 14 acres of undeveloped land adjacent to the existing Friendship community.
Jones and Barksdale discussed the location and the vision. "It's nice because it's open to the south," said Jones, who is the director of the Center for High Performance Learning Environments at Tech. "That provides nice natural light."
For Jones, the relationship with Friendship also delves into a larger architectural challenge of designing buildings and the surrounding landscape to create energy-efficient and sustainable spaces.
Taking advantage of the natural light that he immediately noticed when visiting the site means purposefully including skylights, windows, doors and outdoor spaces in the overall design, Jones said.
"We want to get into the mind of the people who will inhabit these spaces and figure out what works and what doesn't work," he said.
The immediate design will likely rely on existing ideas that have already been proven through research. Friendship is not alone in embracing those concepts.
Last September, the state of Virginia granted permission for Richfield Retirement Community to renovate and expand its nursing home in a $35.5 million project that moves away from the long hallways of traditional medical institutions and instead relies on a "neighborhood" setting where activities and care can be tailored to patients' needs. [A similarly innovative long-term care community opening soon in Baltimore will be featured in an upcoming issue of the Beacon.]
Besides looking at the 14-acre open field, Barksdale took Jones on a tour of the existing buildings at Friendship. There, too, Jones pointed out changes to the design that would offer a more suitable environment for residents, such as doing away with some of the dark hallways and segregated rooms that confine people to one space and block any connection to the outdoor environment.
"This offers us a chance to design something new, but also test what exists," Jones said. "We can look at what works and doesn't and use that to inform [the design]. It's a continuum of research."
— The Roanoke Times via AP