Housing
Tiny homes can offer some big benefits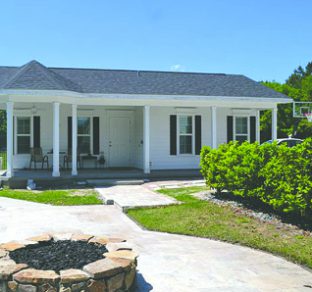 Home Care Suites designs its small cottages for the backyards of existing residences. At 500 square feet, the Floridian model is spacious by tiny home standards.
Photo courtesy of Home Care Suites
For those looking to undergo extreme downsizing, a tiny home might be the answer. The average tiny home measures just 186 square feet, and is often one single room doing double or triple duty.
Tiny houses have exploded in popularity in the last decade or so, buoyed by a number of cable TV shows devoted to the Lilliputian trend, such as "Tiny House Nation" and "Tiny House Hunters."
Most of the houses are 100 to 400 square feet. That's a fraction of the size of a traditional house. But limited space offers unique benefits, including lower utility bills and easier upkeep.
And retirees are taking notice. Nearly 30 percent of tiny home residents are between the ages of 51 and 70, according to a 2015 survey conducted by TheTinyLife.com, a tiny home website.
Cost makes tiny homes particularly appealing to those living on fixed incomes. The average price to build a tiny home yourself is just $23,000, according to TheTinyLife.com.
You'll pay more to have someone build it for you — the three tiny homes for retirees described below start at $45,000 — but the price tag will still be far less than what you'd pay for a full-size home. Of course, you must add in the cost of land.
If you're intrigued by the prospect of retiring to a tiny home, be sure to find one designed to suit the needs of retirement-age owners. Look for safety features such as slip-resistant floors, and avoid sleeping lofts with ladders.
Also weigh the pros and cons of a mobile tiny home that can be moved around on a trailer versus one placed on a permanent foundation on land you own.
Downsize without cramping your style
The Getaway model
Square footage: 400
1 bedroom; 1 bath
Price: $63,700
Builder: Escape Homes (Rice Lake, Wisc.)
This home is a good fit for those looking for a tiny home that isn't too tiny. The Getaway is a park model RV, which means it isn't motorized. Everything is on a single level, with a separate bedroom that's large enough to fit a queen-size bed.
Some universal design features can be added to the layout for an additional fee. These include a step-less front entry and additional grab bars in the bathroom.
The home sits on a chassis with wheels that can be transported using an industrial trailer truck if the owner decides to relocate.
Once you've settled into a new location, the wheels can be covered with a "skirt," which gives the home the appearance of being a permanent structure. The skirt comes as part of an install package that also includes stairs and leveling for an additional $6,500.
Depending on the amount of customization, this home can be constructed in as little as three months. Escape Homes offers delivery, but the cost varies depending on the home size and desired location.
A backyard bungalow
The Floridian model
Square footage: 500
1 bedroom; 1 bath
Price: $85,000-$100,000
Builder: Home Care Suites (Tampa, Fla.)
Home Care Suites specializes in building small cottages in the backyards of existing residences. The aim is to provide a place for a parent or parents to live when they get older.
"If you ask a retiree if they would rather live in their son or daughter's backyard cottage or go into an assisted living facility, I can almost guarantee the answer every time," said Henry Moseley, president of Home Care Suites.
The structures, though designed with aging in mind, could just as readily be used as home offices or man caves, or as quarters for guests or boomerang kids.
The backyard cottage is spacious by tiny home standards. It's an expanded version of the builder's Floridian model, which typically runs 448 square feet. In addition to a large bedroom and bathroom, the cottage has an oversized porch, a sitting room, a U-shaped kitchen with bar top, a walk-in closet, and space for a full-size stacked washer and dryer.
Home Care Suites builds all of its cottages on permanent foundations, and utilities are tied in to the primary residence. This cottage also has its own tankless propane water heater.
It takes five or six months to build a backyard cottage from start to finish, according to Moseley, and construction costs run between $170 and $200 per square foot. Weather and inspection delays can impact the timeline, and upgrades and finishes can influence the final price tag.
A petite suite for two
The Tiny Studio model
Square footage: 160
Studio with 1 bath
Price: $45,000
Builder: Tiny Home Builders (DeLand, Fla.)
This Tiny Studio model is built on a mobile trailer and can be attached to a vehicle, making it possible to bring the tiny home along on road trips to visit the grandkids.
The kitchen does not have a stove, so you'll need to add your own portable cooktop. The kitchen and dining area are situated on a raised platform that has two steps.
The platform steps pull out (similar to a dresser drawer) to reveal additional storage space. Underneath the platform, there's a roll-away bed that can double as additional seating when pushed in partially.
The bathroom has a toilet and a 36-inch-wide shower with a storage loft located directly above it.
Buyers can customize the home by adding grab bars in the bathroom for $100, slip-resistant flooring for $400 (you'll work with the builder to select the material), and a ramp adjacent to the stairs at the front door for $2,000.
The Tiny Studio can take up 90 days to build. Tiny Home Builders offers delivery nationwide. The first 50 miles are free, and each additional mile can cost as much as $3.
All contents © 2016 The Kiplinger Washington Editors, Inc. Distributed by Tribune Content Agency, LLC.