Arts
Valley libraries schedule cool, lively summer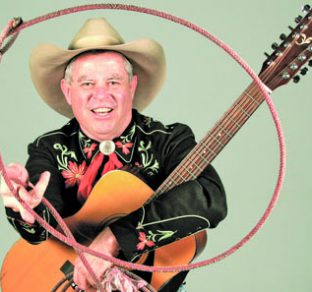 Ken Frawley performs "Cowboy Trick Roping" at 3 p.m. June 26 at the La Quinta Public Library. Throughout the valley, libraries offer multiple study and entertainment summer programs.
Photo by Gordon Parr
Libraries from Palm Springs to La Quinta are plunging into a very active season of their own. In the desert, summertime is reading time, without the distractions of what we term "the season."
"It's a different kind of busy," Julie Warren of the Palm Springs Public Library says. And Lisa Brock, spokesman for the Palm Desert Library county branch library, notes that summer is when the most books are checked out. "Some families take out 30 at a time," the maximum number of items.
At the Rancho Mirage Library, the grandest and in a sense newest — it's occupied the building only since 2006 — it's possible to pass a tranquil day by working on a computer, doing research and selecting books and videos to take home. And you can peruse the extensive magazines while relaxing in an easy chair with a view.
Furthermore, there's a café for your lunchtime pleasure. And all the while it goes without saying that you're not running your home air conditioning.
Book and film programs
But you needn't entertain yourself.
All the libraries are scheduling constant free activities for patrons of every age: Reading clubs book clubs, lessons, crafts, movies, performances, it's nonstop. For instance, at Rancho Mirage, starting June 16, on Mondays there's a kids' book discussion; Tuesdays it's game day for all ages; Thursdays, science camp; Fridays, family movies with free popcorn.
The RM library Wednesday afternoon reading clubs are even for tots who don't read; they listen. Tuesday special events cater to teens, including, on July 8, a session on airbrush tattoos.
Though geared to keep youngsters on school vacation happily occupied, Rancho Mirage has adult-oriented plans, notably movies. For a start, a three-part series of highlights from the recent American Documentary Film Festival. The first is Superwomen, July 7.
Introduced by film historian Christopher Perry, the 1926 silent The Great K & A Train Robbery comes up on July 9, presented as originally conceived. That is, with live music and sound effects, the Photoplay Ensemble doing the honors. Extra added attraction: the Laurel & Hardy short, That's My Wife.
Popular cinéaste Jason Bruecks returns to host a trio of foreign films leading off with the 1950 classic, Rashomon, on Aug. 20.
La Quinta Library lures
Christine Teran, programming coordinator for La Quinta Public Library, looks forward to "an exciting and eventful summer." She predicts there will be more sign-ups for their program than the 300 logged last year. Besides reading, La Quinta has a Sunday matinee, "Grown-up Movie Time," starting with Turner and & Hooch on June 22, and on July 27, Jaws. Complimentary popcorn, of course.
Another lure at LaQuinta are the Thursday performances, beginning with "Cowboy Trick Roping" on June 26. Teran fixes the dates so there's no conflict with a similar routine at Palm Desert Library.
Visitors to the Palm Desert have double access, to both the eponymous and the adjacent College of the Desert libraries. The Paws to Read adult summer reading program for ages 18 and up involves reading one book per week to enter the monthly drawing.
Bounty includes a jute tote bag, coffee mug and Barnes & Noble gift card. Three award prizes are bestowed throughout the summer.
The vintage game of mah jongg conjures up prewar images of ladies in bias-cut frocks with fresh manicures fingering Bakelite tiles. It's not that formal at Palm Desert Library Thursday afternoons. A learning group, you catch on as you play. No betting permitted.
In Palm Springs, courtesy of the Friends of the Library group, a Samsung Galaxy tablet will be handed out at the finale of each reading program as the grand prize. In fact, youth and teen attendees receive weekly gifts when they just come to the library check-ins.
Program participation earns an entry ticket for a drawing involving a 16 GB flash drive courtesy of Office Depot and more. Palm Springs is lining up Wednesdays for Youth shows with magicians, puppets, and a K-9 police demonstration.
Meanwhile, on June 17, at a pet photography lecture for adults, expert Scott Campbell will disclose tips on taking pictures of your favorite animal. However, leave dogs and cats at home.
Attend animal-themed movies Tuesdays at Palm Springs and look into lessons, like Computer Basic Skills, July 3. The Paws to Read summer of animals book club meets June 26. But they gather offsite, downtown at Azul Tapas Lounge, to discuss White Fang by Jack London.
Learn more
• For complete information about the extensive opportunities, drop by your favorite library(ies) and pick up booklets and rack cards or look online.
• Cathedral City, Desert Hot Springs, Indio, La Quinta and Palm Desert libraries, click into www.rivlib.net
• Rancho Mirage, www.ranchomiragelibrary.org
• Palm Springs, www.palmspringslibrary.org