Arts
Ventriloquist loves to make children laugh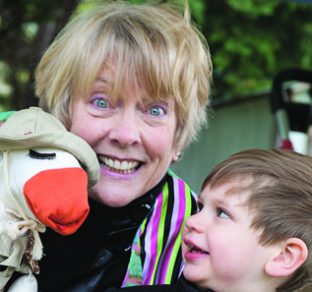 Ventriloquist Valerie Leonhart Smalkin entertains children with the help of puppet Silly Goose, which she made herself. Smalkin's new book and jazzy CD combo "Springtime Dance" is being released this month.
Photo courtesy of Valerie Leonhart Smalkin
Children's entertainer Valerie Leonhart Smalkin was never especially drawn to young children. Until she had her own, that is.
"I didn't think I liked children," the 64-year-old Cockeysville ventriloquist-musician-author said. "Then I had one, and I fell in love."
After Smalkin received a BA in philosophy cum laude from Goucher College in 1971, she found herself basically unemployable, and so headed off to Berklee College of Music in Boston to pursue her first love — music.
Smalkin, a Baltimore native, came by her musical talent naturally. Her parents, aunts, uncles, sisters and brothers were all artistically inclined. Everyone played the piano, one brother the flute, another bass, and several siblings (there were six in all) played guitar. Every Sunday night, after dinner, they entertained parents, neighbors and visitors with their songs.
However, the life of a pop musician in the early '70s wasn't quite the easy path she had hoped for. So Smalkin, at the suggestion of her sister, decided to change tracks again and pursue a career as an environmental lawyer.
"I was interested in the environment," she recalled, "and this seemed an easier route than becoming an environmental engineer."
Smalkin graduated, again cum laude, from the University of Maryland School of Law in 1977, and practiced law — happily so — until she met and married her husband, the Honorable Frederic N. Smalkin, a judge on the U.S. District Court for the District of Maryland.
A surprising affinity for kids
After giving birth to her children — a son in 1982 and a daughter in 1984 — Smalkin was stunned to discover how much she adored not only her own children but pre-school-age children in general.
Eventually, her two loves, music and children, came together thanks to John "Kinderman" Taylor's Emmy award-winning children's television show, "It's Kindertime." Smalkin helped write and produce the show, and performed on it as well. The show aired on WMAR ABC TV-2 in the 1990s.
Around the same time, Smalkin developed an interest in ventriloquism. She said the first time she tried her hand — or rather her voice — at the skill was off the cuff.
"We were [performing] on stage, and two brothers [in the audience] were having a fistfight," she recalled. "You can't be unpleasant in that situation, so I smiled, turned off my microphone, and said in a tough voice, 'If you do that again, I will call the police!'"
Apparently the ruse worked. "I thought to myself at the time, 'I could be a ventriloquist!'"
It took her about 20 years to perfect the art, and along the way she came up with her puppet sidekick, "Silly Goose." She sewed it herself from a pattern. "I don't even know why I chose [a goose]," she admitted.
Among her accomplishments, Smalkin can point to composing and performing a musical version of Priscilla Cummings' International Literacy Award-winning book, Chadwick the Chesapeake Crab (her musical is called Chadwick Sings: A Little Bay Music). She also composed Babel: The Oratorio, Signs: An Epiphany Musical, and Darrell: The Draggin' Dragon.
As Silly Goose & Val, she now tours schools, libraries and live stage theaters in the mid-Atlantic area with her puppets, marionettes, comedy and music.
New book and CD
Last year, Smalkin wrote the song, "Springtime Dance," and then happened to meet illustrator Kimberly Hopkins. The two collaborated on the book/CD combo, Springtime Dance, which is being published this month.
According to Smalkin, the song "Springtime Dance" is not your typical children's ditty. It's fast-paced and jazzy, written and sung by Smalkin in a style influenced by Ella Fitzgerald, Peggy Lee and Diana Krall, among others. Musical accompaniment includes Buddy Larkin on piano, Chris Savage on drums, and Smalkin herself on bass.
The book, with its colorful illustrations, reinforces the song, and both teaches and entertains youngsters about the wonders of springtime.
Smalkin's live shows are a combination of ventriloquism, comedy, sing-along (and dance-along) songs designed for 2- to 12-year-old children and their parents (and grandparents).
But it's the children who are her main delight. She said they are the ideal audience for her because "they don't smoke; they don't drink; they go to bed at 8 at night, like I do; and they like to work in the morning, like I do. They're the perfect audience for me!"
"They're so lovely," Smalkin continued. "I adore seeing them smile and making them laugh. Entertaining children is like drenching myself in loving-kindness. It's addictive."
To find out more about Silly Goose and Val, or to order Smalkin's new book, visit www.sillygooseandval.com or www.smallkinmusic.com.