Money
Ways to keep holiday spending in check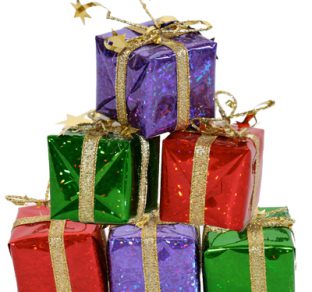 1. Set a budget you can't bust. Do it the old-fashioned way: Pull out a specified amount of cash to buy gifts. Once the green is gone, you're done.
If you're not comfortable with carrying cash around, put the money on a prepaid credit card with a low (or no) fee. The American Express Prepaid card (www.americanexpress.com/prepaid) charges no purchase, activation or maintenance fees, but can only be used where American Express is accepted.
You could also deposit your holiday spending budget in a dedicated no-fee checking account. For example, USAA Federal Savings Bank's account is free (including its debit card), and it has no minimum-balance requirement.
2. Buy online. Enticing displays at the mall trumpet bargains and beg you to buy on impulse. A California Institute of Technology study suggests that customers are willing to pay about 50 percent more for products in stores, where they can touch items, than online.
To find online deals, visit sites like www.Dealnews.com, which shows the day's best prices on specific types of items. You can also follow particular stores you like online, or via Facebook and Twitter, suggests spending expert Andrea Woroch. You can log in to see their promotions at your convenience.
Consider unsubscribing from retailer e-mail newsletters that don't assist in your hunt — they present too many temptations.
3. Give more gift cards. It's easy to spend an extra $5 here and $10 there as you search for just the right gifts. With a gift card, you'll spend exactly what you intend.
Save even more by purchasing from sites such as www.GiftCardGranny.com and www.PlasticJungle.com, which sell gift cards from popular retailers at discounts to their face value.
Note: The most highly evolved gift card on the planet comes from Starbucks. It doubles as a rewards card — you earn rewards points toward free drinks and other stuff. View transaction history, protect your balance if the card is lost or stolen, reload it automatically, and even have friends reload it via a Facebook app.
4. Try a gift exchange. If you feel pinched because you buy presents for every niece, cousin and uncle, evaluate your giving strategy. Consider setting up an exchange with family or friends so that each person buys one gift with a set dollar limit.
Chances are, most recipients would be happy with a single, higher-price present instead of several cheaper ones. At www.Elfster.com, you can invite others to a "Secret Santa" exchange, and the site will make gift assignments at random.
Lisa Gerstner is a staff writer at Kiplinger's Personal Finance magazine. Send your questions and comments to moneypower@kiplinger.com. For more on this and similar money topics, visit www.Kiplinger.com.
© 2011 Kiplinger's Personal Finance