Travel
The many allures of Taos, New Mexico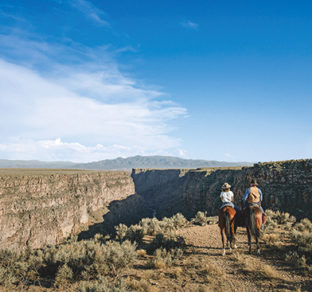 The wide-open spaces near Taos, New Mexico, can be explored on horseback or on foot. The town of 6,000 is known for its art galleries, museums and colorful chili peppers.
Photo by New Mexico True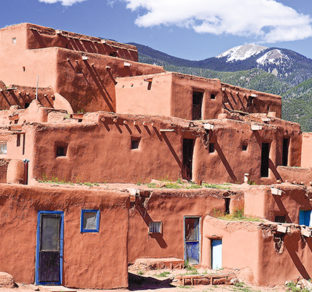 Built 1,000 years ago, the multi-story dwellings of the Taos Pueblo are still home to a vibrant Native American community of about 4,500 people. The pueblo, a National Historic Landmark, is the oldest continuously inhabited place in the United States.
Photo by John Mackenzie Burke
Editor's Note: As of the time of publication, the COVID-19 virus has reached New Mexico and is spreading through the community. As with most areas of the country, there are widespread restrictions on person-to-person contact, and many businesses are either closed or are limiting operations. This is not the time to travel there, or anywhere, for enjoyment.
Please enjoy this travel section as armchair entertainment and for planning your future travel in healthier times.
In Taos and Santa Fe, the ochre color of the predominant adobe buildings blends naturally with that of the surrounding desert of New Mexico. Historic houses, walls and other structures have gentle curves that replicate the natural world.
An almost countless number of art galleries line the streets of the two communities. Reminders of their origins as colonial Spanish outposts and frontier towns are everywhere.
Yet Santa Fe and Taos offer experiences that are as different as the sun-filled days and starlit nights of New Mexico.
For starters, Santa Fe claims special status as the state capital. It was founded by Spanish colonists in 1610, making it the oldest state capital in the United States. Its population of about 83,000 is some 14 times larger than that of Taos.
By contrast, Taos is compact. As one local told me, "Nothing in Taos is very far from anything else." But what it lacks in size, it makes up in appeal and attractions.
Let's pick up the story in 1540, when a Spanish expedition arrived to find magnificent structures in which the peaceful Tiwa Pueblo Indians lived. A period of co-existence between the two groups later gave way to decades of conflict.
Eventually a land grant to Spanish families led to the establishment of a town that would become Taos. The heart of that settlement was, and remains, a walled plaza enclosed by adobe buildings.
Historic district walking tour
The Plaza is the best place to begin an exploration of Taos' historic district. It's a short walk to a number of highlights that relate chapters of the Taos tale.
Four rooms in the Ernest L. Blumenschein Home and Museum form part of the protective walls that surrounded the original settlement. Later they were incorporated into a home where the artist, and his painter wife, lived and worked during the first decades of the 20th century.
In addition to original furnishings, the house displays a collection of paintings by its former occupants and other artists. These include members of the Taos Society of Artists which, during that group's existence (1915-1927), earned the tiny town recognition as a major art colony.
Works by Taos Society members also hang on the walls of the Taos Art Museum at Fechin House, along with paintings by its namesake. Nicolai Fechin was a Russian émigré who came to town in 1927 and grew to be recognized as a leading portraitist.
Other museums, some located in the homes of former illustrious residents, also relate parts of the intriguing history of Taos.
The Harwood Museum displays works by outstanding 18th-to-21st century artists. The Couse-Sharp Historic Site is named for two painters who worked there and were instrumental in creating the rich cultural fabric of Taos.
The story of the Millicent Rogers Museum involves the high-society scion of a wealthy industrialist who picked Taos as the perfect place to recover from a failed romantic affair with Hollywood actor Clark Gable. Her collection of fine art and antiques includes jewelry, textiles, pottery and other arts and crafts indigenous to the area.
Extensive shopping options
Along with its claim to fame as a center for a fascinating fusion of artistic genres, Taos is a major shopping mecca. Much of the selling and buying is centered in and around the Plaza.
The scene is set by stores with names like Taos Cowboy, Taos Trading Center and Mesa's Edge. A number of museum gift stores also offer unusual and often unique merchandise that can cause visitors to open their eyes, and often their wallets.
Narrowing down what can be an overwhelming selection of places to shop and products to buy can be a challenge. The array of Western boots alone offers a daunting choice. In the words of one stylist, "We used to make boots to fit in saddle stirrups. Now we make them to step on the gas pedal of a Cadillac."
There's nary a familiar chain store name in sight. My suggestion: Narrow down the time you plan to spend shopping by arriving with some idea of what kind of mementoes or other items you'd like to take home.
Native American pueblos
A different cultural experience greets visitors to the Taos Pueblo, one of 19 pueblos (Spanish for towns or villages) in northern New Mexico. The complex, multi-storied earthen structures are considered to be the oldest continuously inhabited place in the country.
While the community is only a short drive from town, it comprises a sovereign nation, governed by a traditional Native American hierarchy where life goes on much as it has for some 2,000 years.
Most of the residents live in more modern dwellings scattered about the sprawling pueblo acreage, but about 150 people continue to cling to the old ways in the original apartments. They make do without electricity or running water, and bake bread in outdoor beehive-shaped ovens, or hornos.
Some rooms of ground-floor apartments function as shops that sell handmade jewelry and paintings by Native American artists, which are authentic but sometimes a bit pricey.
 A better deal, I decided, was paying $4 for a snack of fry bread, cooked to order and served with a choice of powdered sugar, cinnamon or honey. The chef was a charming 10-year-old girl working under the supervision of her grandfather.
 A teenage boy proudly displayed a row of arm tattoos of famous Native American chiefs. Pointing to the face at the top, nearly shoulder high, he identified the image as Sitting Bull, a renowned tribal leader during the years of resistance against the United States government.
 Along with the Taos Pueblo and other major must-see sites, I came across several other places that may lie beneath some visitors' radar that are worth a look-see.
The Bent House Museum was where the first American governor of New Mexico lived. He died in 1847 when he was scalped during an uprising by Native Americans acting under the direction of Mexican conspirators. Tourists can see the hole in the wall through which some of its inhabitants escaped the attack.
You can also visit the low-slung adobe house of Kit Carson, a 19th-century frontiersman, trapper, scout, Indian agent and Army officer. He became a legend due to often exaggerated stories about him in news articles and dime novels.
His house, where he lived for almost a quarter-century, is a repository of artifacts that illustrate the various phases of his career.
Carson's house, and Carson himself, typify the captivating tales, historical tidbits and cultural mélange that draw visitors to Taos.
If you go
The Hotel Don Fernando de Taos immerses guests in the ambience of the region. Murals, paintings and tapestries were provided by local artists. Hand-crafted bed frames, and cowboy and Indian statues that dot the landscape, add to the gallery atmosphere. Rates begin at $89. Call (575) 751-4444 or check tapestrycollection3.hilton.com.
When it comes to dining in New Mexico, know in advance that two colors of chile peppers can't be avoided: red and green. And understand what it means when a waitperson asks, "Do you want red, green or Christmas (mixed) chiles?" People are very passionate about their chile choices there.
Nonetheless, a casual atmosphere awaits diners at Orlando's New Mexican Café, one of numerous restaurants favored by locals. Entree prices range from $9 (beans topped by chicken or beef and green chile) to $17 (grilled flatiron steak with chiles, tortilla and other accompaniments). Call them at (575) 751-1450.
Round-trip flights from Washington, D.C. area airports to Albuquerque start at $300; check cdc.gov for current travel advice. By car, Taos is a 28-hour drive from this area. For more information about Taos, call (800) 732-8267 or visit taos.org.