Travel
A classy cruise down the ol' Mississippi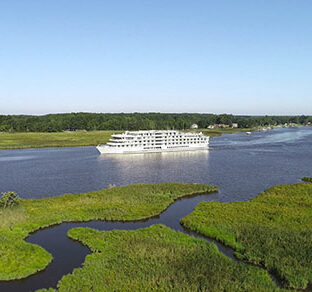 Spacious cruise liners ply the Mississippi with stops at heritage sites.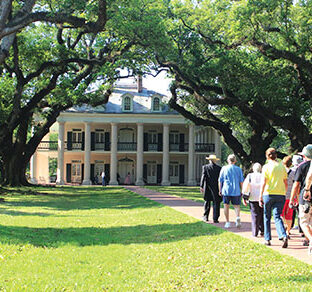 Walking beneath 300-year-old oaks, a tour group visits Oak Alley Plantation in Louisiana, one of the stops on American Cruise Lines' Lower Mississippi River cruise.
Photo by American Cruise Lines
When my wife Fyllis and I first saw the ship that would be our home for a week, we were impressed. Our room — a spacious outside stateroom with private balcony — rivaled those in many upscale hotels.
The food and table settings in the ship's dining room were both five-star, with a welcome all-inclusive policy (so that second dessert and adult beverage are "free").
But we weren't on one of those mega-ships designed to hold thousands, like cities on the water. Our vessel accommodated only 180 passengers, offering the intimacy of a smaller setting and far fewer people, yet with facilities, amenities and on-board and on-shore activities comparable to huge ocean liners.
Fyllis and I were enjoying one of more than 50 small ship itineraries available from American Cruise Lines, which plies rivers and other waters through 35 states in vessels that hold between 90 and 180 passengers.
Our Lower Mississippi River cruise offered opportunities to explore inviting Southern towns that provided deep dives into Civil War and other history, visits to magnificent antebellum mansions, and strolls through lovely gardens.
In addition, we were able to explore museums that brought to life prehistoric times, Native American history and African American history in a fascinating corner of the country.
First stop: Vicksburg, Mississippi
Between Memphis, Tennessee (our embarkation point) and our first stop, Vicksburg, Mississippi, we saw a lot of nothingness.
Both shorelines are blanketed with woodlands.  The only river traffic was an occasional "pusher" towboat pushing a long line of multiple barges.
In addition to on-board educational and entertaining programs, we enjoyed relaxing on our balcony, reading books and watching the mighty Mississippi River.
Fyllis and I were thus excited to set our feet on land and explore the first of the historic towns along our route: Vicksburg, Mississippi. We walked to some attractions that are close to the ship dock, and rode in provided tour buses to reach others.
A series of large murals along the waterfront depicts various scenes from the town's past. These include the role of the river in the rise of the community and the contributions made by African Americans.
The city's brick streets led us to a Civil War Museum, Vicksburg National Military Park, and an early 19th-century church with beautiful Tiffany windows.
I was enthralled by a home that served as a hospital during the Civil War, with Union and Confederate soldiers recuperating on different floors. We paused in front of another house whose iron gate was still bent where a cannonball struck it during the war.
The next stop in Mississippi was Natchez, which was established by French colonists in 1716 and became part of the United States in 1783. Planters forced enslaved people to grow cotton and sugarcane, and built expansive mansions to demonstrate their wealth.
Many of these stately homes survive to relate part of this story, while the Natchez Museum of African American History and Culture tells the rest. One tour of this town includes a stop at a historically Black church to hear a Gospel musical performance.
On to Louisiana
We docked at tiny St. Francisville, Louisiana (pop. 1,600) on day five. The Rosedown Plantation there, which once enslaved 450 people, is surrounded by formal gardens dating from the 19th-century.
More gardens are in bloom at the Audubon State Historic Site at the Oakley Plantation. Along with a blacksmith shop and cabins that housed enslaved people, it includes the home where John James Audubon lived in 1821, while working on 32 of his famous bird paintings. As in Audubon's time, the site still is a bird-lover's paradise.
Baton Rouge, where we spent our sixth day, has an interesting origin story for its name. In 1698, French explorers sailing up the Mississippi River spotted a red pole along the shoreline. After learning that it marked the boundary between the hunting grounds of two Native American tribes, they called the site le bâton rouge (the red stick), and the name stuck.
Over time, seven different governments oversaw the town, which grew to become the second largest city in Louisiana. In 1846, it was designated the state capital to replace "sinful" New Orleans.
Today, Baton Rouge is a culturally diverse community with 222,000 residents of many ethnic and religious backgrounds. Adding to the mix are college students from Louisiana State University and 10 other schools in the city.
The city's sites include the Capitol Park Museum, which traces contributions of Native Americans, early European colonists, enslaved people and others to the area's development and accomplishments.
Exhibits at the LSU Rural Life Museum, a complex of 32 historic buildings, focus on the way of life of 18th– and 19th-century Louisianans.
New Orleans
Our voyage ended in New Orleans, which included a guided excursion to the famous French Quarter and lovely Garden District.
While some of New Orleans' homes rival the beautiful plantation houses we encountered during the cruise, many are relatively modest in comparison.
My personal favorite, Houmas (pronounced Hummus) House, located between Baton Rouge and New Orleans, has appeared in various films and TV series. An oak tree alley leads the eye to the front of the graceful house, and resident geese and ducks act as noisy sentries.
The plantation was established in the late 1700s on land inhabited by Native Americans known as the Houma. The main Greek Revival mansion, built around 1829, was the focal point of a major sugarcane operation, successful due to the labor of up to 800 enslaved men, women and children.
The tour of the restored antebellum mansion allows a glimpse of its rare period furnishings, art and artifacts.
Then there are the gardens. The 38 acres of colorful native and exotic plantings serve as the backdrop to a museum-quality collection of sculptures.
If you go
The challenge facing travelers selecting an American Cruise Lines trip is choosing from the long list of destinations, ships and experiences. Its boats ply the Mississippi, Columbia, Ohio, Hudson and other rivers, go through the Chesapeake Bay, along Maine's coast, and on a long list of other waterways.
Fares for the week-long Lower Mississippi River Cruise that we enjoyed begin at $4,125 per person; some include domestic airfare. The cost of other itineraries is as low as $2,405. See americancruiselines.com.
For more information, call 1 (800) 814-6880 or visit americancruiselines.com.