Housing
A fall home prep and maintenance plan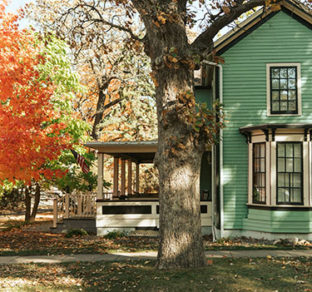 Photo by weston m on Unsplash
This time of the year represents the harvest — a time to acknowledge growth and expansion as a natural part of our well-being. Read on for a list of fall home maintenance tips that will help you get excited about the season.
Start indoors
The basics. Now is a good time to inspect things like your home's plumbing, electrical wiring and panels. Ensure that all plumbing is properly insulated and that all outdoor faucets are covered and prepped for cooler weather. Look in the attic to confirm that the roof underlayment is intact and that you have adequate insulation to keep your home warm.
Heat. If you have a fireplace, fall is a perfect time to clean or sweep the chimney and have the fireplace inspected. Check your gas stove to ensure it's working correctly, and ask for an HVAC system inspection to confirm that your heat is working correctly. It's also an excellent time to change your air filter. If you have oil heating for your home, fill the tank.
Home appliances. Do a quick inspection of all major appliances. If anything is broken, get it repaired or replaced, particularly your refrigerator, oven, washing machine or dryer.
Declutter. Refresh your entire home by doing some thorough decluttering and organizing. Get rid of old electronics like unused cell phones, computers and small appliances. It's also a good time to dispose of expired medications.
Go through your home office to get rid of outdated paperwork and shred old bills and documents. Fall is also a perfect time to declutter unworn clothing, shoes, bedding, towels and summer items.
Décor. Now is the time to bring out the autumn and winter décor to celebrate this exciting time of year. Anything that doesn't work or no longer brings you joy can be donated, sold or recycled if possible.
Reorganize. This is a perfect time of year to reorganize and streamline the kitchen and pantry, your bathroom cabinets, and the shed or garage.
Separate items into things you want to sell, give away or throw in the trash. Clean out your pantry and throw out expired food. Organize dry goods and place them in clear canisters so you can find them easily.
Recycle. Look for any items in your home that can be recycled. You can also do some "upcycling" and repurpose items creatively. A simple coat of paint on an old chest or table can give it a brand-new look, for example. Old clothing can be sewn into quilts or pillows for a fun piece of fall décor.
Outdoor yard and patio
Fall is also a great time to do a bit of outdoor maintenance. Here are a few things you can add to your list to prepare for the season ahead:
Outdoor maintenance. Clean your gutters and remove dead leaves, twigs and debris. Check all the pipes going into and out of your home, such as the waterline, gas line and anything connected to your HVAC system. Look for signs of leaks, rust or damage so you can get these items repaired now before winter arrives. Test your outdoor equipment, like leaf blowers and lawnmowers, to ensure that everything is working properly.
Insulate pipes. While you should insulate your plumbing indoors, it's also time to insulate and protect those outdoor exposed pipes too.
Check for leaks in windows and doors. Do a "draft test" to confirm that there are no leaks in your doors and windows. Add new weatherstripping to keep all windows and doors properly sealed.
Inspect your roof. Look for possible signs of leaks in your roof and keep an eye out for missing shingles. Get all roof repairs done now before winter snow arrives.
Take care of your garden. Rake fallen leaves, cover any garden plants that need to be kept warm, and fertilize your plants so they will thrive through the season. Trim dead tree limbs. Make sure that all of your plants are properly trimmed, and cover them with burlap (if required).
Do a yard and garden sweep. Do a quick cleanup of the yard or garden and determine what you need to put away now and what you can put away later. Check on items that still work, like your outdoor lighting, and confirm if anything needs repair.
Create a schedule for outdoor tasks. Work on creating a schedule for a few outdoor activities you'll need to tackle this winter. Some items include checking gutters to prevent ice dams, and buying everything you may need, like snow boots, snow shovels and deicers.
Make another maintenance list. Your home isn't the only thing that needs a little bit of fall maintenance. Make a quick list of other items to check on, like your car, shed or garage, and driveway and walkway. Repair any cracks you see now before winter arrives to prevent them from growing and getting worse.
Reprinted with permission of Porch.com.