Cover Stories
A great time to explore classes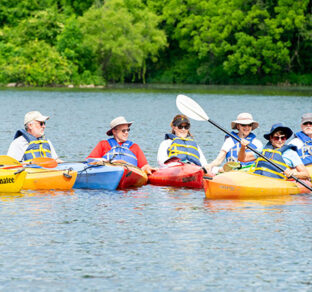 A county-run class on Centennial Lake teaches new kayakers the ropes and the strokes. Howard County offers a wide variety of classes for people over 55, from cooking classes to sports to arts.
Photo by Howard County Recreation & Parks
Although retiree Janet Ameen-Lee had paddled a canoe as a child, she was anxious about getting in a kayak when visiting Centennial Lake with other members of Howard County's Encore Adventures Kayaking Club.
"I was nervous the first time. I even used my inhaler," said Ameen-Lee, who lives in Columbia.
But with encouragement from an instructor and other club participants, she overcame her fear that day and has since become a competent kayaker.
"It's such a fun experience, chatting with other people in our age group and just learning a new sport."
The kayaking club is just one of many in the Active Aging Program, which the county's Recreation and Parks Department offers to residents age 55 and older.
Youngsters needn't apply
The program's stained-glassmaking workshop is so popular, according to its instructor, Maureen Stone, that even young people want to give it a try.
"A mother and her son came by, and the son said, 'Can I take it?' I said, 'Well, it's for people 55 and over,' and he said, 'Do I have to wait 36 years?'" (Yes, he does.)
"Some people are afraid to try [stained-glassmaking] because they don't think they're artistic enough. If you feel you're not artistic, don't worry," Stone said. After all, she's there to help.
One of Stone's students, Judy Hindenach, found the stained-glass class easy to keep up with. In fact, she has taken it more than once.
"It's challenging, but it's not that hard — and Maureen is always there to help you. The people who take the class are really fun. Everybody chats; everybody laughs and supports each other."
Now that Hindenach is retired, she said, she has been taking advantage of many of the county's 55-and-up classes in its Active Aging Program — from water aerobics to crochet class.
"I feel like now is my time to explore things I always wanted to do and didn't have time to do," she said.
While most of the classes in the Active Aging Program cost anywhere from $25 to $89 per class, some, like drop-in bridge, are free.
No experience is necessary for any class, and you don't need to bring anything with you; the county provides all equipment (although sometimes a materials fee is added to the class cost).
"We have lots of things to do to keep you busy every day of the week," said Tracy Adkins, supervisor of the county's Active Aging Programs and Trips & Tours.
Cooking classes are popular
Alba Carbonaro Johnson, who grew up in Italy and Tunisia, teaches popular cooking classes through the county. She used to teach in person but now teaches via Zoom.
Well before the date of the 90-minute class, Johnson sends every student a list of ingredients to buy, as well as instructions for what to prepare ahead of time.
"I don't do a large group, so I can pay attention to everyone. I want them to follow their instincts, their sense of taste, their sense of smell," Johnson said. "At the end, they show off their dish."
Johnson recently published a cookbook and has had many repeat customers to her ever-changing cooking classes. This August's class, Everything Oranges, features an appetizer of crostini with flavored ricotta, a pasta course, shrimp for the entrée, and white chocolate and orange mousse for dessert.
"They keep coming back, which is nice. Some of them have even gone to Italy with me."
Day trips and overnight tours
The county also offers "Trips & Tours" — day trips to nearby destinations like the Eastern Shore or downtown Washington, D.C., and overnight trips to places like Maine and Charleston, South Carolina.
Adkins said the county's recent excursion to Lancaster, Pennsylvania — to see a matinee of Elvis: A Musical Revolution — inspired people to belt out a few tunes on the bus.
"They were singing the whole way there; they were singing the whole way home," she said.
Siri Cowden, an Ellicott City resident, has gone on several outings since she retired eight years ago.
"As you get older, like I am, it's wonderful because the bus lets you off five feet from the door," Cowden said. "You don't have to worry about parking, and you can gab on the way there and back. It's easy. People are very friendly."
Through the Recreation and Parks programs, Cowden has traveled to the U.S. Naval Academy, the National Cathedral, the Kennedy Center to see Les Misérables, and Georgetown for a Potomac River cruise past the cherry blossoms.
"There's always something interesting," Cowden said. "It's a way to relax and get away for a day. And it's all orchestrated, so you don't have to do anything."
Pickleball, bocce and other sports
Of course, if you want to do something active, the Recreation and Parks Department oversees a robust roster of sports: a bocce ball league (with 22 teams), billiards, basketball, croquet, tennis, volleyball and golf, to name a few.
"Fifty-plus sports are exploding," said Scott Ripley, the Sports & Fitness Active Aging Programs supervisor. "Pickleball, in particular, is exploding in Howard County." [See "Pickleball craze picks up speed," in the December Beacon.]
Beginner ballet, line dancing and African dance classes are also available, as is an outdoor yoga class at Belmont Manor.
Whether you play croquet with a like-minded partner or meet other retirees on a pickleball court, classes can be more fun when everyone is in the same boat.
Harriet Schneider, 78, who joined the Encore Kayaking Club last spring, said she felt welcome at the six-week class.
"There was nobody else there but us oldies, which was great," she said. "They always were so helpful and so kind, and we just had a ball."
Schneider said the handicapped-accessible dock at Centennial Lake was helpful since she has trouble walking. The introduction to kayaking class left her with a new sense of confidence, she said.
"It boosted my spirits because it allowed me to do something I love, and I couldn't have done it without them helping me."
The Columbia Association also offers a wide range of classes for members and non-members; see columbiaassociation.org or call (410) 715-3000.
For more information about the Howard County Recreation and Parks' Active Aging Programs and Encore Adventure Series for people over 55, see howardcountymd.gov/rap or call (410) 313-7275.
Alba Carbonaro Johnson's new cookbook, Flavors of the Maghreb & Southern Italy: Recipes from the Land of the Setting Sun, is available on Amazon or Barnes & Noble.