Cover Stories
A passion for teaching technology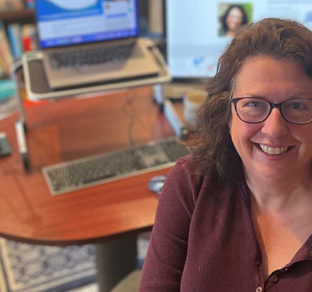 Joan Lipman Green started her career as a speech therapist, but now she enjoys teaching older adults how to use technology to improve their lives. Green offers group classes and one-on-one sessions that "can change the trajectory of somebody's quality of life," she said.
Photo by Mark Green
Say you call a loved one who lives alone, just to check in, but they don't pick up the phone. As it rings and rings, you wonder if they're okay. What if the worst has happened?
At times like those, technology may save the day, or at least save an in-person safety visit. A quick video call to a device called an Amazon Echo Show, for instance, can give you a live view inside your loved one's house using its home monitoring function. It even swivels to show you a better view.
Many new devices — Echo Dots, Ring doorbells, GrandPads — can make life better for older adults and their families. But how to find out about them? Who can teach you what's out there?
That's where Joan Lipman Green comes in. A former speech pathologist based in Potomac, Maryland, Green now spends most of her time teaching older adults about technology, both in classes and one-on-one. Green, author of four books, calls herself an online tech coach.
"Older adults can be tremendously helped by all of this technology, and there's nowhere to go to get that kind of help," she said.
"So many of the tools that used to cost a lot of money people don't have to pay a penny for now. You just have to know that it's there and how to set it up," Green said.
Spreading the word
Green grew up in Buffalo, New York, and her grandparents lived nearby.
"Growing up, I was always very comfortable around older adults," said Green, now 58. "I was very close to my grandparents and I always helped them. It was just natural for me."
She attended Northwestern University with aspirations of becoming a doctor or a teacher. She ended up majoring in speech-language pathology and got her first job at what was then Fairfax Hospital, helping people recover from strokes or head injuries.
"I was always looking for ways to do things more efficiently," Green recalled. "I got into technology, and I saw it as a tremendous tool." She routinely passed along technology tips to her fellow speech therapists and clients.
When the first of her four children was born 30 years ago, Green established her own practice, Innovative Speech Therapy. Over the years, she started helping her parents and other older adults implement technology into their lives.
"There are very few places that they can go to learn how to use tech," Green said.
Although libraries and senior centers have classes, few of them offer one-on-one counseling, as she does. That's why Green wants to establish a certification course for elder tech advisers.
This year Green launched a five-week session to train technology coaches. Dubbed the ElderTech Advisor and Teacher Cohort program, the course attracted 75 people who exchanged ideas about inexpensive or even free programs and devices to improve the lives of older adults.
"My mission is to get a lot of people doing what I'm doing," she said. "You need somebody to go to for help when it doesn't work, because it's easy to give up and just say 'forget it.'"
Showing what's out there now
Every day, it seems, there's a new term or invention. What's a tweet? Who's Siri? What's a smartphone — and do you know how to use all its bells and whistles?
"It's overwhelming, so a lot of people just don't try because they don't know where to start," Green said. "You don't know what you don't know. What I try to do…is show people what they might not know exists."
You may have heard of a GrandPad — a simplified tablet to play games on or make video calls, which costs $89 per month. But there are many ways tech you already own can make life easier.
Did you know, for instance, that instead of trying to text people on your smartphone, you can talk into it instead? The phone automatically transcribes your speech, usually faster and with fewer typos than clumsy fingers can.
Or, if you have difficulty reading small text in a newspaper or magazine, you can usually find the same article online via your computer, then at the click of a button have the story read aloud for free in a pleasant voice of your choosing.
If you're on a video call and having trouble understanding what people are saying, you can turn on the captions or automatic transcription so you can read on the screen what they say in real time and keep up with the conversation.
Music lovers who don't want to wait for their favorite songs to air on the radio can buy a $25 Amazon Echo Dot, set up a free account, and then tell the device to play whatever song you like.
You can also find a performance of almost any musical piece or song ever written (often dozens of versions, for that matter) on YouTube.
This winter, if you're stuck indoors, you can visit museums virtually, via a free "arts and culture" website from Google (artsandculture.google.com). The website allows people to peer at Rembrandt paintings, learn about Greek sculpture, and test their knowledge with quizzes.
Some of these technologies are just plain fun, but others can be life-changing, Green pointed out. "You can enable a couple of features, or set up a couple devices, and you can magically change somebody's quality of life," she said.
Free 15-minute consultation
Green teaches both group classes and individual coaching sessions. She offers free 15-minute phone consultations, but she asks those who become clients to commit to at least two 90-minute sessions with her.
In cases where an older adult is reluctant to adopt new technologies, Green tries to "find out what makes them tick," she said.
"You have to figure out what's important to them. So, if they have grandchildren or great grandchildren…most people start with video calls — Zoom or FaceTime."
In other cases, Green consults with the family of the older adult first so she can learn enough about their needs to suggest a plan of action and set up a few accounts in advance. Then she meets with the older adult to show them how simple it is to use much of today's technology.
"They could just say, 'Alexa, play '50s music,' and then that could blow them away," she said.
Case study
Recently Green had a client who wanted to help her homebound, lonely mother. In a few short sessions, Green introduced mother and daughter to a few websites, including GetSetUp (for live classes and interactive events) and Senior Planet from AARP (for book clubs and other social groups), which help older adults connect with each other from their own homes. [For more about Senior Planet, see "Technology program catches on locally" in the July Beacon.]
With Green's help, the older woman found a bridge club and now looks forward to playing with them every week. Even though they've never meet in person, the bridge players have become a close-knit group.
"You can really get to know people and form meaningful relationships online if you're stuck at home," Green said. Plus "it's a way to ease the burden of transportation for people as they get older."
How to keep up with the times
Learning about technology, Green said, is "as important as exercise class." She believes that all senior living communities should hire a technology concierge, as they do an activities director.
A tech concierge could provide one-on-one help, lead classes, and teach residents how to help each other. She envisions a modern version of a Tupperware party, perhaps, where neighbors swap tips and websites.
Most people need guidance when it comes to technology, she said. "Because how do you know what you don't know? How do you even know where to begin looking? And [technology] changes so fast," she said.
Green is writing her fifth book to compile everything she has learned about tech coaching, and she still enjoys finding out about new websites and snazzy devices.
"I'm always learning new things," she said.
Most people may ask their children to troubleshoot their technological problems. Not Green.
"I try to stay ahead of [my kids]. I pride myself when I know things that they don't know," she said. "I love it when they come to me with questions now."
In January Green will teach a class about how to use free Google apps. A webinar about "top tech tools for older adults" is available for free on her website at innovativespeech.com/they-may-not-know-webinar. Email Green at joan@innovativespeech.com or call 1-800-478-2550 or (301) 602-2899.