Features
A resource for the community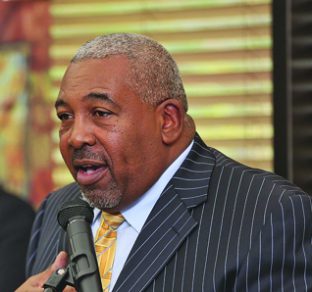 Steven Bullock recently became director of the sprawling Howard County Department of Community Resources and Services, which helps residents with a wide variety of needs, from aging services to veterans' affairs.
Photo by Scott Kramer
Ms. D., a 77-year-old woman who lives alone in an old, one-story house in Columbia, was without heat as winter was approaching. She called her contracted home services company to repair her furnace.
The company refused, saying they discovered two dead cats in the crawl space beneath her home where the work had to be done. A company spokesman said they could not deal with the health and safety issues presented by removing the cats.
Ms. D. then contacted Howard County Animal Control, but an official at the county's animal shelter said it does not handle the removal of dead animals.
Other efforts to contact wild animal removal organizations — Ms. D was living on a very tight budget — were fruitless, until the county's Office on Aging and Independence (OOAI) went to work. A staff member found an animal removal pro, and he was paid from donated funds to remove cats so the home services workers could crawl in and fix the furnace.
The OOAI offers information, services and support for older adults, those with disabilities and their caregivers. It is one of seven offices that are part of the Howard County Department of Community Resources and Services (DCRS).
Other entities of the department include the offices of Consumer Protection, Children and Families, Veterans and Military Families, Community Partnerships, Local Children's Board and ADA (Americans with Disabilities Act) Coordination.
The administrative staff of the department, including the staff of OOAI, are located in a county building on Gateway Drive in Columbia.
Division Manager Margaret Hoffman said the OOAI, with its staff of 95, is the department's largest office. "We offer many different services, concerned with health and wellness and living well, programs about nutrition, consultations on exercise, caregiving, Medicare counseling, etc."
Taking the helm
In charge of the department is Steven A. Bullock, who took over DCRS on Nov. 1. He oversees 140 employees and an $18.8 million budget.
Bullock came to Howard County after 18 years in similar positions in Multnomah County, Ore. For the past 10 years or so, Bullock worked in the Oregon county's Emergency Management Department, where, among other things, he developed emergency communication plans for the most vulnerable residents of the county, and for its growing population — mostly from India, Korea and Eastern Europe — whose first language is not English. He also worked to make life better for people with mental illnesses.
Bullock, 55, said he already is "incredibly impressed" by how Howard County's residents reacted to the human and property damage caused by the recent Ellicott City floods.
"I already know how resourceful and wonderful the people of Ellicott City are," he said. "Imagine if we can tap into this resiliency and willingness to help others and provide training for other emergencies."
Bullock acknowledged during a recent interview that not all Howard County residents are aware of the department he now heads, or of the work it does. "People often don't know about us until they need us," he said.
Such was the case with another older resident who needed assistance, which ultimately came from OOAI. Mr. J., a 67-year-old deaf man, was faced with a "house guest" who overstayed his invitation by some two years.
After being released from the hospital a couple of years ago, Mr. J. had offered free room and board to the man in exchange for help as he rehabilitated. The man did help him out for a time, but then Mr. J. asked him to leave.
The "guest" refused to leave and became a squatter who, Mr. J. felt, started acting in a threatening manner toward him. An OOAI staffer was called in. Three weeks later, the squatter was removed from the home.
Mr. J. also had financial troubles. Those resulted in a lien on his home and his utilities being turned off. The OOAI helped him clear up the debts through the Vivian L. Reid Fund, which receives tax-deductible donations to help low-income older adults.
"I'm starting to get my life back," Mr. J. said when thanking the staff for their help.
Poverty amidst wealth
While Howard County is one of the wealthiest in the nation — its median household income in 2015 was $110,892, according to the Census Bureau — Bullock noted there are always pockets of poverty, homelessness and other problems the department is called upon to serve.
The Maryland Alliance for the Poor reported that some 15,000 of the county's 300,000+ residents are living on income below the federal poverty level, which in 2014 was $11,670 for individuals; $23,850 for a family of four.
Bullock said he has developed two philosophical tenets for emergency planning and community preparedness: "For You, By You (FUBU), and Nothing About You Without You (NAYWU). I firmly believe in bringing community members into the planning process as early and as often as possible," he said.
Department's wide scope
Services offered by the department's other entities include:
Office of Consumer Protection: mediates disputes, takes enforcement action and or provides tips on how to avoid scams or make smart purchasing decisions. (See "County warns residents of utilities call scam" on page 27.)
Office of Children and Families: provides information and access to resources for families to ensure that all children in the county thrive.
Office of Local Children's Board:provides funding, planning, program development and implementation, and technical assistance to programs and services working to improve outcomes for Howard County's children. Among the board's initiatives: after school programs, parent support services, juvenile justice programs, early intervention and prevention services, child abuse and neglect prevention, substance abuse prevention, and mental health services.
Office of Veterans and Military Families: provides guidance and information on issues affecting more than 20,000 Howard County veterans, military families, their dependents and survivors, and offers various programs, services and resources within the government, nonprofit and business communities. The office also helps identify scams specifically targeting military members, as well as assists disabled veterans or veteran caregivers, helps homeless veterans find housing, and assists in relocating military families with childcare options. For more information or for assistance, call (410) 313-6400 or email veterans@howardcountymd.gov.
Office of ADA Coordination: serves as a gateway for information, assistance and referral for older adults, persons with disabilities, family members, caregivers, and health or business professionals. The office can be reached at (410) 313-1234 (voice/relay).
Office of Community Partnerships: administers human service grants to the county in the Community Service Partnership program, manages the Multi-Service Center in North Laurel, and provides staff for the Board to Promote Self-Sufficiency.
In managing all of these varied programs, Bullock said, "My passion is to be able to help people change their lives for the better, to educate them to be resilient and able to take care of their families in good times and in bad."