Arts
A revealing production of Gypsy at Toby's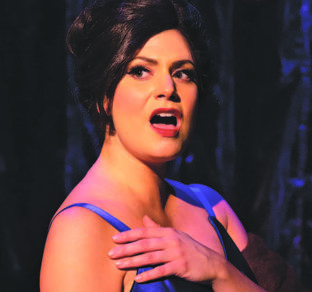 Gypsy Rose Lee, played by MaryKate Brouillard, eventually steals the limelight from her overbearing mother in the musical "Gypsy," playing at Toby's Dinner Theatre through March 17.
Photo by Jeri Tidwell Photography
The musical Gypsy — loosely based on the early life of striptease artist Gypsy Rose Lee — is really more the story of her single-minded narcissistic mother Rose.
And if Rose brings to mind Ethel Merman, there's a good reason: Merman not only starred in the original 1959 production, she was one of the forces behind the whole project, working with producer David Merrick and choreographer Jerome Robbins to create the show, based on the memoirs of Gypsy Rose Lee.
Now playing at Toby's Dinner Theatre in Columbia, Md., Gypsy is still a vehicle mostly for Rose, played here with unflagging energy by Cathy Mundy.
The archetype of all maniacal stage mothers, Rose pushes both her daughters into show business to live out her own unfulfilled dreams of stardom.
But along the way, the story gives us a number of revealing glimpses into Rose's twisted psyche, as well as a string of memorable numbers. Stephen Sondheim wrote the lyrics and Jule Styne the music.
It's fair to say the show will entertain you.
Setting the scene
The show takes place during the dying days of vaudeville, during the 1920s.
Rose, a double divorcée who was abandoned by her own mother as a young girl, is raising her two young daughters, June and Louise. To make ends meet, Rose has kept the girls out of school and drafted them into a second-rate vaudeville act they take on the road.
June (played on different nights by two talented grade schoolers) is a brassy singer and dancer who loves the limelight. Her shy older sister Louise (played by two sixth graders) dutifully plays the role of the boy for the act. This is where we first hear "Let Me Entertain You," a childish number that later in the show will take on a whole new meaning.
The first half of the musical shows us the limited success of their routine (and the limited creativity of Rose) as the girls age and the show evolves. Choreographer and co-director Mark Minnick drives home the point, using the same hackneyed steps in each kitschy "new routine" Rose creates for them.
A very effective use of strobe lights in one number gives us a magical sense of passing time as the young actresses playing June and Louise are switched before our eyes with adults playing the grown-up girls (Louisa Tringali as June; MaryKate Brouillet as Louise).
The love disinterest
In between the shows within the show, Rose uses her wily charms to snag an agent/ boyfriend (Herbie, played with charm and reserve by David Bosley-Reynolds) who proves himself both dedicated to the family and invaluable to their survival.
Nonetheless, Rose repeatedly spurns Herbie's offer of marriage, maintaining her push to achieve stardom for June at all costs.
In the charming number "If Momma Was Married," the girls express their intense desire that Rose marry and live her own life rather than trying to live theirs.
Eventually, June can't take it any more and elopes without so much as a goodbye to Rose.
Though raging for a moment at this act of betrayal, Rose wastes no time mourning June. Instead, she pivots to hail Louise as the family's remaining chance at stardom.
"Everything's Coming Up Roses" not only expresses her determination to make this a positive development, but gives voice to Rose's own personal dreams of success.
Finally, stardom of a sort
Poor Louise doesn't have a chance against the ferocious drive of her mother. So she remains under her thumb until one day the act is booked at a burlesque house, ostensibly to give an air of respectability to the place.
It's here that the show gives us the famous back-stage view of burlesque, "You Gotta Get a Gimmick," which has the audience howling with laughter at the over-the-top (and bottom, but barely) costumes and vamping of the house's strippers.
But when the lead stripper is hauled off by police, Rose pushes Louise to fill the role.
Dutifully but hesitantly, Louise (now introduced by the stage name Gypsy Rose Lee) sings a timid version of "Let Me Entertain You," slipping off a strap of her dress.
From that moment on, there's no stopping her, and she becomes a far bigger star than even Rose could have imagined. A well-choreographed number shows us Gypsy's gradual transformation into a practiced and professional performer and lets Brouillet finally come out of her shell.
But this also gives Gypsy the opportunity to turn the tables on Rose and call the shots herself for a change.
Facing this forceful rejection, Rose finally confronts her own behavior and admits that she's really been pursuing her own self-interest all along. In "Rose's Turn," she comes to the realization that it was really all about her.
So, while the show seems to be filled with kitsch and cliché, it delivers a more complex and realistic character portrayal.
Toby's cast and live orchestra do themselves proud. The direction by the eponymous Toby Orenstein and Minnick make good use of the intimate stage, which just before the production serves as the buffet area for the dinner theatre's all-you-can-eat meal.
By the way, the actors also act as your servers, bringing drinks and desserts. Their tips constitute a good part of their pay, so keep that in mind when you settle up.
Gypsy runs through March 17, Tuesday through Saturday nights (buffet 6 p.m.; show starts at 8 p.m.) Sunday night (buffet at 5 p.m.; show at 7 p.m.), and with matinees on Sundays and select Wednesdays (brunch at 10:30 a.m., show at 12:30 p.m.).
Adults: $63-66; Children 12 and under: $47.50. Patrons 65 and over pay $53.55 for Tuesday and Wednesday evenings and Wednesday matinees only. Special rates for groups of 15 or more.
Coming up next at Toby's: Disney's The Hunchback of Notre Dame, March 21 through May 19.