Cover Stories
A second chance behind bars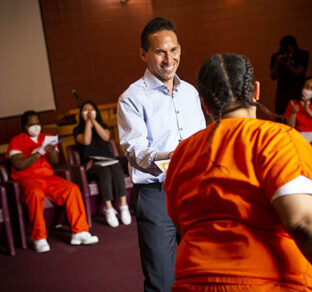 Georgetown University professor Marc Howard, 53, is founding director of the Prisons and Justice Initiative at Georgetown, which helps incarcerated people earn college degrees and assists them in returning to society after they're released from prison. He also teaches a course at Georgetown called Making an Exoneree. Howard himself helped exonerate a high school friend who was wrongly convicted and spent 17 years in jail for a crime he did not commit.
Photo courtesy of the Prisons and Justice Initiative
Neil Roland's students aren't your average college kids. Instead of dorm rooms, they live in prison cells. Roland, 71, has tutored incarcerated people for eight years, starting at a maximum-security prison in Jessup, Maryland.
Today, the Silver Spring resident teaches world affairs at the District of Columbia Jail through Georgetown University's Prison Scholars, a program of its Prisons and Justice Initiative. The initiative, which also offers degree programs to inmates, has reached more than 200 people to date.
This fall, Roland brought one of his students a book she had been trying to find for years. "She was overjoyed. She covered her face to keep herself from crying," Roland said.
"Clearly, this was a woman who loves learning. Of course, I kept my cool, but when I can help set off that spark for learning in someone, it brings me joy."
Every year, convicted people in America's jails are proven to be innocent of the crimes for which they were imprisoned. Even those that were justly convicted can turn over a new leaf and start anew. Getting an education is one way to achieve that.
A turning point
Launched in 2016, the Prisons and Justice Initiative was the brainchild of Marc Howard, now its executive director.
Howard's life trajectory changed when he was in high school. On his first day of senior year, Howard woke up to the news that the parents of his friend Marty Tankleff had been murdered.
Through a hostile interrogation without presence of counsel, the young Tankleff was tricked into believing he had been identified as the murderer, though he suspected his father's business partner of the crime.
Tankleff was arrested, convicted and sentenced to 50 years to life in prison. (The business partner who owed Tankleff's father money and fled after faking his own death was never charged with the murders.)
Years later, Howard began visiting his old friend, who continued to maintain his innocence, behind bars.
"One day in the prison visiting room, I made him a promise: I said, 'I'm going to do everything I can to get you out of prison.' That was a real turning point in my life," Howard said.
Howard, who had been teaching European politics at Georgetown University, decided to devote his life to helping people in prison. He earned his J.D. degree from Georgetown Law and is now a professor of government and law at the university.
"I completely changed my direction and orientation, and now do everything I can to help support people in prison to a successful social reentry, and overturning wrongful convictions."
Thanks in part to Howard's efforts, the charges against Tankleff were dismissed, and he was freed in 2008 — after 17 years in prison.
For the past six years, Howard and Tankleff have seen each other almost every day. Both are now professors at Georgetown and jointly teach a course called Making an
Exoneree.
In the class, university students reinvestigate cases and advocate for people they believe were wrongly convicted. Since the course launched in 2018, students have helped free seven people.
The Prisons and Justice Initiative's staff of 20 works on several fronts. First, they send Georgetown professors to teach in person at the D.C. Jail via the Prison Scholars, which also began in 2018.
They also offer a five-year bachelor's degree to incarcerated people through a program that started in 2022. So far, about 75 students are working toward a Georgetown University degree from behind bars.
Rejoining society
Even with a Georgetown degree, it can be difficult to land that first job when you have a prison record. So, the initiative also focuses on supporting people's re-entry into society.
Two training programs have helped dozens of people: a paralegal course and a business startup course (called the Pivot Program).
One graduate of the paralegal program, Kenard Johnson, studied six days a week while he was in prison. He worked hard to earn his certificate from Georgetown Law School. "It challenged me to my core," Johnson said.
Johnson now works as a paralegal specialist at the D.C. Office of the Attorney General's Office of Consumer Protection, helping victims of fraud get their money back.
"I go to work every day for the small man," Johnson said. He has also self-published a book of poetry, which he started writing while he was incarcerated.
'Common humanity'
Howard, now 53, hasn't slowed down. He wants to enable more people to interact with those behind bars, as Roland does.
To that end, in 2020 he founded the nonprofit Frederick Douglass Project, which "brings members of the free community into prisons to meet and engage with, and connect with, incarcerated people," he explained. So far, nine states have joined the Frederick Douglass Project.
"I'm very committed to expanding that program and to allowing people across the country to have the opportunity to visit a prison and engage with the humanity of incarcerated people," Howard said.
"Everything that I do is to try to reinforce that theme of common humanity — recognizing that incarcerated or formerly incarcerated people are just like us."
As for Roland, he's still teaching at the jail every Friday. He started with a class of only four people, and now his classes have as many as 25 students.
Roland looks forward to visiting the jail each week. "I'm accustomed to having prison doors close behind me — [hearing] the finality of that sound — and interacting with inmates," Roland said.
"I've taught junior high school, high school, college and graduate school. But the older students behind bars [have] the highest motivation I've encountered anywhere," he said.
They are hungry to learn "because they know this is their ticket out — not only out, but to a better life."