Housing
A variety of affordable housing options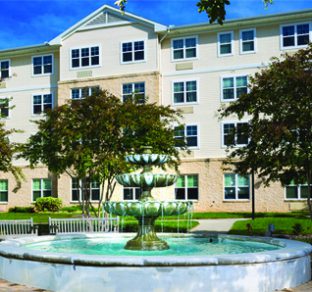 Weinberg Village in Owings Mills offers recently built apartments at an affordable price. The Baltimore area offers many other housing options with modest rents for older adults.
Photo courtesy of Edgewood Management
Dorothy Tolliver has been living at Weinberg House for almost 11 years and couldn't be happier. The former government employee, who is now 80, had been living in another senior residence in downtown Baltimore but wanted to be closer to her family. She now enjoys her one-bedroom apartment and the convenience of the Pikesville neighborhood.
"I'm right across the street from the Giant and within walking distance to the drugstore, bank and bus line," said Tolliver. "Everything I need is within a five-block radius."
Tolliver also enjoys the variety of programs Weinberg House offers, including fitness activities such as Zumba and chair yoga, game night and movie showings. The apartment house is also close to the Pikesville Library and Senior Center, and a bookmobile makes regular visits. A coffee shop on the premises gives residents an opportunity to socialize together.
Another aspect that makes Weinberg House attractive is its affordable rents for those who meet income and age guidelines.
"I just love it here!" said Tolliver.
Weinberg House is just one of the many affordable residences for seniors throughout the Baltimore area. Following is a brief sampling of what's available. For a more complete list, visit http://bit.ly/BaltCountyApts and http://bit.ly/BaltCityPublicHousing.
Park Heights Place
5430 Park Heights Ave.
(410) 578-3445
http://habitatamerica.com/communities/park-heights-place-baltimore-md/
Park Heights Place offers affordable one-bedroom apartments for rent to residents 62 and older. Standard features in each apartment include central heat and air conditioning with individual climate control, a fully equipped kitchen, bedroom, bathroom and living room. Small pets are welcome, and accessible apartments are also available.
The development also features a large community room, TV room, laundry facility, lounge, wellness clinic and two outdoor patios. Fifty-eight percent of the apartments are dedicated for residents earning 40 percent or less of the area median income.
For easy access around Baltimore City for shopping, dining and recreation, Park Heights Place is close to public transportation, with bus stops and a Light Rail station nearby.
Income limits apply. Call for information on availability and pricing.
The Greens
(443) 716-2550
http://habitatamerica.com/communities
Habitat America manages six communities for residents 62 and above in Baltimore City and Baltimore and Anne Arundel Counties, all known as The Greens: The Greens at English Consul, The Greens at Hammonds Lane, The Greens at Irvington Mews, The Greens at Liberty Road, The Greens at Logan Field, The Greens at Rolling Road.
The one- and two-bedroom apartments are spacious, with large closets, a fully-equipped kitchen, plenty of natural light, and are convenient to grocery stores, shopping centers, medical facilities and more. Amenities at the individual communities may include community centers, computer labs, fitness centers, libraries and more.
Call Habitat America or visit the website to check out each individual community.
Wayland Village Senior Apartments
3020 Garrison Blvd.
(410) 542-4580
www.whetstonecompany.com
Wayland Village is an independent living community designed exclusively for low- and moderate-income seniors age 62 and older. The 90-unit community has one- and two-bedroom apartments featuring a telephone/card entry system for controlled building access; fully-equipped kitchens; wall-to-wall carpeting and mini-blinds; individually-controlled heating and air conditioning included in rent; two convenient laundry facilities in the building; community rooms and activities rooms; convenient public transportation and services (bus #91 stop right out front); high-speed Internet access; and emergency pendants for calling family or emergency services.
St. Mary's Roland View Towers
3838 Roland Ave.
(410)-889-8255
www.smrvt.com
St. Mary's Roland View Towers is a complex of two high-rise apartment buildings in the heart of Hampden. St. Mary's is one of the first successful apartment facilities in the country constructed with federal funding to provide housing for those who are 62 or older. There are 360 apartments at the property, including efficiencies, one-bedrooms and two-bedrooms.
Church services, social events and access to senior benefits are among community programs open to the tenants. The restaurant on the top floor is the highest point in Baltimore, has a spectacular view of the city, and is open to the public.
Recent community activities include bus trips, cookouts, movie nights and bingo. Other features include reception desk personnel on duty 24/7; on-call maintenance 24/7; 24-hour library; beauty/barber shop; dining facilities.
Weinberg Senior Housing
www.chaibaltimore.org
Since 1994, CHAI (an agency of the Associated: Jewish Community Federation of Baltimore), has acquired, renovated or developed 14 communities in northwest Baltimore City, Pikesville and Owings Mills. The buildings are owned by CHAI and managed by Edgewood Management.
To qualify for an apartment home at Weinberg Senior Living communities, the following conditions must be met: At least one member of the household must be 62 years of age or older, or at least one member of the household must be 18 years of age or older with a disability.
All household members must fall within the income limits, as set forth by the Department of Housing and Urban Development for the year. All household members must be U.S. citizens or have CIS resident alien certificates.
Income requirements vary among the Weinberg properties, and apartment rents are determined by the requirements of each community, the unit type and your income. Weinberg Park, the assisted living facility, does not have income or age restrictions.
Catholic Charities Senior Communities
(443) 798-3423
www.catholiccharities-md.org/senior-housing
Catholic Charities has been managing senior communities for more than 30 years, and owns and operates senior communities in 24 locations in Baltimore City, Baltimore, Anne Arundel, Garrett and Harford Counties, including nearly 1,800 units of efficiency, one-bedroom and two-bedroom apartments.
In most cases, to be eligible, applicants must be 62 years of age or older with an annual income under the Section 8 income limits published by HUD. In a few buildings, the income limit is higher. In most communities, residents pay approximately 30 percent of their adjusted gross income for rent.
Residents enjoy a variety of on-site services, such as beauty and barber salons, laundry rooms, libraries, dining rooms, convenience stores, computer centers, medical offices, and the professional assistance of on-site service coordinators.
In addition, the Catholic Charities Senior Support Services Program is available to eligible residents at a reasonable cost at select communities. The program provides meals, and assistance with housekeeping, laundry, personal assistance and service management.
CSI Co-op Apartments
1-800-362-0548
www.csi.coop
The not-for-profit CSI uses a unique cooperative management system to provide affordable senior housing communities in Maryland, California, Massachusetts and Michigan.
There are 11 rental co-op residential communities in Baltimore, Essex and Randallstown. Detailed descriptions, including rents, for each of the communities can be found on the website. Currently, all area properties either have short waits or an open waitlist for new residents.
Living in a co-op means living in a building that is controlled by the resident members. The resident members vote on all major operating decisions, including writing the annual budget. The membership also includes privileges, such as serving in elected or appointed positions, voting in co-op elections, CSI board elections, corporate bylaw changes, or other matters coming before the members.
Virginia Towers
4500 Virginia Ave.
(410) 321-9661
Virginia Towers is a 15-story high-rise for residents 62 and older with 150 units, primarily one-bedrooms. To qualify, residents may earn no more than $18,000/year for an individual, or $30,000/year for a couple. Rents usually are 30 percent of residents' gross annual income.
Apartments feature wall-to-wall carpeting, dishwasher, energy-efficient windows and free parking. Pets under 25 pounds are accepted. There is a waiting list, but applications are currently being accepted.
Park View
(410) 246-7499
www.parkviewseniorliving.com
Park View Senior Living has more than 20 residential communities throughout Baltimore City and Baltimore and Howard Counties. Most Park View communities offer one- and two-bedroom apartment homes to qualified seniors.
The apartments are bright, spacious and well-equipped for active, independent lifestyles, and are conveniently located near shopping, public transportation, healthcare centers, and social and recreational venues.
Most communities also provide a Park View bus for resident outings, social and recreational activities, education and health seminars, 24-hour emergency maintenance services and business services.
Community amenities feature electronically controlled lobby entrance, elevator buildings, community room, lending library and computer center, laundry facility with convenient lounge, media lounge, salon services and wellness suite, to name just a few.
To learn about locations and features of individual communities, visit the website or call Park View. You may also call any community directly.