Travel
A visit to Baltimore with grandchildren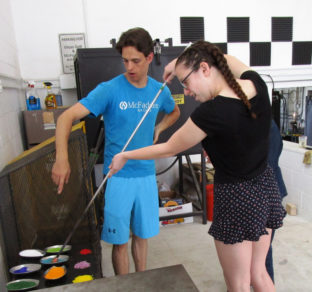 The author's grandchild, Mollie, tries her hand at glassblowing at McFadden Art Glass in Baltimore.
Photo by Victor Block
"Can we ask someone for help?" Mollie inquired, her voice exhibiting the anguish we all felt.
"Not yet," I replied, trying to sound as confident as possible. "Let's give it one more try."
It took less than five minutes for me to capitulate. "OK, let's ask that family over there."
Approaching the group, I explained that we were participating in a Baltimore-area scavenger hunt, couldn't decipher the next clue and needed help. The father, his wife and their two children broke into laughter. "We were just going to ask you for help," the dad said.
Thus began the intergenerational weekend trip that my wife Fyllis and I planned to celebrate our granddaughter Mollie's teenage birthday. We had two goals: To give Mollie and a friend a special treat, and to test our theory that it's not necessary to travel far from home to combine a good time with a learning experience.
Our research to seek a choice of activities turned up a surprisingly long list of inviting alternatives. We showed the options to Mollie without revealing our destination, despite her repeated entreaties. Then we compiled her selections into what we hoped would be a workable itinerary.
As we drove toward Baltimore, no amount of pleading by Mollie and her friend Ingrid persuaded us to reveal our destination.
As we turned off the highway into the city, we wondered if our experiment of having a getaway so close to home was doomed to failure. But it was too late to change plans, so with hope in our hearts we drove to the place where our first activity would begin.
Scavenger hunt and jousting
Ranked first on Mollie's wish list was an urban scavenger hunt called Baltimore Quest. It combines an intellectual challenge with visits to some of the city's major attractions.
The first clue on our smartphone directed us to find a large ship's anchor, which we soon discovered. A statue of William Donald Schaffer, a former mayor of Baltimore, also was easy to locate.
But when we got to a clue that required solving a math problem and completing a crossword puzzle, we hit the aforementioned snag. Even that worked out, as we got to meet the other family on the same quest.
The cost to join the Quest is $49 per team. For more information: www.urbanadventurequest.com/tours/things-to-do/baltimore/default.aspx, (805) 603-5620.
After successfully completing the first activity we headed for our next destination: the National Aquarium, overlooking Baltimore's Inner Harbor. There we came face-to-face with sharks and razor-tooth piranha, spotted an emerald tree boa napping on a branch, and understood why oversize tree frogs and turtles have Giant as part of their name.
Touch pools became instant favorites of our young companions, who delighted in making contact with horseshoe crabs, sting rays and other denizens of the seas. Mollie finally got up the nerve to feel the top of a jellyfish, and both girls ignored my I-thought-humorous query about what flavor the jelly was.
Admission for adults is $39.95, ($34.95 if 65+), and children 3 to 11 $24.95. For more information: www.aqua.org, (410) 576-3800
By the time we had scavenged, communed with fish and eaten lunch, we were ready for an immersion in Medieval Times at Arundel Mills Mall in Hanover. That adventure takes place in what passes for an 11th-century European castle complete with armor, coats of arms and other ersatz artifacts.
Let me say that this is the kind of attraction I love to hate. Let me add that I very much enjoyed it.
Having already eaten, we arrived after the four course meal had been served, but in time for the pageantry, and it was abundant. A presentation of Middle Ages falconry was both entertaining and educational. A demonstration of dressage by magnificent horses was as graceful as a human ballet.
Then came the highlight: A jousting tournament by knights, each of whom was loudly cheered on by supporters in the audience. The Black & White Knight was introduced as "humble in prayer, loyal in service and in battle invincible." The Red & Yellow Knight "fights like a lion uncaged."
Admission, including a meal (which you eat with your hands!), is $59.95 for adults and $36.95 for children 12 and under. For more information: visit www.medievaltimes.com/plan-your-trip/baltimore-md or call 1-(866) 543-5278.
The day ended with dinner and four sleepy but happy travelers turning in for what we agreed was a well-deserved rest.
Glass blowing and mini golf
When the girls didn't answer our morning knock on their hotel room door, our first reaction was one of panic. Then, using the logic that grandparents should possess, we headed for the swimming pool and — to our relief — found them cavorting in the water.
After breakfast, we headed for an establishment that enveloped us in yet another world of wonder. We were surrounded by paperweights and pumpkins, fruits and flowers, and a seemingly endless variety of objects in a seemingly endless array of colors —all made of glass.
McFadden Art Glass is a combination gallery and workshop, which offers classes for serious creators as well as drop-by opportunities for one-timers like us. After admiring the choice of objects on display, the girls selected the items they wished to make.
Prices for smaller objects are in the $20 to $65 range, and working with Sean — the very helpful, pleasant and, Mollie and Ingrid agreed, cute assistant — turned out to be a highlight of the weekend. With his guidance, our charges fashioned the items they had selected to take home as tangible tokens of the weekend.
For more information: http://mcfaddenartglass.com, (410) 631-6039
Colors of a different kind greeted us at the Monster Mini Golf Course, which offers a unique twist on a popular pastime. The indoor 18-hole layout is bathed in black light, in which a multitude of monsters glow as they move, talk and entertain players with their antics, making who wins the game unimportant.
$10.99 adults, $8.99 children. For more information: http://monsterminigolf.com/locations/towson, (410) 497-9704
The day, and weekend, were supposed to end by playing paintball, but that was canceled because the girls weren't wearing long pants to soften the splatter of dye-filled pellets. Fortunately, a nearby Go Kart track provided an exciting finale to the festivities.
Any worries we still had about the success of a celebratory outing so nearby dissipated during the return drive, as the girls excitedly recounted the experience. Ingrid voiced pleasure that in addition to being fun, the scavenger hunt "taught us some history at the same time."
Mollie's summary supported the theory that we had set out to prove. "I didn't know there are so many interesting things to see and do so close to home."
She and Ingrid proved what Fyllis and I had set out to prove. Anyone anywhere can follow our game plan, and turn a short commute into a memorable family getaway.
For information about visiting Baltimore, call (800) 343-3468 or see www.Baltimore.org.