Arts
A wide choice in local theatre productions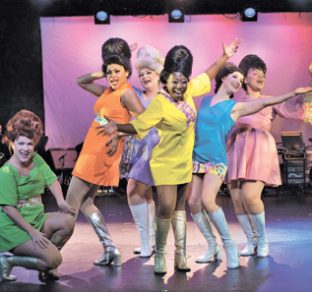 From musicals to comedies to drama, Baltimore's theaters are jumping this month. Here's a look at some of the offerings on local stages.
Running through Feb. 27 at the Hippodrome is the award-winning musical Jersey Boys, based on the story of the 1960s pop group the Four Seasons. The musical opened on Broadway in 2005 and has been on a North American national tour, playing in Las Vegas, Chicago, Philadelphia and Toronto. It has also played the West End in London and in Australia.
Jersey Boys won four 2006 Tony Awards: for Best Musical, Best Actor, Best Featured Actor and Best Lighting Design. The Hippodrome is located at 12 N. Eutaw St. Tickets range from $35 to $135 plus fees, if applicable. For more information, call (410) 547-SEAT, or visit www.france-merrickpac.com.
Through March 19 you can take in the Chesapeake Shakespeare Company's presentation of Cymbeline. The play, one of Shakespeare's last, depicts the court of pre-Christian British King Cymbeline.
Situated amidst the backdrop of a Roman invasion of the island, Cymbeline is full of familiar Shakespearean elements — outcast noblemen, lost sons, mistaken identities, duplicitous seductions, deadly potions, gender confusion, a king blind to treachery and a cad turned instantly heroic. This action-packed journey of twists and turns ends as one of Shakespeare's most redemptive plays.
Cymbeline will be presented in Oliver's Carriage House in Columbia, 5410 Leaf Treader Way. Ticket prices for adults are $25, Thursday evenings and Saturday matinees; $30, Friday and Saturday evenings. Those age 65 and over pay $23; students age 12 to 25 pay $15. Call (410) 313-8874 or visit www.chesapeakeshakespeare.com.
Nostalgia at Toby's
Take six talented women and add one hot band, countless wigs, a considerable amount of costumes, 25 cans of hairspray, and more than 40 of the greatest '60s hits, and you get Beehive, The 60's Musical! It features popular songs like "Proud Mary," "One Fine Day," "My Boyfriend's Back," and "Respect."
This lighthearted slice of nostalgia is on stage through Feb. 27 at Toby's Dinner Theatre in Baltimore, based at the Best Western Hotel and Conference Center at 5625 O'Donnell Street. Tickets, which include buffet dinner, range from $49.50 to $51.50 for adults; $35.50 for children under 12. For more information, call (410) 649-1660 or visit www.tobysdinnertheatre.com.
There's more nostalgia at Toby's Columbia location with I Left My Heart: A Salute to the Music of Tony Bennett, running through March 6. The songs featured stretch from his early top-40 hits, jazz recordings with Count Basie, Stan Getz, and Bill Evans, to his torch songs, film scores, all the way to his now infamous MTV unplugged (which introduced him to a whole new generation of listeners).
I Left My Heart includes an unforgettable score of 40 standards recorded by Bennett, including "Because Of You," "Stranger In Paradise," "The Best Is Yet To Come," "Cold, Cold Heart," "Boulevard Of Broken Dreams," "I Wanna Be Around," "The Good Life," " Rags To Riches," and his best-known hit, "I Left My Heart In San Francisco."
Toby's Columbia is located at South Entrance Road between Route 29 and Little Patuxent Parkway. Tickets range from $47 to $52 for adults, and are $33.50 for children under 12. For more information, call (410) 995-1969 or log onto www.tobysdinnertheatre.com.
New takes on classics
From March 1 through March 6, Cameron Mackintosh presents a new 25th anniversary production of Boublil & Schönberg's legendary musical Les Miserables at the Hippodrome. This new production, with new staging and re-imagined scenery inspired by the paintings of Victor Hugo, has already been acclaimed by critics and theatergoers alike.
Ticket prices range from $20 to $75, plus any applicable fees. The Hippodrome is located at 12 N. Eutaw St. For more information, call (410) 547-SEAT, or visit www.france-merrickpac.com.
Teen actors join with professional actors in the Baltimore Shakespeare Festival's production of Romeo and Juliet from March 10 through April 3 at 3900 Roland Ave. Ticket prices are $25 for adults, $20 for seniors, and $10 for students.
Baltimore Shakespeare Festival became Baltimore City's third resident professional theatre company in 2003. For more information, call (410) 366-8596 or visit www.baltimoreshakespeare.org.