Travel
Albuquerque basks in its place in the sun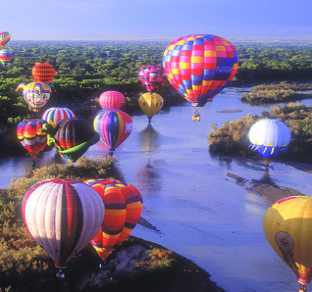 Albuquerque license plates sport New Mexico's symbol — an ancient red sun on a bright yellow background, an image borrowed from the indigenous Zias for whom the sun was sacred. Maybe that's because the sun shines on Albuquerque 310 days a year.
Sunlight dapples across the high desert, and sunsets turn the Sandia Mountains watermelon pink. The sun inspired early inhabitants, who chipped images on rock formations, as well as the Pueblo Indians, who built thick adobe walls to retain the sun's warmth.
The sun helped heal thousands of tuberculosis patients, known as "lungers," who basked in the warmth and low humidity between 1880 and 1940, giving Albuquerque the title, "Health City of the U.S."
With 559,000 people, Albuquerque is the largest city in the state dubbed "Land of Enchantment." Visitors can explore petroglyphs of 13,000 years ago, the native Pueblo culture of yore and today, the area's Spanish heritage, the town's 1706 roots, the coming of the railroad in 1880, the famous Route 66, and even some of today's high tech gurus.
Pueblo influences
The Indian Pueblo Cultural Center chronicles the Pueblo people's reliance on the sun's sustenance for their land-based culture, as well as their respect for the Earth, and their undaunted perseverance through three uninvited, colonizing forces aimed at suppressing the native culture: Spain, Mexico and the United States.
The Spanish conquest brought horses, livestock, disease, missions and a new religion. Franciscan Catholics tried to squelch Pueblo customs, leading to a full-scale revolt in 1680 that killed 400 Spaniards and drove 2,000 would-be settlers away.
In another not-so-sunny chapter, the U.S. government forcibly removed native children from their families and plunked them into boarding schools. The U.S. government also usurped native water and mineral rights.
Pottery, baskets, weaving and farming exhibits in the Center's museum symbolize the Pueblo peoples' strong survival spirit. New Mexico has 19 Pueblos or tribal nations today. "Our struggle for existence has not ended," says one sign.
Pueblo influences are threaded like a tapestry throughout Albuquerque, like the University of New Mexico's pueblo-style buildings.
The city's original Old Town is a tight cluster of 150 flat-roofed, Pueblo-Spanish-style, adobe buildings with soft contours connected by brick sidewalks, some leading to tucked-away courtyards dating to the early 1700s.
Many buildings have long portals or porches offering shade from the sun. Thick walls help cool interiors on hot days and absorb heat for chilly nights. The oldest building in Old Town is the San Felipe de Neri Church, built in 1793 on a Spanish-style plaza.
Old Town today is a warren of art galleries, crafts boutiques and souvenir emporiums hawking cowboy hats, chili pepper key chains, and Route 66 T-shirts.
One curious anomaly is the largest collection of live rattlesnakes in the world, the American International Rattlesnake Museum, home to western diamondbacks, twin-spotted, Arizona black rattlesnakes and more.
Varied museums
At the Albuquerque Museum of Art and History, visitors learn how a Native American language helped the United States win World War II. Chester Nez, one of the 20 Navajo code talkers, was fluent in both Navajo and English, and used this language as a tool for victory in the South Pacific.
Another exhibit, highlighting Albuquerque's ethnic diversity, touts, "We've all been blended. We embrace the differences."
The museum's 10,000-works collection focuses on the art and history of the southwest U.S., from Native Americans to contemporary artists. The history wing spans four centuries, displaying items from the Spanish military invasion, Mexican cowboys, and the town's early railroad years.
For more modern history, the New Mexico Museum of Natural History and Science sings the praises of two hometown boys who made good: Bill Gates and Paul Allen, the entrepreneurs who in 1971 started MITS, Micro Instrumentation and Telemetry Systems, a business that morphed into today's computer giant, Microsoft.
The "Start-up" exhibit relates the history of the microcomputer — "electronic brains" created by the U.S. military in World War II. In 1953, this computer cost $1 million and required seven staffers to operate it. In the 1970s, Gates, a Harvard University dropout, and Allen envisioned "a computer on every desk and in every home." Imagine that.
Downtown or "new town" is spread along Central Avenue, a.k.a. Route 66. That's the well-known "Mother Road" and 2,000-mile highway from Chicago to Los Angeles made famous by Nat King Cole as "the highway that's the best."
Urban renewal demolished many of the original neon signs, motels and other icons once there, but brown signs note its path. You can still "get your kicks," as Nat crooned, at the no-frills Dog House Drive In, and scarf up green chili tater tots, chili cheese fries, chili burgers and chili dogs.
Downtown's KiMo Theatre may be Albuquerque's most distinctive building, built in a flamboyant, Pueblo Deco style and decorated with southwestern motifs and Native American iconography.
Mountains and petroglyphs
Atop the looming, black Sandia Mountains east of Albuquerque the sun is closer at the highest peak, 10,678 feet, and the temperature 15 degrees cooler than in town 5,300 feet below.
The end reward of a climb up by car or via the Sandia Peak Tramway (2.7 miles) — through varied landscapes and life zones to the top — is a panoramic view of the Rio Grande Valley and a line of extinct volcanoes. The Sandias are "a place for reverence," home of ancient gods revered by the Puebloans, wrote James A. Morris, a local.
Along the west mesa, the sun bears down on the 7,500-acre Petroglyph National Monument, decorated with more than 24,000 images — one of the largest petroglyph sites in North America.
Boiling volcanoes erupted 150,000 years ago and left behind five cones along a jagged escarpment. Basalt boulders are coated with a dark, natural varnish, conducive to scraping with stone tools to reach the paler, grayer stone beneath.
Scratched in the rocks are hands, feet, lizards, birds, snakes, spirals, geometric patterns, and many more mysterious images from 400 to 700 years ago.
Ancient graffiti? Art? Messages? "Each of these rocks is alive, keeper of a message left by the ancestors," wrote William F. Weahkee, a Pueblo elder.
On the way up to the crest of the Sandia Mountains is quirky Tinkertown, where the late Ross Ward, a certified circus-model builder and master whittler, created the Old West in miniature with hundreds of thousands of wood-carved figures and displays, some animated with tiny levers and pulleys.
This 22-room cabin is crammed with a mishmash of folk art and objects such as swords, wedding cake toppers, ice tongs, wrenches, corn grinders, a hand-cranked horse, and a World War I-era mule clipper. Over 55,000 glass bottles wedged into the walls suggest some phantasmagoria. Ward once said, "I did this whole thing while you were watching television."
Go Topes! How could a baseball team get a cumbersome name like Isotopes? A clue: Life-size, fiberglass statues of Homer, Marge, Bart and Lisa Simpson, from the fictional television series "The Simpsons," proudly stand in the town's baseball stadium. They were hauled 800 miles from Los Angeles, washed and refurbished with shiny new paint. Homer holds an Isotopes ticket, and Marge a bucket of popcorn.
What's the connection? Local newspaper readers chose the name Isotopes over the Road Runners and the 66ers because in a 2001 episode of "the Simpsons," the manager of fictional Springfield's team, the Isotopes, threatened to move the team to Albuquerque. This Triple A affiliate of the Colorado Rockies plays in 11,124-seat Isotopes Park.
Gustatory Albuquerque
While the sun heats up the outdoors, Albuquerque cuisine heats up "the innards."
"It's all about the chili," promotes Cocina Azul, a popular eatery. Another favorite, Monroe's, uses 150,000 pounds of chilis every year. Servers routinely query customers, "Red or green?"
Chefs blend chilis with Mexican, Native American and Spanish dishes, using local ingredients like corn, beans and squash. Chilis go into tamales, eggs, chicken soup, stews, ribs and cheeseburgers.
Joyce, age 80 and a Kansas transplant, said, "After you've been here for awhile, I don't know what you'd do without green chilies. You can get them mild to hot and roasted. I put them in eggs and gravy."
Other staples include enchiladas and sopaipillas, the latter being puffed-up, fried pastry filled with savory ingredients. Locals stress that New Mexican food is not Mexican food.
The city's zingy specialties are front and center at the National Fiery Foods and Barbecue Show, dubbed "the hottest show on earth." It features hot sauces, hot rubs, hot ribs, hot BBQ, hot jerky, hot salsas, and a "cool down booth" for ice cream to ease the burn of the hot and spicy foods. The 30th  annual show will be held March 2 to 4, 2018. Visit www.fieryfoodsshow.com.
If you go
Start your planning at www.visitabq.org. Once in Albuquerque, get oriented and see the major attractions on the ABQ Trolley, www.abqtrolley.com.
The Spanish-colonial-style Hotel Albuquerque, steps away from Old Town's attractions, has a Southwest feel. Visit www.hotelabq.com.
Throughout the year, Albuquerque hosts events that feature, among other things, bull riding, flamenco dancing, powwows, fiestas, wool dyeing, salsa, arts and crafts. Oh, and every October, throngs gather for the world's largest hot air balloon fiesta.
United Airlines has the lowest roundtrip fare in mid-January at $326 from BWI.