Travel
Appalachia offers simple life and luxury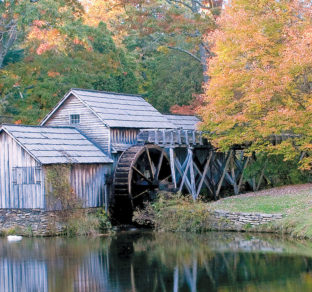 The Mabry Mill, located in the Meadows of Dan, Virginia, is one of the most picturesque sites in the state. Visitors can enjoy the trails and grounds and try the sweet potato pancakes at the Mabry Mill restaurant. Post-COVID, they will also be able to watch live demonstrations by National Park Service members.
Photo by Jimmy_Joe / Flickr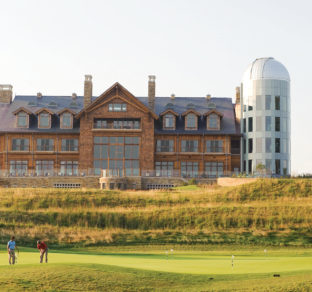 Golfers play on Primland Resort's Highland Course in Virginia's Blue Ridge Mountains. The 12,000-acre resort's lodge includes suites, restaurants and even an observatory where guests can stargaze with a trained astronomer.
Photo by Primland Resort
Last fall, my wife, Fyllis, and I visited southwestern Virginia, home to a luxury boutique resort which has won accolades as among the best resorts in the country.
But we also took time to explore the area around the resort, Patrick County, whose slogan is "Experience the simple life."
Located along the Virginia-North Carolina border, about a five-hour drive from Washington, D.C., Patrick County is a getaway with eclectic appeal.
The elegant yet friendly Primland Resort offers unique activities like stargazing and all-terrain vehicle rides, while the surrounding county offers an immersion in a locale where people cling proudly to their way of life and their Appalachian heritage.
Live music is everywhere in Patrick County, from scheduled performances and festivals to pop-up sessions that can occur almost any time and at almost any place. You can hear gospel, bluegrass and country music at festivals, venues and even coffee shops.
Driving through the county, we encountered sparse traffic on narrow, curvy roads. We occasionally passed trucks carrying freshly downed trees, horse trailers or a plow heading for a farm.
Country stores left over from earlier times attracted our attention and, in some cases, our cash. First, we visited the rambling Poor Farmers Market, which lives up to its claim to be an "Old-Fashioned Country Store." Homemade jams, jellies, cakes and pies share shelf space with bags of grits, barrels of beans, sacks of locally grown fruit, and beverages from a nearby winery.
At the nearby 1892 Mayberry Trading Post, corncob pipes, wooden toys and quilts are sold in the former post office, where open-letter cubicles marked with names of original owners remain as they were nearly 130 years ago.
Historic sites
Some of the flour sold at the Trading Post was ground at Mabry Mill, which has been in operation since 1905. The water-driven gristmill is said to be one of the most photographed places on the Blue Ridge Parkway.
Strolling through the site, located at Milepost 176 of the Blue Ridge Parkway, I could envision people from previous generations going about their chores.
In normal, non-pandemic times, National Park Service staff conduct demonstrations of blacksmithing, basketmaking and other activities. A walking path leads to a blacksmith shop, cabin, displays of early farm equipment and a moonshine still.
Because Patrick County is compact — slightly smaller than Montgomery County, Maryland — its attractions are never far apart.
Visitors can tour the Reynolds Homestead in Critz, Virginia, the birthplace of the tobacco magnate. A reassembled barn represents the original sheds where tobacco leaves were hung to dry. The Reynolds family cemetery is located near the Greek Revival mansion, and across a field is a cemetery for the people enslaved by the family.
Patrick County was also home to Confederate Gen. James Ewell Brown Stuart, better known as J.E.B. Stuart. His short life (he died in 1864 at age 31 after a battle) is told at Stuart's birthplace and family home. Its 75 scenic acres contain hiking trails, a family cemetery and a separate slave cemetery.
"Fairy stones" are endemic to Patrick County, found in only a few places on Earth. According to local legend, the tiny minerals are the creations of fairies who once dwelled among the nearby hills and valleys.
The best place to search for stones is at the state park in Stuart named for them. For those not fortunate enough to find their own, the park's gift shop sells the stones as is, or polished and fashioned into jewelry.
Bermuda-sized resort
Then it was time to see the Primland Resort, a high-end property with a friendly atmosphere. It's located in Meadows of Dan, a village that got its name from an early English settler who took note of the beautiful grassland that carpets the area.
When Fyllis and I first arrived at Primland, we were struck by its expansive size. At the entrance gate to the complex, the congenial attendant said we had to drive six miles to reach the lodge. He chuckled and added, "Even when you get here, you're not really here."
So true! The resort's main campus sprawls over 12,000 mountaintop and valley acres, and for good measure adds 2,000 more outside the gates. That makes Primland about the size of the island of Bermuda.
The family-owned property got its start as a source of scrub oak, a kindling wood, and later functioned as a hunting reserve. Today visitors are welcome to hunt live game or hone their skills firing at clay pigeons at the shooting range. From fly fishing on the Dan River to horseback riding to trail hiking, there are something-for-everyone alternatives at Primland.
Golfing is big at the resort, which received high praise from Golf Magazine, Travel & Leisure Golf, Golf Digest and others. Sightings of wildlife on the links are not uncommon, and the course holds the prestigious Audubon International certification for environmental protection.
If tennis is too tame, guests may try archery or tomahawk throwing. There are also mountain-bike trails, an indoor pool and watersports at the on-site reservoir.
Fyllis and I decided to brave a rugged all-terrain-vehicle ride, taking turns at the steering wheel. After bumping and bouncing for an hour over rocky roads, around sharp hairpin turns and through mud puddles, we wondered if our internal organs remained where they were before the ride.
Spa and stargazing
Following a heart-thumping outing, what could be more relaxing than a visit to the spa? The Spa at Primland focuses on Native American healing rituals, supplemented with European techniques and organic products and essential oils. Of course, the usual massages, facials and nail services are available for men as well as women.
Perhaps unique among such resorts, Primland houses a serious telescope and offers stargazing sessions led by a knowledgeable astronomer. Even if you have little interest in astronomy, the enthusiasm of guides like Lauren, a self-proclaimed "professional-amateur astronomer," is infectious.
As images of Mars, constellations and black holes were transmitted from the telescope to monitors around the room, she described what we were seeing and threw in food-for-thought facts, such as that there are some 400 billion stars in our galaxy alone.
As if this inventory of things to do and see at Primland wasn't enough, the resort hosts a series of special events throughout the year, including bingo nights, a photography workshop, tastings of local wines and family movie nights.
Best of all, Primland Resort is open during the pandemic. Temperature checks upon entry as well as increased sterilization will put your mind at ease. Masks are required in public spaces. In the restaurants, tables are spaced more than six feet apart.
If you go
What price can you put on luxury and enjoyment? A visit to Primland isn't inexpensive. Rates during December through March begin at $340, then rise to $450 per night. Nearly all activities also involve an extra charge.
The resort's three excellent dining venues focus on fresh local organic and sustainable ingredients. The Elements restaurant dinner menu combines regional favorites like shrimp and grits ($20) with international fare such as agnolotti potato and truffle-filled pasta ($28). For more information or reservations, call 1-866-328-6210 or visit primland.com.
A stay at the somewhat quirky Uptown Suites of Stuart is a great way to immerse yourself in the locale. Situated on a classic American Main Street, the hotel's suites occupy the second floor of a former office building constructed in 1928.
The suites include a living room, kitchen and the usual hotel amenities. Rates begin at $95. For more information, call (276) 694-4471 or visit uptownsuitesofstuart.com.
When it comes to casual dining, the El Rancho restaurant (119 North Main Street in Stuart) is a favorite among locals for its burritos, fajitas and other Mexican cuisine ($9.95-$14.95). The atmosphere is inviting, and the wait staff pleasant. For more information, call (276) 694-8555.
The place for breakfast, early lunch and some down-home flavor is The Coffee Break Café (111 North Main Street, Stuart). A full meal (egg, bacon, potato and pancake) costs just $5, and a giant cup of coffee costs $1. For more information, call (276) 694-4232.
To learn more about Patrick County, go to visitpatrickcounty.org or call (276) 694-6094.