Travel
Area venue harbors entertainment galore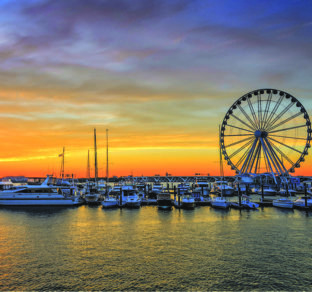 National Harbor attracts locals as well as tourists to its entertainment venues and hotels.
John and Betty Armstrong are mesmerized by a dramatic aluminum sculpture that depicts a giant emerging from the ground, his face contorted as he struggles to free himself.
Barbara Brackett and Sam Bradford enjoy a movie projected on a giant screen set at the edge of the Potomac River.
The appeals for Marilyn and Michael Meyers and their two grandchildren include riding a carousel, trying their hand at a Build-A-Bear workshop, and boarding a pirate ship to shoot a water cannon and hunt for stolen treasure.
These disparate diversions could be taking place far from each other, but they're not. They're just a small sampling of the many things to do and see at the National Harbor, in Prince George's County, just south of Washington, D.C.
The well-planned waterfront resort, which has more than a mile of shoreline along the Potomac River, is now in its 10th year. It has evolved into a something-for-everyone destination where some people live, some work, and many visit to enjoy its variety of leisure pursuits.
Bigger than life art
Begin with the art that captured the fancy of the Armstrongs. The 1980 sculpture, known as "The Awakening," is but one example in an art collection that enhances the resort complex. (Longtime residents will recognize it from its former home at Hains Point in the District.)
Other sculptures dotted around the campus include a colorful 85-foot tall abstract work, two enormous eagles that seem to soar over the river, and "Five in the Wind" — a depiction of people leaning against each other for protection against a gale.
The proverbial, and surprising, icing on the decorative cake is a 26-foot-tall iron archway that was crafted by legendary folk singer-songwriter Bob Dylan.
In keeping with its family-friendly atmosphere, and the opportunity to impart a bit of history, statues of a diverse group of American icons — including Abraham Lincoln, Frederick Douglass, Marilyn Monroe and Rosie the Riveter — grace plazas throughout the 350-acre site.
Wall murals and statues by both local and nationally-known artists add to the museum-like atmosphere of the collection, which is valued at more than $22 million.
Entertaining attractions
Waterside movies are only part of a long list of entertainment options that are available to visitors. Other attractions range from sing-along opportunities at Bobby McKey's Dueling Piano Bar, to beachfront concerts, to trying to stay on top of a pitching, twisting mechanical bull.
The epicenter of organized entertainment is the 3,000-seat theater at MGM National Harbor resort. The venue features eclectic choices, including celebrity concerts, comedians, variety shows and other performances.
Another source of fun (and perhaps fear for some) is the Capital Wheel — a truly giant Ferris Wheel perched on a dock protruding over the river. The ride carries passengers 180 feet into the air, and offers spectacular views of the U.S. Capitol, Washington Monument and other famous landmarks in the distance.
National Harbor also takes advantage of its riverside setting in other ways. Rental canoes, kayaks, pedal boats and stand-up paddleboards are available to rent during the warm weather season.
Water taxis offer trips to Georgetown, the redeveloped Southwest Washington Wharf, Old Town Alexandria and Mount Vernon.
The location offers spectacular views of the sunset. From May to September, that offering by Mother Nature is accompanied by musical presentations by the Armed Forces bands.
Shopping and sleeping
Those for whom shopping is a form of entertainment also find enough options to fill many an hour. Items sold at about 160 specialty stores include sunglasses and shoes, coffee and candles, perfume and pewter. Adding to the appeal are bargain prices and special daily discounts available at shops in the Tanger Outlets complex.
Another bonus at National Harbor is the ease of getting around. Visitors who drive there may park their car and get around on buses that run on a frequent schedule and carry passengers to the major attractions.
Those seeking an overnight excursion have a choice of 10 hotels, including two that hold the coveted Four Diamond rating.
The Gaylord National Resort & Convention Center features a dramatic, 19-story glass atrium, rooftop lounge and nightclub, full-service spa and seven restaurants.
In addition to its spa, restaurants and other inviting facilities, the MGM National Harbor contains one of the largest gaming floors outside of Las Vegas. The two-level casino conducts daily tournaments for those playing table games, and its vast array of slot machines offers imaginative diversions with unusual names like Dragon Spin, Dancing Drums and Fu Nan Fu Nu.
For more information about National Harbor, call (877) 628-5427 or visit nationalharbor.com.