Cover Stories
Author made history as a baby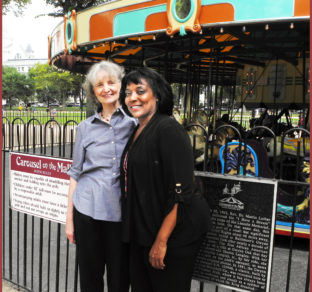 Amy Nathan and Sharon Langley stand in front of a carousel that was once a centerpiece of Gwynn Oak, a whites-only amusement park in Baltimore. The duo published a children's book about the 1963 desegregation of Gwynn Oak by Langley, the first African American child to ride its carousel, now located on the National Mall in Washington, D.C.
Photo courtesy of Amy Nathan
When more than 250,000 Americans gathered to hear Rev. Dr. Martin Luther King Jr.'s "I have a dream" speech at the March on Washington for Jobs and Freedom on Aug. 28, 1963, a family of three was quietly making history in Baltimore.
Baltimore native Sharon Langley was only 11 months old when her parents, Charles and Marian Langley, brought her to Gwynn Oak Amusement Park. Like many places in America, the park had barred Black people since it opened in 1893.
After eight years of nonviolent protests and hundreds of arrests for trespassing, the park's owners finally agreed to open its gates to Black families.
The Langleys, who lived near the park, had hoped to go to the march in Washington, where King gave his speech, but they couldn't find a babysitter for Sharon. Instead, they waited in line to enter Gwynn Oak, where Sharon, in a pink dress, became the first African American child to ride the merry-go-round.
"Someone had to be willing to take that step and take that chance," Langley said. "It was a part of our family's expectation — the idea that you did not have to accept things the way they had always been."
Now an elementary school administrator in Los Angeles, Langley has published a children's book about that historic day. A Ride to Remember: A Civil Rights Story, co-authored by historian Amy Nathan, was published in 2020 after almost a decade in the making.
Langley, who has worked as a teacher and literacy coach, concedes that "it's hard for [children today] to accept or understand that [segregation] is a part of American history." However, she pointed out, "It's really important to talk about it because the people who experienced these things are still alive, so it hasn't been very long ago."
How the book began
Nathan, a Baltimore native who has
published 11 books, became interested in  Langley's story in 2008, when she read about Gwynn Oak Amusement Park in the book Here Lies Jim Crow, by Baltimore Sun columnist C. Fraser Smith.
"I was amazed that I had grown up in Baltimore and never heard of that [Gwynn Oak] story," said Nathan, who attended Gwynns Falls Junior High and Western High School.
Eager to find out more, she searched for Sharon Langley. "I had to do a whole lot of tracking down, but I found Sharon in California and said, 'This would be a great story for a book for kids.'"
The subject was so complex that Nathan decided first to write a 260-page book about the many Baltimoreans involved in the park's desegregation, dedicating a chapter to the Langley family. Round & Round Together: Taking a Merry-Go-Ride into the Civil Rights Movement was published in 2011.
In 2013, Langley returned to Baltimore for the 50th anniversary of the desegregation of Gwynn Oak Amusement Park, joining clergy members and others who had been among the protestors at the park. That's when she met Nathan in person, and they re-dedicated their efforts to write a children's book together.
An award-winning illustrator
After several years, Nathan and Langley finished co-writing their book and secured a publisher.
Impatient when the publisher was slow to assign an illustrator, Langley scoured the books in her elementary school's library and suggested they approach award-winning illustrator Floyd Cooper, who had illustrated more than 100 titles, most about African American history.
Nathan contacted Cooper through Facebook and attended one of his book signings in New York, handing him the manuscript in person.
When Cooper read it, he later said, "I was so moved that immediately — on the spot, I reached for some art [supplies]. I had to get it out," he recalled in 2011. "Sharon's story is our story, America's story." (Cooper died of cancer in 2021 at the age of 65.)
A Ride to Remember was published just before the pandemic, so Cooper, Langley and Nathan had to do most of their book tour via Zoom.
However, they did manage to have a book launch at the Reginald F. Lewis Museum of Maryland African American History & Culture in downtown Baltimore. Cooper also was able to join them to present the book at an annual convention of English teachers.
Just before the lockdowns, Nathan read the book in person to children at three elementary schools in the area. In discussions there and on Zoom later, Nathan asked students to write down something they'd like to change. Their ideas ranged "from 'equal pay for women' to 'more ice cream,'" Nathan said.
A mother's activism
Langley moved away from Baltimore when she was nine years old, due to her parents' divorce. She and her mother relocated to Atlanta, where she graduated from high school and college.
Although both of her parents have passed away, Langley remains "incredibly grateful and appreciative" that they were part of the civil rights movement. "A lot of what I know about it is what my family shared with me. Family oral history is so important," she said.
Langley's mother, a nurse, also confided in her daughter about her own unfair treatment growing up in Kentucky. When Marian wasn't allowed to attend a new high school in her neighborhood, she appealed to the superintendent, citing the recent Supreme Court decision, Brown v. Board of Education, which ended segregation of public schools in 1954.
They refused, instead paying for Marian to ride a Greyhound bus to a Black high school in Lexington. The following year, however, as more students came forward, the school system reluctantly desegregated the new high school.
The merry-go-round today
Gwynn Oak Amusement Park closed in 1973 after financial decline and hurricane damage, but the 69-acre site in Woodlawn is a Baltimore County public park today.
Of course, the rides were sold off, and in 1981, the carousel was moved 40 miles away to its current spot on the National Mall in Washington, D.C. Now the property of the Smithsonian Institution, it has been shut down since the start of the pandemic.
Although the carousel and its music are currently quiet, visitors can glimpse the carousel's most famous wooden horse, the "Freedom Horse," which is marked with a brass plaque engraved with Sharon Langley's name.
The marker and another plaque in front of the merry-go-round were placed there by Stan and Donna Hunter, who acquired the concession rights to the merry-go-round in 1988.
"I remember Stan telling me how much he enjoyed seeing families enjoying the carousel, and how happy he was to know that it had been part of something important," Langley said.
Inspiring new generations
This year, Nathan is working on two more books ("Whenever possible, I try to include Baltimore in all my books," she said), and Langley is busy working full-time in California.
Both authors hope the story of the park's desegregation, however difficult it may be to hear, will inspire others to stand up to injustice or change the status quo.
"Why do we talk about it? Not because we want to hurt children or give them feelings of inferiority or make them somehow feel ashamed. No," Langley said.
"I like to point out that not only were there black clergy and black children and young adults who were there to protest the unfair policy at the park, but you also see that there were white children; there were Jewish rabbis; there were white parents.
"There were people who chose to be on the right side of the issue.…There are people who speak up for others. And that's something that we can still do, even if the issue is not the same."
The book A Ride to Remember is available in print and as an audio book at Amazon.com. To watch Sharon Langley read the book aloud, visit bit.ly/RidetoRemember.