Arts
Baltimore's streets are lit for the holidays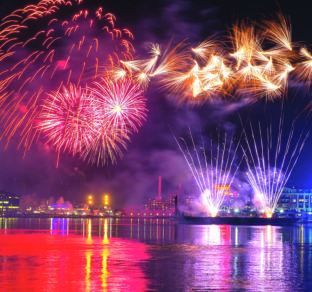 Numerous events around Baltimore, such as fireworks on New Year's Eve, help make the season merry and bright.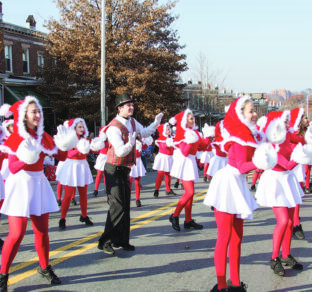 The 46th Annual Mayor's Christmas Parade will take place along a 2.5 mile route in Hampden and Medfield on Dec. 2.
Photo by Gerard Buckleman
Christmas, Chanukah, Kwanzaa or the Winter Solstice. Whatever— and how much — you celebrate, this is the most festive time of the year!
Here are a few of Baltimore's holiday traditions to add to your own.
Baltimore Farmers' Market & Bazaar
Underneath the Jones Falls Expressway at Holliday & Saratoga Streets
The Market & Bazaar features local crafters, artists and artisans selling handmade items like jewelry, wine racks, clothing and accessories, soaps and candles. You'll also find an abundance of trees, wreaths, greenery, and seasonal food to give as gifts or use for holiday cooking.
The market is open every Sunday through Dec. 22, from 7 a.m. to noon. For more information, visit www.promotionandarts.org.
Holiday Bazaar & Tea
Inside the historic Cloisters Castle at 10440 Falls Rd.
The Holiday Bazaar & Tea features local and regional artisans selling handmade items on Friday, Nov. 23 and Saturday, Nov. 24. Visitors can find unique gifts while enjoying the beautiful interior and exterior of the Cloisters. For bazaar times, visit www.cloistercastle.com.
Reservations can be made for tea (including an assortment of sandwiches, fruits, pastries and desserts) served at three times each day.
The bazaar is free to attend and shop, but tea is $30. For tea times and reservations, call the Cloisters at (410) 821-7448.
2018 Christmas Village
Enjoy an authentic German Christmas market in Charm City. From Nov. 17 through Dec. 24, Christmas Village in Baltimore returns to Baltimore's Inner Harbor to transform West Shore Park into a European wonderland.
The huge heated festival tent and the beautiful outdoor wooden booths around the majestic Christmas tree will harbor 45 vendors selling high quality arts and crafts from all over the world. Don't miss the handcrafted items from famous German ornament maker Kathe Wohlfahrt.
When you are done with Christmas shopping, have a seat in the Bavarian Beergarden and enjoy German delicacies such as bratwurst, pretzels, lebkuchen (gingerbread), mulled wine or a good German beer. For more information, visit www.baltimore-Christmas.com.
Pandora ice rink at Baltimore's Inner Harbor
Break the ice at the Pandora Ice Rink at Baltimore's Inner Harbor, complete with a skate shack, rentals, concessions and entertainment, as well as special events like SkateFest, a learn-to-skate program and more. For more information, visit www.innerharboricerink.org.
46th Annual Mayor's Christmas Parade
The attendance along the 2.5 mile route in Hampden and Medfield reached 25,000 people last year at the Annual Mayor's Christmas Parade. View Santa Claus and about 160 marching units.
The parade begins at 1 p.m. on Dec. 2, and will feature floats, local TV and radio personalities, over 100 Harley Davidson motorcycles, a steam calliope, great bands, Mummers of Philadelphia, Miss Yuletide and Jr. Miss Yuletide and, of course, Santa! Find out more at www.mayorschristmasparade.com.
Celebrate! A Holiday-Themed Tour of the Walters Manuscript Collection
Share the holiday spirit at the Walters Museum on Dec. 12, in a behind-the-scenes look at how feasts, festivities and joyful games were depicted in beautifully illuminated manuscripts across time and place. This free tour begins at 12:30 p.m. and is led by Christine Sciacca, Associate Curator of European Art, 300–1400 CE.
The Walters is located at 600 N. Charles St., and admission is free. Visit www.thewalters.org or call (410) 547-9000.
Miracle on 34th Street
One block in Hampden bursts with light each holiday season, as residents illuminate their row homes and mount quirky ornaments — from a giant snow globe, to a Christmas tree made of hubcaps. It's a holiday tradition like no other.
The lights will be on from around 6 to 11 p.m. every night except Dec. 24 and Dec. 31, when they stay on all night. Look for 720 W. 34th St. For more information, visit www.christmasstreet.com.
47th Annual Monument Lighting
Illuminating the historic Washington Monument at Mount Vernon Place, 699 Washington Place, is a Baltimore tradition that includes caroling, food and good cheer. Fireworks will cap the festive evening that marks the official start of the holiday season on Thursday, Dec. 6, from 5 to 8 p.m. For more information, visit www.promotionandarts.org.
Little Italy Christmas Tree Lighting
Decorate Little Italy's enormous Christmas tree, sing carols with the Baltimore Choral Arts Society, and enjoy complimentary refreshments, Italian cookies and roasted chestnuts on Dec. 7 at 7 p.m. Visit www.littleitalymd.org for more information.
Kwanzaa Celebration
Charles Dugger presents the principles of Kwanzaa at the Light Street Branch of the Enoch Pratt Free Library, 1251 Light St., on Dec. 4, at 11 a.m. Visit www.prattlibrary.org or call (410) 396-5430.
Chanukah Wonderland
Celebrate Chanukah on Monday, Dec. 10 from noon to 4 p.m. at the Jewish Community Center, 5700 Park Heights Ave., with fun-filled activities for the entire family — including an olive press demonstration, donut decorating, Chanukah arts and crafts, moon bounce, face painting, Chanukah photo booth, and food for purchase.