Travel
Barcelona's architecture, history, sports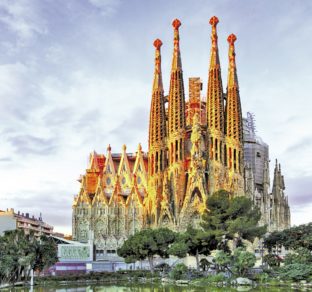 Barcelona's largest and most celebrated building, La Sagrada Família, is unfinished but open to tourists. Construction began 137 years ago but was interrupted by the Spanish Civil War and lack of funding. The city hopes to complete the basilica by 2026, the centennial anniversary of the death of Antonin Gaudí, its primary architect.
© Tomas1111 | Dreamstime.com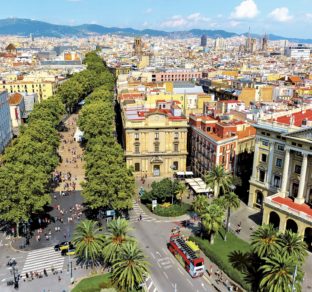 Tourists and locals walk, shop and people-watch on La Rambla, Barcelona's busy pedestrian walkway. The tree-lined esplanade stretches about a mile through the center of the city to its harbor on the Mediterranean Sea.
© Olgacov | Dreamstime.com
Antoni Gaudí, Barcelona's renowned architect, once observed, "There are no straight lines or sharp corners in nature."
Straight lines are few in Gaudí's hometown of Barcelona, a Mediterranean city of 5 million in northeast Spain, sprawled between the mountains and the sea.
A winding, narrow street connects with yet another winding street, which spills onto a bustling plaza of merry buskers — and from there, more narrow, winding streets lead to other plazas.
Many buildings sport decorative ironwork, balconies, bay windows, turrets, painted tiles, flower boxes, carved relief, mosaics, frescoes and statues.
Inspired by nature, Gaudí's one-of-a-kind buildings throughout the city are fanciful amalgams of swoops, curves, wavy lines, undulating roofs, pillow-like corners and ornate turrets.
Barcelona is the capital of Catalonia, a region proud of its identity. Most locals speak two languages, Spanish and Catalan, and English is common. The Catalonian red and yellow flag hangs from many balconies — a reminder of movements to secede from Spain.
Rambling along La Rambla
The city's boulevards have wide sidewalks, plentiful cafés and comfy benches, all ideal for people-watching. Budget-conscious visitors can easily explore Barcelona on foot, by bus or subway.
Total immersion is the only way to fully feel the vibes of the mile-long La Rambla, a broad, plane-tree-lined, pedestrian avenue traversed by 150,000 people a day. At times, it seems like all of the city's 7.5 million annual visitors are ambling along the road from the Placa de Catalunya to the sea.
Walkers can easily spend half a day poking in and out of cafés, shops and flower stalls (and dodging souvenir hucksters). At the midpoint of Placa de la Boqueria is Joan Miró's sidewalk mosaic, his gift to the city, centered by an anchor, a reminder of Barcelona's attachment to the sea.
At the Mercat de la Boqueria, a market that opened in 1217, barrels bulge with products like ham, snails, dried mushrooms, fish, fruit, vegetables and olives.
Gorging on Gaudí
Barcelona's jewels are the Catalan Modernism architectural wonders designed by the beloved Gaudí (1852-1926). Exploring his creations feels like an adventure on par with Dr. Seuss or Alice in Wonderland.
Gaudí's flamboyant, imaginative designs include parabolic archways, organic shapes, cone-shaped towers, tree-like columns and colorful tiles. Many towers and turrets have imaginative "toppings."
Gaudí's masterpiece is La Sagrada Familia Basilica, a fantastical, unfinished cathedral. Gaudí became its chief architect in 1883, and planners hope it will be finished by 2026, the centenary of the architect's death. (He is buried in its crypt.)
Another Gaudí masterpiece withing walking distance of the basilica is La Pedrera, built between 1906 and 1912. The building combines geometry and nature in its flowing forms, undulating lines, wavy walls and 30 chimneys that resemble medieval knights.
In the center of Barcelona, Casa Batlló — with its sinuous facade, wave-shaped window frames and dragon's-back-shaped roof — is another Gaudí spectacle of light and color. With its broken tiles resembling fish scales, it invokes the sea and its creatures. Even the wooden handrail undulates.
Park Guell, a former estate that Gaudí planned, is another dramatic merging of architecture, fantasy and nature.
The original Roman city
The labyrinthine Barri Gotic, or Gothic Quarter, dates back to the Romans and is the historic core of the old city. Visitors can explore the ruins of the Roman colony called Barcino under the Museum of History and learn how the ancients accomplished everyday tasks, such as preparing the Mediterranean condiment garum (fermented fish sauce), making wine, and storing food and drink in large Greek jugs called amphorae.
Centered in the Barri Gothic's heart is the soaring Barcelona Cathedral. The main part was built between 1298 and 1460, with the facade added in 1870.
One legend says Christopher Columbus brought Native Americans there and converted them in the baptismal pool.
If you navigate the nearby cobblestoned streets and alleyways, you'll find the Picasso Museum, where you'll learn about his formative years and long, creative life by studying his paintings, sketches, lithographs, etchings, aqua tints and linocuts.
A ride to the top of Montjuic, the "city's green lung," offers views of the city and the art of Barcelona native and surrealist, Joan Miró at the Fundacio Joan Miró.
Exhibits explain: "He tortured the canvas with unconventional practices like perforating and burning it, almost 'anti painting.'" Miró believed that "one line, one color can make a painting."
Soccer fever infects Barcelonans, and even soccer agnostics can catch it at Camp Nou, the city's famed soccer (called football in Europe) stadium.
This hallowed ground and museum is the most visited site in Barcelona, tourism promoters contend. The museum's walls display medals and trophies, some five feet tall, covering Fútbol Club Barcelona games from 1902 to the present.
Videos blast out historic game highlights. Visitors who squeeze through hordes of teenagers taking selfies can see the players' room, sauna and press room and tour several levels of the stadium.
A day trip to Monserrat
Monserrat — the name refers to a mountain range, a monastery and an 8,900-acre national park — is 31 miles from Barcelona, an easy day trip by hourly train and a funicular up the mountain. The highest peak is 4,000 feet.
Pressed against the imposing rock formations is a Benedictine monastery established in 1025. Many tourists find respite in the beautiful basilica with a facade that features carvings of Christ and the 12 apostles.
The interior sparkles with white marble and gold. Above the altar sits the Black Madonna, a statue of the Virgin Mary with a dark complexion. On the park's trails, visitors may spot nightingales, eagle owls, titmice, bats and 1,250 plant species. For more information, visit monserratvisita.com.
Affordable dining
In Barcelona, it's easy to eat well for less. One restaurant, Fernando Serato, brags, "Our Bellota pigs live in freedom," meaning they are free range and forage for nuts and whatever else they find outdoors. Butcher Enrique Tomas's motto: "Keep calm and eat ham."
Lunch typically begins around 2 p.m., and dinner is late, served at 9 or 10 p.m. If people show up at 6:30 or 7 p.m., "They must be Americans," one local quipped.
If you go
Barcelona weather is pleasant year-round, thanks to steady sea breezes. The tourist agents under Placa de Catalunya can be your best friends, from giving instructions on using public transportation to arranging tours.
For planning information, visit barcelonaturisme.com. Check cdc.gov for current travel news.
Due to health and safety concerns from the coronavirus, many countries have imposed travel bans. Quarantining measures may be necessary. Consult cdc.gov. for more information.