Travel
Being bold in Boulder during a pandemic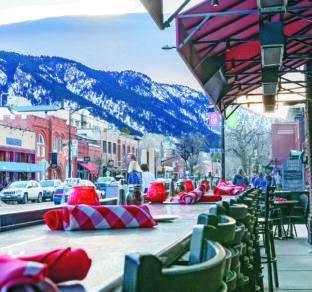 By dining outdoors on Pearl Street in Boulder, Colorado, visitors can stay safe while taking in the beautiful view of the Flatirons. Despite the pandemic, there's plenty to do in Boulder, a city that celebrates the outdoor lifestyle.
Photo by Boulder CVB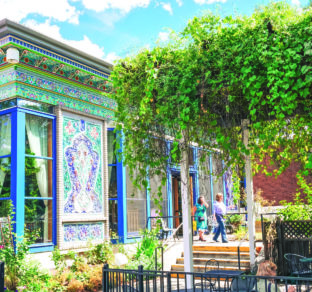 The Dushanbe Tea House, renowned for its ornate handmade ceiling, was a gift from Tajikistan to the city of Boulder. The tea house remains open, but other restaurants are open for takeout only.
Photo by Boulder CVB
Practically speaking, no one in their right mind would dare drive to Colorado during a life-altering pandemic. Or stay in motels in the nation's heartland while it's in the grip of a deadly virus. So, what does that make me and my wife?
We will not soon forget the 1,600-mile road trip we took this fall to help our son move to Denver. We spent five weeks out West, returning in time for the holidays. Best of all, we avoided the virus and continue to enjoy good health.
Of course, more orchestration than usual went into planning our trip. We packed well and wore masks. While pumping gas, we would slip on our disposable plastic gloves.
We booked the same three motels on the way to Colorado and coming home. At every one, we requested a first-floor room. When we arrived, masks on, we would find a parking spot closest to our room, thereby limiting time spent in the lobby, corridors and elevators.
We also waived maid service for the duration of our stay. For breakfast, our motels offered lunch bags with fruit and a granola bar, not a continental buffet (although self-serve coffee and tea were still available in the lobby).
Warm welcome
A few minutes after clocking the third and final leg of our trek to the Centennial State, we were treated to a warm greeting at Trader Joe's in Boulder, 25 miles northwest of Denver.
"Where you guys from?" asked the cashier in a sweet singsong.
"We're from D.C.," my wife replied, stacking the counter with frozen Indian curry dinners. "We drove. We had no faith that the airline wouldn't suddenly begin selling the middle seat again."
Then and there, another worker stepped into the conversation, clutching a bouquet of flowers.
"For you!" she announced cheerily, as if we were visiting, jet-lagged royalty. "Welcome to Boulder!"
Rocky Mountain high
At sunrise on the first day at our rustic, ski-lodge-like Airbnb, in the early stages of recovering from our road trip, I was roused from a peaceful sleep by my wife. She was eager to share the joy she felt upon opening the living room shades.
Stumbling from the bed, I zig-zagged down the hall. Together, we stood, mesmerized, by the towering mountain across the street.
Grabbing a map, we learned it was one of the famed Flatirons. These five exquisite chestnut-colored rock formations line the eastern slope of Green Mountain.
The Flatirons are part of the 45,000 protected acres of Boulder's Open Space and Mountain Parks. The area is replete with trails from easy to difficult, and provides a sanctuary for animals — yes, bears and mountain lions, too. Many of the trails start at the Chautauqua Trailhead.
No trip to the Front Range would be complete without a trip to Rocky Mountain National Park. Located in Estes Park, an hour north of Boulder, the wilderness contains 415 square miles of subalpine and alpine forests.
Based on my unscientific analysis, in Boulder there are as many four-wheel drive Subarus navigating the craggy, snow-capped foothills of the Front Range as there are mountain bikes piloted by many of the 30,000-plus college students in town. The University of Colorado's flagship campus spreads out at the base of the peaks like the antlers on a Shiras moose.
Art scene, redefined
In a pineapple upside-down cake of a world punctuated by confusion over what's open and what's not, Boulder's artistic and cultural stewards are doubling down to keep things rolling.
The doors at the Museum of Boulder have reopened, albeit with limited hours. The archive brims with thousands of vintage documents and photographs. You can also stumble on parking meters, protest signs, weather balloons and Olympic gear.
During the fall, the list of activities soared to new heights as socially distanced fitness and yoga classes were offered on the museum's rooftop patio.
"We are very proud to be open fully, but we are no doubt hemorrhaging [money] right now," said Lori Preston, executive director of the museum.
A museum director from D.C. helped the Boulder museum revamp its strategic plan. Brent Glass, interim director of the Smithsonian's National Building Museum, offered some ideas. His exhibit, "Drawing Parallels: Community Art and Artifacts From 2020," focuses on how Boulder dealt with simultaneous historic events in the past, such as world wars, civil rights and pandemics. The exhibit runs through March 1.
Boulder's art scene has attracted other transplanted Washingtonians. One is Jean Inaba, who since 2013 has worked for Colorado Public Radio's classical music platform as a producer and on-air host. Inaba, who is in her early 60s, spent two decades at renowned all-classical WETA-FM.
On the air, Inaba richly describes the outdoorsy rhythm of life in northern Colorado. Her sweet spot: the exquisite latticework of trails in around Denver and Boulder.
"I've been on all the main ones, and it's great fun!" Inaba enthused in her familiar silky voice in a phone interview. "My favorite is the Clear Creek Trail, a 30-mile ride from where I live to the town of Golden."
Shops still open
If you're not up for hiking, a stroll on downtown Boulder's Pearl Street Mall can unfurl a surfeit of still-open coffee shops, winter apparel retailers and souvenir outlets.
As we strolled the streets of the four-block outdoor mall, most people of all ages donned masks. The only exception were street performers, whose work called for activation of their vocal skills for outdoor audiences.
In a heady, mile-high whirlwind we stumbled upon the iconic ZIP Code Man, aka David Rosdeitcher. He claims to have memorized 50,000 Zip codes, a feat that earned him a spot in the Guinness Book of World Records. Simply call out your Zip code, and he will reveal where you live, plus toss in the name of a well-known eatery there.
"It's showtime!" bellowed the unmasked ringmaster from his sidewalk stage by the Visitors Center kiosk. Outfitted in faded trousers and yellow hoodie, he had a bricklayer-after-sweating-all-day-under-a-blazing-sun look.
"11201," one spectator called out. You could almost see the wheels in Rosdeitcher's head spinning. Two seconds passed.
"New York!" he screamed, competing with the rising chorus from scores of UC students gleefully marching on the corner to celebrate Joe Biden's win.
"That's awesome!" the guy blurted out. "How did you do that?"
"There's a great pizza place there. It's called Grimaldi's. It's one of my favorites."
Reinvented restaurants
We found a number of favorite eateries in 80302, downtown Boulder. Our nearly year-long pandemic has sparked an avalanche of reinvention. Restaurant owners have slashed hours, limited occupancy, and retrofitted their operations in myriad other ways.
Holding steady are stand-out spots such as Arabesque. Ordering is limited to the walk-up variety. Signature favorites, like the Middle Eastern combination platter laden with shawarma and homemade grape leaves, taste delicious, even at home. For dessert, we went with the baklava and the mouth-watering Arabic chai.
The pandemic has forced owner Manal Jarrar to lay off her staff and reemerge as a one-person band. These days, all the prepping, cooking, serving and cleaning is in her hands. Yet, she somehow finds time to mix it up with admiring customers.
Jarrar grew up poor in her native Palestine, but she had dreams. Catching the bus every week to Haifa, Israel, she studied ballet at a private school. Later, she taught and performed. For effect, she launched into a ballet number, arms extended gracefully, from "The Nutcracker."
When she arrived in Boulder with her husband and their three children, she embarked on her first mountain hike.
"When I got to the top," she recalled, "I had this feeling that I don't care if I die right now because I've got everything I need in life!"
Warm winter teas
While Jarrar is deservedly proud of her recipe for chai, there's another place, the Boulder Dushanbe Teahouse, that boasts more than 100 kinds of high-end loose-leaf tea — plus an interesting back story.
For most of our meals out, my wife and I ate outside, marveling at the mountain views. But one morning, we breezed into the teahouse for a cup of tea and lingered for 30 minutes, marveling at the sumptuous Persian atmospherics. Was it a restaurant? A museum? "All of the above," my wife declared.
Nestled across the street from leafy Civic Park with meandering streams and a large homeless population, the teahouse was a gift to Boulder from its sister city, Dushnabe, the capital of Tajikistan, a tiny Central Asian country and former member of the Soviet Union. Its hand-carved, hand-painted ceiling was disassembled, crated and shipped to Boulder to delight locals and tourists alike.
Whether indoors or outdoors, Boulder offers a snowpack of delicious mountain moments: life, fully realized.