Technology
Best apps for busy people, self-employed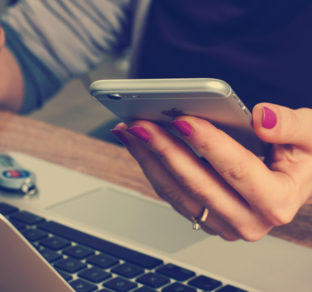 Whether working, retired, or somewhere in between (working independently as part of the "gig economy"), many of us have so many different tasks to perform on a daily basis that it can get overwhelming.
Fortunately, with a smartphone and some helpful mobile apps, you can stay organized and focused. These are my 15 favorites, some of which are particularly good for entrepreneurs:
Staying organized
When you're juggling a lot of balls, nothing is more important than staying ahead of things. These apps help you do just that.
Evernote
Evernote is probably the most popular note-taking app of all. It allows you to collect and organize all your thoughts and ideas in different formats and keep everything in one place. You can attach images, scan documents, and share your notes with others who have the same app.
CamCard
With the CamCard business card reader, you can manage all your business cards with ease. It's the perfect app for business development professionals who meet new people every day.
Among other things, you can use CamCard to scan business cards and store their information on your mobile device, access and edit contact information across devices, and exchange e-cards.
By the way, CamCard is able to recognize 17 different languages, including Chinese, Japanese, French, German, Spanish, Portuguese and Russian.
Todoist
As the name suggests, Todoist is an application for creating and managing to-do lists. The best thing: It's free (although you can make in-app purchases).
Of course, you can sync all your lists across your digital devices, including your PC, and the devices of others. What's more, you can benefit from task prioritization, setting alerts and integrations with third-party apps like Dropbox (see more below).
Popular alternative: Wunderlist
Work Log
If you are a gigpreneur and like to get paid based on an hourly rate, consider Work Log, a "quick, easy and free way to keep track of your shifts and calculate the number of hours worked and wages paid over your pay period."
Widgets allow you to enter hours manually and view reports of how many hours you've worked by week, month or pay period.
Google Calendar
With the Google Calendar, you see all your appointments and meetings in one place. You can switch between different calendar views (month, week and day) and import events from Gmail, as well as set tasks for specific events on your calendar. The application is compatible with all other calendar apps on your smartphone.
Popular alternative: DigiCal
Staying Focused
If you want to be a successful entrepreneur (or even a successful retiree), the following three apps can help you:
Audible
Why Audible, the audiobook app? Because it offers thousands of audiobooks and podcasts that are a great source for inspiration and personal growth, like learning new things and acquiring new skills. My favorite podcast? The 4-Hour Work Week by Tim Ferriss.
Motivation 365
Motivation 365 is motivation for a whole year. The app provides a collection of inspiring wallpapers, quotes and stories. Every time you open the app, which can be downloaded for free, you will be greeted with new, engaging content.
Atmosphere
You can use Atmosphere to clear your mind, calm your thoughts and relieve stress. The app features a variety of relaxing sounds that can be found in different natural environments, such as waves and seagulls at the beach, or rivers and woodpeckers in the forest. The beats and tones featured are designed to stimulate your mind.
Atmosphere also lets you create mixes of your favorite sounds, which you can save for later use in situations like "busy mornings" or "during lunch breaks." Above that, there is an import function to add your own audios.
Storing data
Images, invoices, contracts and all other files that are essential to self-employment or operating a business must be saved somewhere.
Storing them on your local hard drive doesn't allow you to access them from wherever you want, especially when you are on the go. This is why it's good to utilize a cloud-storing service.
Dropbox
Dropbox is one of the world's leading file storage and sharing systems. You can use it to create, edit, view and send all types of documents, no matter where you are or what time it is. Additional features are the document scanner and offline accessibility.
An option to comment on files facilitates team collaboration and improves productivity. If you're in business, you should also consider Dropbox Business, as it offers more storage space and additional sharing features.
Popular alternative: Google Drive
Invoicing
If you're self-employed or run any sort of business, you have to create invoices. The more automated the process is, the less time you must spend on this secondary activity, which keeps you from working on the really important stuff. Here are some apps to streamline the invoicing process.
Wave
Wave is one of the more popular invoicing apps for the creation and distribution of professionally designed, customized invoices, as well as estimates and receipts.
The cloud service organizes bookkeeping by helping you record your income and expenses, scan receipts, receive payment notifications, send payment reminders, accept payments, etc.
During the initial setup, you can link your bank account(s). Accounting reports help you prepare for filing taxes (check out the Guest Collaborator to send all your tax information to your accountant.)
Popular alternative: Free Invoice Generator
FreshBooks
FreshBooks targets small-business owners who need help with their invoicing and accounting to save time and money. You can use the app to record payments, scan receipts, accept credit card payments, and track and bill the hours you've worked. You can do all this while you're in your office or on the go.
More features:
         – Simple and easy-to-use interface
         – Easily integrates with PayPal, WooCommerce and other third-party platforms
Gigs and freelance jobs
If gigs and freelance work are your bread and butter, in order to find them, you have to be available around the clock. This can be easily achieved by downloading the app of your favorite freelancer platform onto your smartphone.
Freelancer
Freelancer is one of the oldest and most popular freelance marketplaces around. It connects skilled talents with those who need to get a job done.
If you are a web designer, a translator, a data analyst or a programmer, this is the ideal platform. You can work from anywhere in the world and connect with a global base of employers.
The app allows you to find and bid on projects while you're on the move and communicate with clients via instant messaging.
In order to not limit yourself by one platform, consider exploring Upwork, PeoplePerHour, Guru and others.
On a related note: Freelancer, Upwork and all other freelancer marketplace apps are also of great use for entrepreneurs who are looking to hire new talent. With Freelancer in particular, you can post projects and receive bids for free.
Traveling
In our day and age, traveling around the globe is often part of the everyday life of successful entrepreneurs and active retirees.
TripIt
Flights, hotels, car reservations: Thanks to TripIt, you can now collect all your travel plans and documents in a single itinerary. All the info will be available on and offline once you've forwarded it to plans@tripit.com, so you won't find yourself missing booking confirmation numbers and other details.
The TripIt pro version shines with additional features, such as:
         – sending real-time flight alerts,
         – sending check-in reminders,
         – providing maps for airports and terminals,
Popular alternative: TripCase
Communicating
In today's world, communication is key, whether it's for business or to keep up with family far and wide. The following apps will facilitate communication and help you stay connected.
Skype
Skype is a classic. It feels like it has been around forever, and there is no reason why it could vanish in the next years. It allows you to video and message chat with everyone in your private and professional network. And yes, it's still 100 percent free.
Slack
Slack is an indispensable tool for team communication and collaboration. The free cloud-based service with millions of active users combines instant messaging with email and file sharing to make information instantly available to all members in your team.
Because all information on this app is browsable, it's easy to locate old communication records and bounce ideas around.
© 2018 The Kiplinger Washington Editors, Inc. Distributed by Tribune Content Agency, LLC.