Cover Stories
Bicycling for the health of it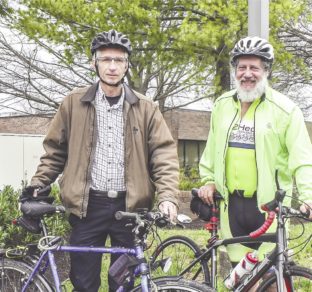 David Zinner, right, with John Ingalls, left, go on group bike rides every week for Cycle2Health, a Howard County program. Residents of all ages are welcome to participate in the program, which caters to riders at every skill level.
Photo by Ivey Noojin
Columbia resident David Zinner will be wearing his knee-length, red-white-and-blue socks on April 21 as he and a group of fellow bikers from Cycle2Health (C2H) pedal to several presidential primary voting sites.
"We hope to look a little outrageous so that people will be reminded to get out and vote," said Zinner, 69, a ride leader for C2H.
While the official Howard County primary date is April 28, early voting will be available at several sites from April 16 to 23, including Miller Library in Ellicott City, the Florence Bain Senior Center in Columbia, and the Ridgely's Run Community Center in Jessup, where the riders plan to stop along their 30-mile route.
Zinner, a onetime community organizer and former executive director of Tifereth Israel Synagogue in Washington, D.C., joined C2H several years ago.
The organization is a Howard County government-sponsored health program open to all ages but designed with bikers 50 and over in mind.
Members, of whom there are currently 160, range in age from their 20s to their 80s. Many are retired, and most are grandparents, according to Zinner.
The group offers rides every week, led by some of its 31 trained ride leaders, who map out and lead different routes designed for beginners, intermediates and veteran cyclists.
A sustainable exercise
Zinner, who was an ardent racquetball player before he injured his knees, started biking seriously about eight years ago, just around the time C2H was formed.
He found cycling "a really good alternative when you can't do quick turns or quickly move side-to-side anymore."
One of Zinner's fellow cyclers, Columbia resident Joyce Kelly, would agree. Kelly, 79, said she started biking when she was 10 years old.
A former executive in the environmental field, Kelly joined C2H after knee surgery. Now a seven-year veteran of the group, she likes to pedal at her own pace.
"All the other riders in my group are younger than me," Kelly said. "I'm usually in the caboose, at the end of eight to 15 riders, in a 24-to-30-mile ride. But I get there."
As her 80th birthday approaches in July, Kelly has decided to celebrate the milestone (when the weather is better, in September) with an 80-mile bike ride — one mile for each year — along the flat roads of the Eastern shore.
Saul Zuckman, a Columbia accountant who celebrated his 80th birthday last month, has been cycling for the last 50 years. He was one of Cycle2Health's founding members in 2010 and has been pedaling in the group ever since.
That year, he participated in a cross-country race from San Diego to Annapolis (the Race Across America). "We rode for 40 minutes, had a three-hour rest period, rode again, rested again — for seven-and-a-half days," Zuckman recalled. "At age 70, I was the oldest biker to finish the race."
"I'm still active as a cyclist," he said, "but I'm riding a little slower nowadays — and not as far." Nevertheless, like Kelly, he hopes to be pedaling "into my 90s."
When in doubt, use e-bikes
Dr. Martin Wasserman, 77, another C2H leader and a former Maryland Secretary of Health and Mental Hygiene (from 1994 to 1999), has just purchased two e-bikes for him and his wife, Barbara.
E-bikes have small electric motors to give riders a boost whenever needed, whether on steep climbs or over long distances. Wasserman said he made the purchases after he and his wife spent last summer riding e-bikes around Europe.
While both are C2H members, they ride in separate groups because he is a more experienced cyclist.
A three-year veteran of the C2H program, Wasserman said he joined "to keep myself physically active, and for the social opportunity to meet new people.
"When you are riding alone, there are certain safety concerns. It's much safer when you are riding along with 20 other bikers."
Benefits immune system
Besides the social and safety benefits, cycling is (as the group's name suggests) healthy. Scientists at the University of Birmingham in England carried out tests on 125 amateur cyclists between 55 and 79.
In the study, which was published in the journal Aging Cell in 2018, the cyclists preserved more muscle mass and strength as they aged compared with non-cyclists. Men who biked also maintained higher testosterone levels.
In addition, the study found that biking boosts the immune system. The thymus, an organ that produces white blood cells, generally starts to shrink after the age of 20. But with the cyclists, their thymuses were still producing the quantity of white blood cells a young person's would.
Zuckman, who was diagnosed with diabetes in 1991, can personally attest to the benefits he has experienced. He said that biking in C2H has been "a big help" in stabilizing his blood sugar.
Biking has mental health benefits, too. Bike commuters are happier and less prone to depression than people who walk, drive or use public transportation, according to the 2018 study.
Overall, cycling prolongs life. It decreases the risk of death by more than 40% and the risk of cancer and heart disease by 45%, according to a different study published in 2017 in the British Medical Journal.
Choose your exertion level
To take advantage of these health benefits, Howard County has more than 100 miles of shared bike paths and walking trails.
This season's C2H rides, mostly scheduled during the daytime and on weekdays, will begin on the first Tuesday in May. The organized rides run Tuesdays and Thursdays through November, and all Howard County residents are welcome to participate.
"Although the program is designed with 50+ individuals in mind, we welcome absolutely anyone with a bike," said Malarie Burgess, who heads the county government program. "Young riders, working riders and new riders have also joined the program."
The rides offered by C2H are of three different levels. So-called "casual rides" for beginners are "less than 12 miles on a relatively flat terrain at a relaxed pace on pathways, trails or quiet residential streets with frequent re-grouping," according to the county.
Moderate rides of 15 to 20 miles usually consist of "some moderate short hills and maybe a longer hill." The bikers in that group "should be comfortable riding in some traffic and know basic group riding etiquette."
"Advanced rides" are 18 miles or longer and include "steep hills with limited rest stops." The program officials note that "riders should be aware of their riding ability and limitations before participating in an advanced ride."
Each member provides her or his own bicycle, helmet, water, spare tube, air pump and tools to change a flat tire. Participants are also advised to bring "snack/lunch money, as rides may conclude with a lunch outing."
Howard County residents can now register for the 2020 Cycle2Health program online at cycle2healthhowardcounty@gmail.com or at the county's 50+ (senior) centers.
The annual fee is $15 per biker. For more information, call (410) 313-6073 or email mburgess@howardcountymd.gov.