Cover Stories
'Big Tree Man' branches out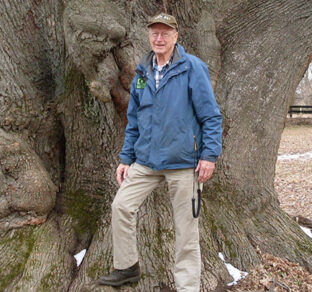 Tree enthusiast Joe Howard has many nicknames: Big Tree Man, local treasure, tribal elder. At 93, Howard continues his lifelong work in outdoor education by hosting bus tours to the oldest trees in Montgomery County, Maryland.
Photo by Joli McCathran
Do you have a favorite tree? Joe Howard, known as the "Big Tree Man," does.
Howard, 93, leads popular "tree tours" several times a year, giving the public a close-up look at some of the biggest, oldest trees in Montgomery County, Maryland.
For example, he gives his groups a peek at the "triple-trunk tulip," a massive tulip tree with three trunks, located on private property in Aspen Hill.
"I'd love to show you that tree. It's a treat," said Howard, a member of the county's forestry board, in a recent interview with the Beacon.
His favorite species of tree is the bristlecone pine, found on the West Coast. Scientists believe it is the oldest living species on earth, with some trees being nearly 5,000 years old.
Howard's eyes light up and he smiles when he remembers a windswept bristlecone pine in Great Basin National Park in Nevada. "It's just such a fabulous tree…When you're in a pine forest, it's kind of magical…But I love all trees," he quickly added.
Eastern Shore roots
Growing up in the 1930s in Easton, Maryland, Howard spent many hours outdoors with his brother and their father, a house painter who was often out of work during the Depression.
They'd fish, hike and explore loblolly pine forests. They'd also make forays to a nearby town to see the famous Wye Oak, a massive tree that inspired Maryland's champion tree program. (A tree is considered a "champion" if its measurements meet certain criteria.)
Howard received his bachelor's degree in education from Salisbury State University and then a master's in education at the University of Maryland in College Park.
He returned to the Eastern Shore to work as an elementary school principal. Because teachers had to do double duty as bus drivers, he also drove a school bus.
Every morning, he'd promise the kids, "If we finish early today, we can stop to see the Wye Oak" in the afternoon, he recalled. "The kids were always impressed with that."
The tree collapsed during a severe thunderstorm in 2002, at an age somewhere between 400 and 500 years.
Teaching kids about nature
During his years as a teacher-principal in Trappe, Maryland, Howard built an "outdoor classroom" with his students. Every Friday, they'd clear brush and build a semicircle of seats in the woods.
Nature can inspire every student, Howard found. "When we were out there working on the outdoor classroom, the so-called 'problem kids' were no problem at all. The kids were just real gung-ho doing that sort of thing," he said.
A few years later, Howard moved to Montgomery County and took a job as the principal of Four Corners Elementary School. When a teacher asked him for permission to create a nature trail near the school, Howard was enthusiastic.
"I said, 'Yeah, that sounds like a great idea,' because I had done very same thing down in Trappe."
Then, Howard researched other outdoor education programs and found a piece of land where kids could go for a week-long overnight trip in Frederick, Maryland. "It was like a five-day field trip," he said.
The experiment took off. Today, every sixth grader in Montgomery County Public Schools takes a three-day overnight trip to a wilderness lodge near Frederick, where they hike, explore, play predator-prey games and learn about nature.
In October, the county will celebrate the 60th anniversary of the program, which has become a highlight of many students' school years.
One boy wrote a letter home about the pond, hikes and stargazing, Howard recalled. "He wrote, 'We're learning a lot, and that's how they trick you. They teach you and you don't know it.' I thought, that's kind of the way to do it, right?" Howard said.
Between kindergarten and 12th grade, students also take day trips to the Lathrop E. Smith Environmental Education Center in Rockville, which Howard helped establish. (He also happened to meet the woman who became his wife there.)
Howard eventually left his principal job and began working full-time as the first director of the school system's outdoor ed program.
He started working for the Montgomery County Forestry Board, an advocacy and conservation group, in 1978. Although he retired from full-time work there in 1989, he launched the county's champion tree program, overseen by the forestry board. He remains an active member of the board.
"I've never had any special ability. But the thing I have, as I look back — I've always been able to get capable people" to complete a project, he said.
Big tree tours
Botanist Carole Bergmann, a retired forest ecologist for the Maryland National Capital Park & Planning Commission, is an old friend of Howard's.
"We met in a forest about 30 years ago," she recalled. "I was out in the woods at Rock Creek Park, and he was there picking up trash. That's a Joe thing — he was out there, in his free time, picking up trash.
"He's the kind of person who says, 'Hello!' and 'What are you doing here in the woods?'"
Bergmann has long teamed up with Howard for the Big Tree Tours, which always sell out early.
The tours are run by Conservation Montgomery. The group also bestows an annual award to a local environmental advocate, and it's named after Joe Howard.
"We adore him. He's a sage," said Caren Madsen, chair of the board. "He's one of our tribal elders — witty, knowledgeable."
Everyone who takes one of Howard's tours absorbs his passion for the mammoths of the forest.
"I went on a walking tour with him a year ago along the Potomac, and he showed us a state champion sycamore." recalled Kit Gage, advocacy director and former president of Friends of Sligo Creek.
"You just kind of stand there in the presence of this tree and marvel at it. We all went up and touched it and held it.
"[Howard] is incredibly knowledgeable and the sweetest guy. He's really a messenger for the importance of trees in the county."
The next generation of champions
Of course, mature trees eventually pass away.
When the famous 300-year-old Linden Oak in Bethesda was cut down last month, the Washington Post published a photo of the huge white oak. Howard was standing next to it in the photo: a tiny speck next to its massive trunk.
But for all his experience beside champion trees, Howard is also an enthusiast for planting the next generation. After all, he said, "The only way you get big trees is by planting little trees."
How many saplings has Howard planted in his lifetime? "Personally, I've just planted hundreds of trees," he said modestly.
But, he noted, his students have planted hundreds, if not thousands. Together, they turned 10 acres of meadowland near the Smith Center into mature woods.
These days, Howard is likely to be outdoors — biking, walking in the woods, or visiting the county's champion trees he's known all his life.
"They're like old friends," he said. "I look forward to coming back and seeing them."
For a list of all the champion trees in Montgomery County, Maryland, including the publicly accessible ones, visit mcmdforestryboard.org/champion-trees. To sign up for a Big Tree Tour, email info@conservationmontgomery.org.