From the Publisher
Breaking barriers

The ABC drama "Brothers & Sisters" revolves around a widow played by Sally Field and her five grown children, in whose lives she meddles incessantly. The series broke new ground last year when the 70-year-old character who plays Field's brother was diagnosed with HIV.
Saul, played by Ron Rifkin, is gay and came out of the closet only a few years back. In an episode last year, he gets a Facebook friend request from a partner from more than 20 years ago, discovering the man is an AIDS activist and has AIDS himself.
Saul, like many older adults, is reluctant to get tested for HIV.
"What me tested? I'm like 100 years old. I haven't had sex since the Hindenburg exploded," he jokes.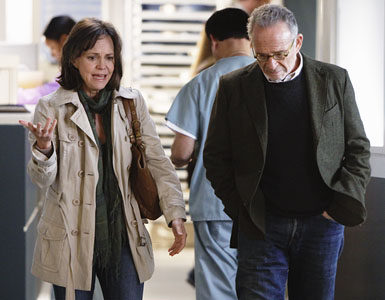 But he does get tested and finds he's HIV positive, even though he lies about the results to his sister.
"It's about what it's like to come out after all these years, what it's like to have this shame of being diagnosed, what it's like to be able to talk about it finally. These are the things I thought were important for people to see and to share," said the show's executive producer David Marshall Grant.
As the characters in the show experienced, many doctors don't bring up the disease or testing with their older patients. In fact, the Centers for Disease control only recommends HIV testing for those under 65. And many local senior centers don't carry information on the disease and its prevention.
At the same time, 50 percent of people living with HIV in the United States will be 50 years old or more by 2017, according to experts at Yale Medical school,
Last fall, the White House held its first conference on the subject. At the meeting, 75-year-old Jane Fowler, founder of HIV Wisdom for Older Women, shared her story of living with HIV, which she was diagnosed with at age 50.
"Those of us aging with HIV face a double stigma, that of contracting it through sex or drug use and that of ageism," she said. "After all, the thinking is that grandma or grandpa shouldn't be out there screwing or shooting up. Because of the stigma, many live in isolation, fearful to admit even to family members about their disease."
The cover story in the February issue of the Washington Beacon explores this double stigma, talking with both AIDS experts and patients.
Click here to see a video with Grant and Rifkind and scenes from "Brothers & Sisters."
And let us know what you think about the growing issue of HIV in older adults by leaving a comment here or e-mailing a letter to the editor to info@thebeaconnewspapers.com.