Arts
Broadway performer gets people dancing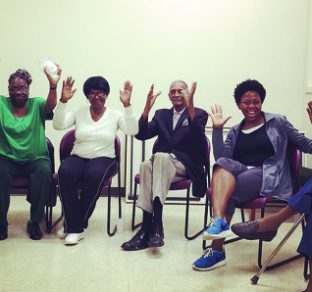 After Broadway dancer CJay Philip moved to Baltimore, she started the dance company Dance & Bmore, which also offers classes and free events to promote dance and human connection. More recently, she founded the Forever Fit & Fun Club, which offers movement and music classes for those 55 and older. Philip is shown at the right.
Photo courtesy of CJay Philip
CJay Philip has enjoyed a long, successful career as a professional dancer in both modern and African dance companies, as a Broadway and touring performer in such shows as Dreamgirls, Big the Musical, Street Corner Symphony, Legally Blonde, and Hairspray, and as a popular dance fitness instructor at some of New York's premiere health clubs.
But when she moved to Baltimore in 2010 for her husband to pursue a job opportunity, Philip decided that her touring days were behind her. Not so her love of performing, however, which she is now using to inspire and engage Baltimore youth, families and seniors.
"When we came to Baltimore, I wanted to find a new purpose to my life," said Philip, who lives in Mt. Vernon. "I'd already done everything I wanted to in New York."
Creating a dance company
As Philip got to know her adopted city better, she realized she wanted to stay true to her dance roots but at the same time involve the community. She decided to form a company, Dance & Bmore (DAB), which would offer classes and events that were free and open to the public. The group's first event, Dance in Bmore Family Jam, was held in 2011.
"I believe it is time for a movement that redirects our focus from the art to the heart," said Philip. "As much as I have lived a life filled with dance, I don't believe dance in and of itself is so important. But when utilized to connect, communicate and create human contact, social awareness and unifying bonds, I believe that is when movement is most beautiful.
"Connecting families and communities is our mission. Dance is a wonderfully creative tool to do that and so much more."
According to Philip, DAB expands the concept of concert dance by allowing dancers, poets, singers and musicians to share the stage together, expanding the power of each art form to "inform, engage and elevate dance both for the audience and the artists."
DAB is also committed to community enrichment. In that vein, it offers affordable and accessible movement classes for both dance professionals and novices, including Adult Broadway Jazz, FazaFam the Dance, and Bmore Family Jam (which has performed at such events as The Bmore Healthy Expo, March for Babies with the March of Dimes, International Thinking Day with the Girl Scouts of Central Maryland, Port Discovery and more).
DAB has also produced performances for the WOW (Women of the World) Festival, the African American Festival, MLK Day Peace in Park Heights, and 50 Fest at Centerstage.
Fitness and fun after 55
After getting DAB up and running, Philip decided to expand the program to include older Baltimore City residents, establishing the Forever Fit & Fun Club — a movement and music class for those 55 years and older. The classes were first offered at Waxter Senior Center and then, through a year-long National Endowment for the Arts grant, at J Van Story Branch Apartments.
The program has also been offered at the Village Learning Center, 29th St. Community Center, Penn North Plaza Senior Apartments, N M Carroll Manor, and Linden Park Apartments for Seniors.
DAB company members use movement, music and memory games to stimulate imagination and cognitive function. The class is both structured and improvisational at times, allowing several ways for participants to be engaged, active and creative, according to Philip.
The company's "Memory Based Movement," for example, uses prompts and storytelling to capture the memories of seniors and present them in spoken-word, music and dance.
"As we get older, 'stuff' is not as important as memories," said Philip. "Memories are really precious, and through the music and voice prompts, we encourage the residents to share memories about themselves and their earlier lives.
"We take the thread of memory, wrap it in music and dance, and share it with others," said Philip. "A memory shared becomes a memory for the group, and is not easily lost."
The group dynamic of the class is also designed to strengthen relationships and build a sense of community and well-being, according to Philip, who notes that the seniors live in a community that has seen its share of violence. As a result, they are often hesitant to venture out from their apartments. The classes bring residents together, helping them forge bonds with their neighbors and making them feel more secure.
In addition, Philip and her company members have taken the class participants to performances at Center Stage, where Philip teaches. For many, this was their first experience with live theater.
"You could see the exhilaration on their faces," she said, adding that simply getting out of their homes reduces depression and stress. "They're engaged and fully active now," said Philip.
The program has been so successful and the participants so engaged that Philip encouraged them to start performing themselves. Hesitant at first, they finally agreed and held their first public performance last summer at Artscape.
Though the grant ended last fall, Philip still holds monthly classes at J Van Story Branch Apartments, and is in the process of seeking additional grants or sponsors to expand the program for low-income seniors. Facilities may also pay to have the program brought to their location for eight to 12 weeks.
"I think we have earned the trust of the community," Philip said of the program. "I want to make sure that these seniors are not forgotten."
To see the Forever Fit & Fun group in
action, watch https://www.youtube.com/ watch?v=XC9tprvIg6I. For more information and a calendar of upcoming events, visit www.danceandbmore.com or call (410) 871-8322.
A performance to benefit the Forever Fit & Fun Club, "Celebrate Your Light" featuring new works, will take place on Saturday, June 11 at 2 p.m. at Motor House, 120 W. North Ave.