Arts
'Camp' pumps up music lovers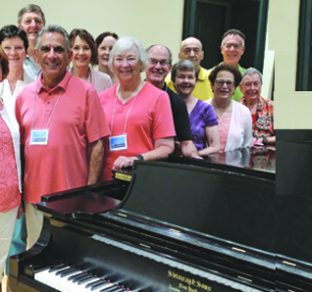 Marie Celano, of Clarksville, was a newcomer to the Piano at Peabody program this summer. The intensive one-week "piano camp" for adults brings together experienced and beginning pianists for a full slate of daily music lectures, master classes, classical and jazz recitals and performances. But most of all, it forges a community spirit among the participants, some of whom have been attending for more than two decades.
Photo by Stuart Rosenthal
If you ever took music lessons as a child, you may well recall the traumatic experience of performing for fellow students and their families at annual recitals.
You might then consider it a nightmare were you to find yourself attending a week-long "piano camp," where you would endure a public critique of your technique before performing on stage at the Peabody School of Music in downtown Baltimore.
But for several dozen adults each summer, the Piano at Peabody program is heaven on earth. For a solid week, these men and women live in the Peabody graduate dorms (with or without their spouses), eat in its cafeteria, and attend lectures, private coaching sessions, public master classes and faculty recitals from 8 a.m. till 10 p.m. every day.
Those who wish can also secure private lessons with the faculty, play duets with other attendees, and practice to their heart's content — something some of the attendees cherish as much as any other aspect of the program.
The week concludes with two nights of recitals by the attendees, presumably pumped up and well-practiced for their public performances.
But it's not the performing that brings them here. It's the love of music, and what it does for them.
Marie Celano, a first-time participant, is a counselor who works frequently with trauma victims. Her work "can become very heavy."
A resident of Clarksville, Md., Celano said she played piano a little as a child. Now 54, she decided to attend Peabody this year "to have a jump-start back to piano."
So far, so good. Though she was intimidated the first day, by mid-week she's "soaking it all up, hoping it will give me something beautiful to focus on, and will be therapeutic."
She also loves the people. "Everyone's been so generous and gracious," despite her being a newbie.
Amitabh Basu, 34, another first-timer and the youngest attendee this year, hails from India, where the music is "very different." While his wife, also from India, finds the Western classical music he plays "a little jarring," she still wants him to practice daily.
"She says I become very calm and peaceful each day I play the piano. Every day I don't, I'm a little more agitated. She wants me to play even more!"
Basu teaches applied mathematics and statistics at Johns Hopkins in Baltimore, and his wife is a Ph.D. student in the medical school there.
Though he says he's "very nervous" to play in public, you wouldn't have known it from the powerful performance he gave of the first movement of a difficult Beethoven sonata at one day's master class.
Began at a real camp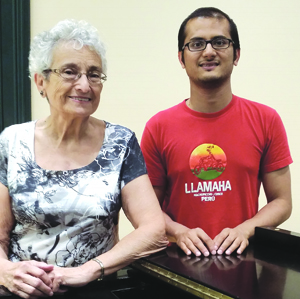 Diane Moskowitz has been attending the Piano at Peabody summer program (and its predecessor piano camp) for 24 years, while Amitabh Basu was a first-timer this year. The intensive one-week program for adults brings together experienced and beginning pianists for a full slate of daily music lectures, master classes, classical and jazz recitals and performances. But most of all, it forges a community spirit and even long-time friendships among the participants.
Photo by Stuart Rosenthal
What is now known as Piano at Peabody actually started out about 25 years ago as a summer music camp in Maine called Encore Coda. Diane Moskowitz of Timonium, Md., who attended it for several years, remembers the camp fondly.
"You could hear music in the woods all the time," she said, as there were practice pianos in all the cabins where people stayed. It wasn't so good for the pianos, which suffered from the weather, but it made for an ethereal experience.
Now 84, Moskowitz enjoys giving recitals to her fellow condo residents at Mays Chapel North, even as she continues to take regular piano lessons. Why the lessons? "Because I want to play better. There's music that I want to play that I need help with," she said.
Combining her years in Maine with the 18 years Peabody has been home to the program, Moskowitz is enjoying her 24th year at what she still calls "piano camp."
Several other current participants are also veterans of Maine. It's a group of "fanatics that bonded," according to Moskowitz.
When the Maine camp announced it was closing, they searched the country for a place that would maintain the tradition and give the cohesive group a new home, at least for a week each summer.
At the time, the Road Scholar program (formerly Elderhostel) was offering music classes in the summers at Peabody. They agreed to host the piano camp there.
But nothing worthwhile is ever easy. Road Scholar pulled out of the school entirely a few years back, leaving the piano camp group at a loss once again.
Enter Steve Baddour, 70, of Washington, D.C., a nine-year veteran of Peabody at this point. He is credited with helping save the program, providing some institutional memory for the administrators at Peabody whom he persuaded to keep it going.
Baddour, a retired English teacher, has been playing piano since he was 7. Today, he performs year-round at local retirement communities, and plays solo recitals to raise funds for charities.
As much as he loves music and keeps it part of his life, he noted that "the only time I didn't enjoy music" was during the 18 months he majored in music in college. "It was a disaster!"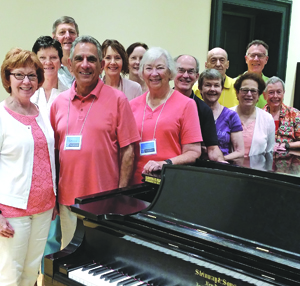 Posing on stage at the Peabody School of Music in downtown Baltimore are some of this year's Piano at Peabody participants. The intensive one-week program for adults inspires beginners and experienced pianists alike, and helps forge long-time friendships among the participants. Front row (l to r): Toni Killinger, Steve Baddour, Teresa Hone, Jim Frison, Connie Baum, Gail Rudenstein, Dolores Vestrich; second row: Sara Leonard, Bill Baum, Laurie Barber, Debbie Koenig, Andrew Chapman, Stan McLeroy.
Photo by Stuart Rosenthal
Not all classical
Alice Rodgers, 76, is attending the Peabody program for the 20th time. What brings her here from Little Rock, Arkansas, every year?
"It's the people," she said. "[Playing piano] by yourself is so solitary. I come here to get ideas and get inspired…This is totally out of my ordinary routine; like a vacation, an escape."
Rodgers is a certified exercise trainer, teaching classes to, and monitoring, older adults in retirement communities three mornings a week. It's work she loves, and it gives her the time to practice the piano.
Rodgers focuses on the jazz music track at the Peabody program. With lectures by an experienced jazz musician and a daily session in the "piano lab" to practice improvisational technique, it attracts a small but dedicated group of jazz and popular music lovers.
Jazz instructor Larry Willis studied with Dizzy Gillespie and performed with the band Blood, Sweat and Tears for much of his career. Willis, who calls jazz "African American classical music," said to learn to improvise "start tapping your feet. Listen to the rhythm of your heart. Music has to get inside you to move you to dance."
Playing badly and loving it
Another multi-decade veteran of the program, Delores Vestrich of Falls Church, Va., says, "I play a lot of instruments badly." In addition to piano, she mentions saxophone, marimba and flute.
A former scientist, she says she loves to "analyze" music, finding it "fun to experiment, and learn how to make [various instruments] work and sound beautiful." The self-deprecating 89-year-old jokes about how she started making music "banging on rocks with sticks."
She also says forthrightly, "No one wants to hear me, and I don't care. I don't play for others; just for myself."
Vestrich loves coming to Peabody because the instructors who lecture and conduct master classes "respect our curiosity and love" for music.
She also revels in the recitals the instructors give. "You hear better music here than on any other stage; repertoire you won't hear performed anywhere else."
Spreading the word
Wilton Baker, of Bethesda, Md., learned about the Peabody camp while on a tour bus in Istanbul. "I told another traveler that I had taken up piano when I retired, and she said, 'you'd love this!' I've been coming ever since," he said.
A former lawyer who represented the IRS before the U.S. Tax Court, Baker was "looking for something completely different" once he retired.
Unlike many of the Peabody regulars, he was a complete newcomer to the piano. Now 71, he's taken weekly lessons for about four years now, and "it's one of the most interesting things I do."
How's it going? "I progress as everybody does," he said dryly. "Slowly." He added that YouTube "is humbling. You struggle through a piece, and then watch this 5-year-old play it much better than you can. But then you realize she's probably practiced it more than you have, too!"
Gail Rudenstein comes from suburban Philadelphia each year to attend Piano at Peabody. She grew up without a piano at home, but her parents still saw to it that she got piano lessons for 10 years.
Then she paid it forward, sending her own son to lessons for 10 years. When he quit in high school, she started taking lessons from his teacher herself. That was 17 years ago, and despite the fact that "he's very demanding, and he scares me sometimes," she's still at it.
While she plays mostly for herself, she also performs at area nursing homes and does a little accompanying.
Why does she come to piano camp? "I come here to get some validation and to learn from other people. I also get some intense practice time, which is so hard to get at home," with all the distractions.
Mid-year soirees
About five years ago, Baddour and some of the other "fanatics" decided that waiting an entire year between meetings was far too long.
So they decided to institute thrice yearly gatherings in the D.C. area, where they can perform a short piece for each other and enjoy a pot-luck lunch while catching up with each other.
The group, which calls itself "Peabody D.C.," typically gets between 12 and 20 attendees, and meets in the homes of members who have space for a crowd of that size (and a nice piano).
Moskowitz almost always comes from her home in Timonium, and is the most reliable long-distance traveler to the daytime soirees, Baddour said.
Baker recalls playing at one such gathering. "You reach a point where you make a mistake [in your piece.] The group is very supportive, as we've all been through it.
"We may think, because of our age, we shouldn't have to crawl before we walk, or walk before we run. The hardest thing is realizing that, whether you're 6 or 60, you have to go through all the steps."
But isn't it a pleasure doing so among peers who feel the same way you do about music?
Piano at Peabody will next meet in the summer of 2018, with dates and costs to be determined. Tuition for participants this year was $520 for the week. Room and board this year (recommended, given the long days) was $750 single, $480 double. Private lessons with faculty members are also priced separately.
For more information, email peabodyprep@ jhu.edu or call (667) 208-6640.