Cover Stories
Candid and courageous conversations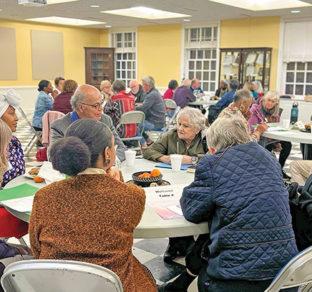 People reflect and connect over a meal hosted by Coming Together Virginia, the Richmond chapter of the national organization Coming to the Table.
Photo courtesy of Coming Together Virginia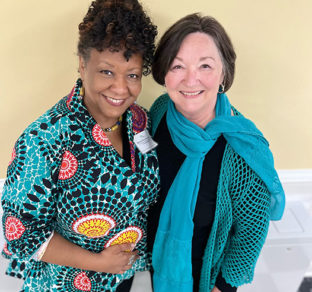 Danita Rountree Green, left, and Marsha Summers, right, are co-CEOs of Coming Together Virginia, a Richmond nonprofit that brings people together at casual dinners to share views, stories and fears on race-related topics.
Photo courtesy of Coming Together Virginia
Sitting around a table sharing food is an ancient ritual, one that's at the heart of Coming to the Table (CTTT) — a national organization founded by Virginians 15 years ago to promote racial healing.
Food can foster camaraderie and conversation. At the group's dinners, everyone eats together at round tables of eight, where they share views, stories and fears on race-related topics. In a circle, everyone is equal and connected, providing space for a diverse group of people to talk honestly and openly.
"Some white people have never had a real conversation with an African American," said Danita Rountree Green, who is Black and co-founded the group's Richmond chapter, now known as Coming Together Virginia, in 2014. "We don't all look alike, and we certainly don't all think alike."
The national organization's motto is "Taking America beyond the legacy of enslavement." CTTT recognizes the harm caused by unequal treatment based on skin color or ancestry, and the profound impact of slavery in terms of the multiple traumas it caused to enslaved people as well as to those who enslaved others or witnessed people being hurt.
"Finding ways to face trauma and work toward healing is important. Otherwise, trigger reactions, including acting out or retreating, will continue to get in the way of building a healthy community and, instead, the hurt will get passed to the next generation," Coming Together Virginia's website explains.
A place to tell one's stories
At the gatherings, people tell their stories and listen to others' stories. "We have the courageous, yet clumsy and often uncomfortable, conversations about race," Green said.
People may recount hurtful remarks heard at a gas station or offensive behavior experienced in a store, for example. They share their own foibles and the prejudices they learned growing up.
Many come to realize that everyone has conscious and unconscious biases. Some people may explain how it feels to be "the other."
"I never thought generational and historical trauma was a burden that European-Americans carried at all. I thought it was only a burden carried by African-Americans," Green said.
"Since we've been doing this work of sharing personal stories, I have learned that it is definitely a hardship that we all carry, that it's not one-sided.
"Guilt, shame, anger and regret about the past — all these things shape behavior through generations. That's why the conversation is so difficult to begin with."
How the group started
The national organization Coming to the Table was started by two Virginians whose ancestors enslaved people.
Susan Hutchison, a White descendant of Thomas and Martha Jefferson, attended a family reunion in 2003 with the descendants of Jefferson and Sally Hemings, whom Jefferson enslaved and with whom he had several children.
At around the same time, Will Hairston, a White man whose ancestors were enslavers, attended the annual African-American Hairston family reunion.
Hutchison and Hairston met and decided to have a different kind of reunion — one with descendants of both enslaved people and slaveholders. In 2006, two dozen people representing both sides of slavery gathered at Eastern Mennonite University in Harrisonburg, Virginia, and the group was launched.
Today, there are more than 50 local affiliate groups in 18 states. For example, there are nine groups in Virginia and seven in Maryland. The Richmond chapter, with around 4,000 participants, is funded by donations and foundation grants.
In 2013, Green and Richmond antiques dealer Martha Rollins went to the 50th anniversary of the Martin Luther King Jr. March on Washington. Rollins, a descendent of Confederate General Robert E. Lee, grew up in Martinsville, Virginia, during a time when public schools and many facilities were segregated. Green dubs herself "a child of the Civil Rights Movement."
The next year, the two co-founded CTTT's Richmond chapter, Coming Together Virginia. They began by hosting "listening luncheons" in people's homes to bridge the racial divides they perceived here.
Two leaders, one vision
Coming Together Virginia has two chief executive officers: Green and former volunteer Marsha Summers, who is White. This structure is intentional and symbolic. They have equal voices, they say. They also have a lot in common. "We finish each other's sentences," Summers said.
Summers, originally from southern California, started volunteering with the group in 2016, motivated by her experiences with multi-racial congregations where her husband was a Presbyterian minister. She began working with the group as a volunteer, organizing food for the dinners and other activities.
Green has a master's degree in transformative leadership from the Maryland University of Integrative Health. Calling herself a "storyteller on a mission," she has published several books, including Love Locked Down, a novel about women in relationships with incarcerated men, and Broom Jumping: A Celebration of Love, which many credit with rejuvenating some African traditions in the Black community, like the broom-jumping wedding ceremony.
Summers was especially inspired by an eye-opening, eight-day pilgrimage to historic civil rights sites in the South. She was moved by the people she met who had suffered violence and injustice but still managed to maintain their good will.
Summers sees herself as an evangelist, devoted to the basic principles of our democracy and to her religion.
"The Biblical stories about setting people free and loving your neighbors are core teachings that shaped me. Add to that respect for the words of the national founding documents in this country — about all people being created equal and having rights to life, liberty and the pursuit of happiness, and you get an idea what drew me to this organization," she said.
Open events
All Coming Together Virginia events are open to the public. The dinners, which feature both potluck and prepared food, began in homes, but as the number of participants grew, they had to move to church fellowship halls, such as the Ginter Park Presbyterian Church.
Before the pandemic, 60 to 80 people would attend. During the pandemic, the group held "dinners" on the online platform Zoom.
Every conversation has a facilitator and a talking stick. Talking sticks were traditionally used by Native Americans to allow people to take turns speaking without interruption, passing a stick from person to person to share stories, ideas and opinions.
The dinners have themes, for example, "The first time I realized there's such a thing as race." May's theme is "People over prison, challenges facing the incarcerated." June's theme is "Making room at the table."
The Richmond group also has movie and book gatherings they call circles. In the April circle, a group discussed the book Reclamation, by Gayle Jessup White, a Black descendant of Jefferson and Hemings. The memoir describes White's personal journey to understand her heritage, what it means to be a Black woman in America, and racial reconciliation.
The book circle for July will discuss How the Word is Passed: A Reckoning with the History of Slavery Across America by Clint Smith.
The organization also sponsors trips — to museums and to other locations important to the history of slavery in America, such as Monticello, Jefferson's home in Charlottesville, and to Hampton and Fort Monroe, Virginia. The first Africans involuntarily brought to North America in servitude landed at the ironically-named Port Comfort, and Union soldiers at Fort Monroe took in runaway slaves seeking freedom.
The organization trains facilitators to go to churches, retirement communities, neighborhood associations and other places to find people who want to discuss race-related topics.
This spring, they facilitated a conversation with Richmond police officers, at the officers' request, responding in part to the 2020 murder of George Floyd and the events that followed.
Later this year, members will engage in a three-month series of dinner discussions titled, "Won't You Be my Neighbor?" People will share their experiences with changing neighborhoods — for example, the gentrification that drives out some longtime residents — and discuss advocacy strategies.
For more information about the national group, visit comingtothetable.org; to find out about upcoming local meetings, visit comingtothetable-rva.org.