Money
Candidates on Social Security, Medicare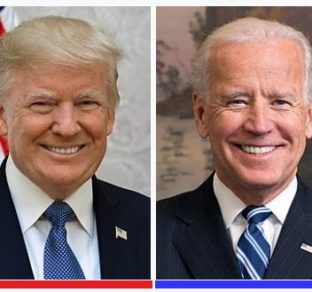 Unless Congress acts, Social Security will deplete its $2.9 trillion reserve fund by 2035, which means the program would be able to pay only about 79% of promised benefits.
Medicare's finances are even more precarious. Noting that seniors are a large voting constituency, both President Trump and Democratic presidential candidate Joe Biden have resolved to protect Medicare and Social Security.
Here is a brief overview of their proposals.
Social Security
Biden proposes shoring up the program by increasing payroll taxes on high-income taxpayers. He would keep the current cap on payroll taxes, which is indexed to wage growth (in 2020, workers pay payroll taxes on earnings up to $137,700), but would also apply the 12.4% tax on wages exceeding $400,000.
But Biden wants to expand benefits, which could put more pressure on the program's finances. He wants to increase survivor benefits for low-income beneficiaries and gradually increase benefits for seniors starting at age 78. Seniors who are 82 would receive a 5% increase over their basic retirement payout.
Biden has also proposed changing the way the annual cost-of-living adjustment (COLA) is calculated. He wants to use an index that places greater weight on items that account for a larger percentage of seniors' budgets, such as housing and healthcare.
Trump hasn't issued specific proposals to shore up Social Security, and critics say his proposed payroll tax cut to bolster the economy would further hurt the program.
In the past, he has opposed proposals from fiscally conservative Republicans to curb spending on the programs. But as the budget deficit has grown to more than $1.8 trillion, he has indicated that changes to Social Security and Medicare could be on the table during a second term.
Medicare
Biden supports lowering the age of Medicare eligibility from 65 to 60. He has also called for repealing legislation that bars Medicare from negotiating drug prices with pharmaceutical manufacturers, which he said would lower drug prices. In addition, pharmaceuticals would be required to limit price increases for most prescription drugs to the rate of inflation in order to be eligible for coverage by Medicare.
Biden also wants to allow U.S. citizens to purchase prescription drugs from other countries — where they're often cheaper — as long as the Department of Health and Human Services has determined they're safe.
If reelected, Trump is likely to continue to promote Medicare Advantage plans, which are offered by private companies. The plans often offer lower premiums than traditional Medicare and cover dental, vision and other services.
However, they usually have a more limited network of providers than traditional Medicare, which can be a problem when beneficiaries develop serious illnesses, critics say.
In an executive order issued last October, Trump directed the Department of Health and Human Services to take steps to ensure that traditional Medicare isn't "advantaged or promoted" over Medicare Advantage.
Trump has supported proposed legislation that would limit increases in the cost of Medicare prescription drug plans to the rate of inflation and limit seniors' out-of-pocket drug costs to $3,100 a year.
He also wants to allow U.S. citizens to buy prescription drugs from outside the country. In December, his administration issued a proposed rule that would allow states and other entities to import prescription drugs from Canada, provided certain conditions are met.
Trump's 2021 budget proposes about $500 billion in net spending cuts to Medicare. Most of those would come from reducing payments to healthcare providers, not to beneficiaries.
Sandra Block, Lisa Gerstner, Nellie S. Huang and Anne Smith contributed to this story.
© 2020 The Kiplinger Washington Editors, Inc. Distributed by Tribune Content Agency, LLC.